Basketball Star Takes His Talents Oversees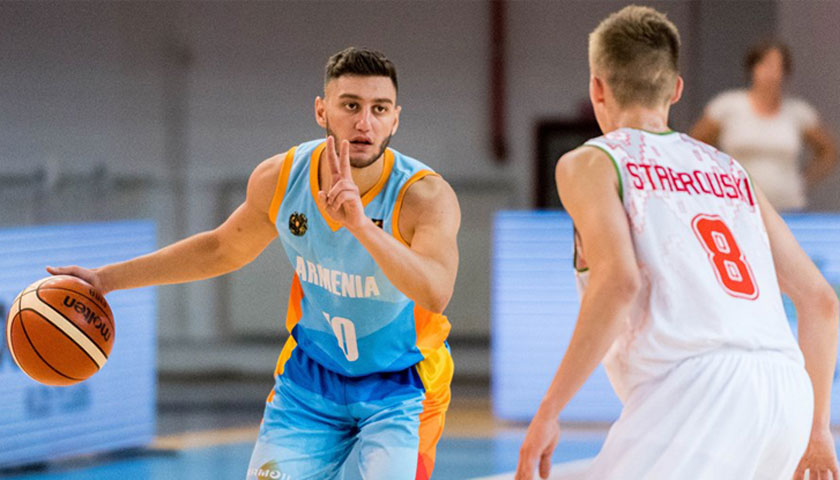 Student-athlete Mike Hagopian had a chance to immerse himself in an international community while reconnecting with his family's roots last summer as a member of the under-20 Armenian national basketball team.
"I was so proud to put that jersey on, with Armenia on the front and my last name on the back," said the Rams shooting guard.
Hagopian, whose mother was born in Armenia, was invited to join the U20 Armenian national team a year ago. Before suiting up, he filed the papers that now give him dual Armenian and American citizenship.
"Suffolk is a school with such a diverse population, and being in Armenia gave me a little taste of what it's like coming to Boston from an international student's point of view," said Hagopian, whose home is in Watertown, Massachusetts. "The people, the food, the culture – it was an experience that I will always remember."
Hagopian's international exploits caught the attention of Jacob Tobey, Class of 2018, producer of the Suffolk Sports Report, who interviewed him for at Suffolk's Studio 73 for a video report.
Success On and Off the Court
Hagopian, Class of 2019, is a finance major and honors student. Like other Suffolk student-athletes, he understands the importance of balancing his academic workload with his athletic responsibilities.
"Sometimes it takes staying in on a Saturday night to write a paper because you have a road game in Vermont the night before the paper is due. Those are the sacrifices you have to make," he said.
Hagopian said he enrolled at Suffolk because of the "excellent reputation of the Sawyer Business School" and its Boston location amid many financial institutions.
He sees a common theme between his studies and basketball.
"Finance is a pretty tough field that requires a lot of work and effort before you understand it fully," he said. "The same holds true in basketball, because you have to work hard and give everything you have before you can see positive results."
Hagopian praised head basketball coach Jeff Juron for his continuous support and his professors because "they care and do everything to help you reach your goals."
Lessons in Leadership
Hagopian is co-captain, with Steven DiPrizio, of the Suffolk Rams basketball team and takes his leadership role seriously as he plays his part in making the team better day by day.
"This opportunity is allowing me to develop skills that will hopefully help me one day when I enter the business world," he said.
"Mike leads by example in the way he conducts himself on the court and in the classroom," said Juron. "He is respectful to everyone in the Suffolk community and the epitome of what we look for in a student-athlete."
International Competition
From mid-June to the end of July, Hagopian worked on his skills in the U20 Armenian team's training camp and played in a series of games, including a tournament in Romania that pit his squad against highly competitive teams from around the world. He and his new teammates lived together in a facility with a basketball court, weight room, and swimming pool.
"We bonded right away and had fun playing together," said Hagopian.
Avid Fans
It was "a very special moment" for Hagopian when his parents and older brother traveled to Europe to cheer him on in some of his Armenian contests.
"Playing for Armenia last summer was such a positive and eye-opening experience for Mike in so many ways," said Juron. "He learned about the country's culture, heritage, and playing with pride and brought that same passion and purpose back to the University. It shows every time he puts on his Suffolk uniform."
Contact
Office of Public Affairs
617-573-8428