The Benefits of Working with a Nonprofit
Classroom project with nonprofit evolves into summer internships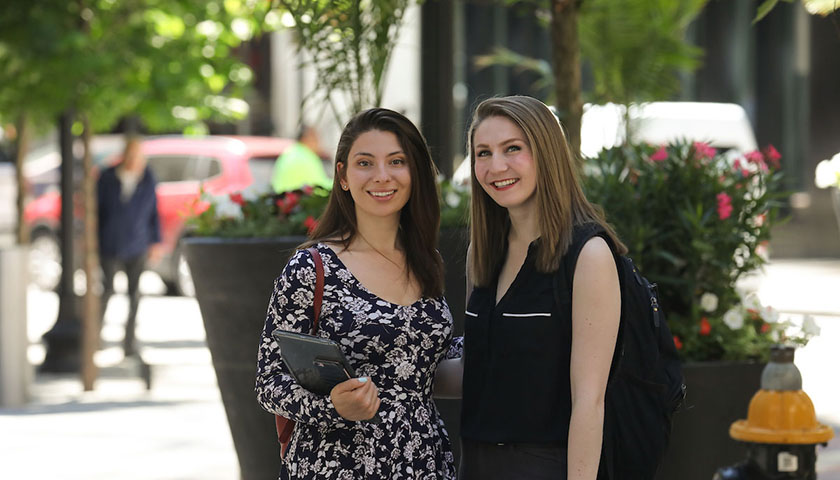 Sawyer Business School students have numerous opportunities to work with and present to actual clients. Real-world experience is a hallmark of the Business School's curriculum.
A typical client would be a Boston-area business looking for market research to help solve a particular problem. What made this spring's "Consumer Insights & Decision-making" class different was that the client was a nonprofit based in San Diego: The Autism Research Institute. And nonprofits require a very different approach.
"Doing marketing in the nonprofit space requires a whole new way of thinking," says Professor Pelin Bicen, who taught the course. "Even down to the terminology. 'Customers' are 'constituents.' 'Increasing market share' becomes 'increasing the number of constituents, donors, and donations.' You don't have 'competitors,' you have 'partners in the space.' You talk about nonprofit ecosystems and how they are being affected by policies, legislation, and economics. The students had to make a shift in their thinking of how marketing works and how it is applied to nonprofit space."
The assignment was to research how the general public interacts with the institute's website and make recommendations on how to make the site more visible, accessible, and useful to its core audience. Students spent the semester doing secondary research, interviewing parents of people with autism, designing surveys, using advanced statistical techniques to analyze a dataset, writing full extensive reports, and creating final reports that they presented via GoToMeeting to Dr. Stephen Edelson, executive director, and Denise Fulton, administrative director.
Recommendations included revamping the website by creating user generated profiles and content, building an online community, integrating the social media platforms to the website, and segmenting content delivery based on the amount of knowledge and experience users have about autism.
"I think the most valuable information we got from the presentations was a better understanding of our parent segment," says Fulton. "They gave us a lot of really good data, which gives us a factual basis for changes we need to make."
Edelson and Fulton were so impressed with what the students presented that they offered two of them summer internships to dive deeper into the ideas the class had developed.
From students to interns and beyond
Over the course of the summer, Nicole Cacchiotti, BSBA '18, and Deveney Melanson, Class of 2019, created an RFP to send to potential web design agencies, then reviewed and evaluated the more than 13 submissions that came back. Based on the intense analysis of the proposals received, Cacchiotti presented the students' top four recommendations directly to ARI's board. A final decision is expected later in the summer.
"By the end of the class, Nicole and Deveney had come to know us, and they knew a lot more about autism, so it was very natural to use them for this next phase," says Fulton.
For these two marketing students, working for a nonprofit has been a rewarding and redefining experience.
"It's a nonprofit. We're not selling backpacks," says Cacchiotti. "We're helping families understand more about their kids. I felt a strong emotional connection to it. Everything you do makes a difference, and the clients are so grateful. It's such a different thing."
"Speaking with some of the parents, we got to see some of their pain, which is not something we've ever experienced with other class projects," says Melanson.
Even though the internships are over, the students' experience with the Institute will go on: this fall Cacchiotti and Melanson will be coauthoring an academic paper with Bicen, Edelson, and Fulton that focuses on people's autism-related online information search behavior and patterns behind users' specific search behavior.