Students bring art to the community around campus
Larger-than-life portraits on the edge of Suffolk's downtown campus are stopping people in their tracks.
The beautifully lit black-and-white photos brighten the façade of a temporarily empty storefront on Bromfield Street. They capture the personalities of people who work on the small commercial thoroughfare.
And the artwork was created by first-year students at Suffolk University.
See and be seen
Artists today want to reach a wider audience by showing their work outside the gallery setting, and that's just what these Suffolk students accomplished.
"I was blown away to have something like that up on the street, with people going by and looking at my work."
"Something a lot of artists are thinking about is: How can I bring art out of the gallery and into the community?" said Fine Arts Professor Linda Brown, who facilitated the University-community collaboration to create the public installation. "Suffolk students are learning this concept from day one."
Brown had presented faculty with the idea of working on a project with the Downtown Boston Business Improvement District at the behest of College of Arts & Sciences Dean Maria Toyoda.
Art Professors Susan Nichter and Ilona Anderson acted on the idea by redesigning their Integrated Studio 1 class to include a skills-based assignment that also engaged students with the world outside the college.
Brown suggested emulating the French graffiti artist/photographer JR, who makes large-scale photos of people and displays them prominently in urban areas.
"I said, wouldn't it be great if our students could do a project like that, and they ran with it," said Brown.
"JR exhibits work focused on social commentary all over the world," said Nichter, who taught one section of the course, planning the projects with Anderson.
Visual literacy
The students learned creative use of Photoshop, pictorial composition, light, and presentation while honing their people skills in visits to the "mom and pop" businesses that line Bromfield Street. They also forayed into surrounding areas on their photo quests.
"These are first-semester freshmen who live in dorms, and this assignment showed them a way to become integrated into the neighborhood," said Anderson.
"I love that the real-world experience is tied to thinking about visual literacy," said Nichter.
The two professors accompanied students on an initial field trip to Bromfield Street, where they connected with Suffolk alumnus Stanley Chu, a 2007 graduate who is a numismatist at Colonial Trading Company, working with currency and coins.
"The whole group crowded in, and this is a small shop," said Chu. "Different students later came back" to photograph Chu, ask him to sign release forms, and to present him and a coworker with prints of the photos.
Being so close to campus, "I meet students all the time," said Chu. "I love when they tell me they're Suffolk students. It brings me back to that wonderful time in my own life."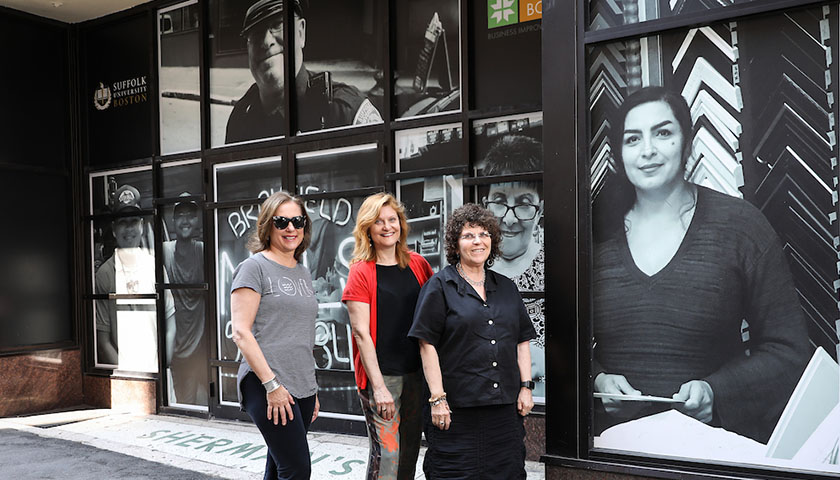 Taking chances
Taking chances is one of the lessons of Creativity & Innovation courses required of first-year Suffolk students, and the Integrated Studio 1 class falls into that realm. It attracts not only art students, but also majors from other disciplines. Students learn to explore new ideas without fearing failure.
"Some of the students started out shy, but this was empowering for them. They went outside of their comfort zone," said Nichter.
Only a handful of the student portraits would fit on the windows of the former City Sports building, and Caio Cassarino was surprised that one of his works was chosen, because he doesn't see photography as one of his particular talents. Yet he enjoyed the assignment.
"I went around to multiple stores and took photos, but that one caught my eye." said Cassarino, pointing to his portrait of Farid Goljamali of King Frame. "He was nice but quiet, though he seemed to brighten up when I asked to take his photo."
The students' Bromfield Street installation is inspired by street artist JR, whose large-scale photo portraits provide social commentary worldwide. This JR image fills a blank wall alongside the High Line Park in Manhattan.
Cassarino, who is majoring in graphic design with a minor in arts administration, stopped in to King Frame for a visit after the photos were installed. Goljamali was away from the shop, but his wife Nastaran Yahyapour was happy to talk about the "free commercial" for their frame-and-print business.
Pointing through the shop's display window to her own portrait across the street, Yahyapour shared a pedestrian's reaction: "I was passing by one day, and someone said: 'Hey, that's you.'"
Some of the skills Cassarino learned in the studio class are enriching his graphic designs as he works this summer for the MetaMovements dance company. "I learned photo manipulation and editing and photography," he said "I learned Photoshop, and I'm now using it to polish and create finished graphic work. And I can have fun with it."
Nimble approach
Anderson and Nichter stay flexible in their approach to the Integrated Studio course so their students can take advantage of any opportunities that arise.
"Ilona and I find that our creativity is amped up through collaboration, and we spend the summer working together to come up with ideas," said Nichter.
In addition to revising one of their assignments to support the Bromfield Street community engagement project, Nichter introduced students to an Art + Activism competition. Graphic design major Madison Laudermilk, Class of 2021, won top honors, and her "Wanted Bluefin" submission was exhibited at the prestigious Art Basel Miami.