Poll: No Clear Leaders in Nevada
Suffolk University/Reno Gazette Journal survey shows voters want to change Trump's leadership direction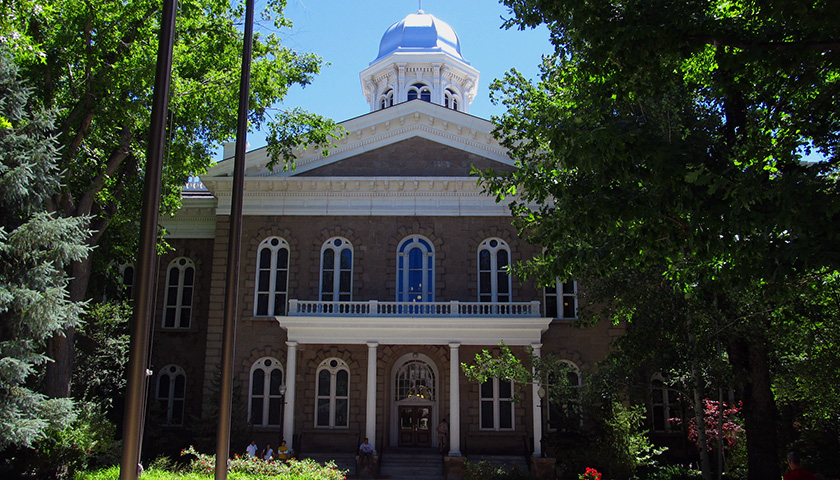 A Suffolk University/Reno Gazette poll of likely Nevada voters shows very tight U.S. Senate and gubernatorial races. However voters are more decisive when it comes to the issues, opposing a ballot question that would change energy choices and rumblings about eliminating legal brothels.
In the U.S. Senate race, Congresswoman Jacky Rosen, a Democrat, (42 percent) was neck and neck with incumbent Dean Heller, a Republican, (41 percent), with independent Barry Michaels, Libertarian Tim Hagan, and Independent American Kamau Bakari each at 2 percent. Two percent chose "none of these candidates," a Nevada ballot option, and 9 percent were undecided. In a July survey, Rosen trailed Heller by 1 point. Both survey outcomes were well within the poll's statistical margin of error.
"This is our second straight Nevada poll that shows a deadlock in the Senate race and a daunting challenge for the Democratic and Republican nominees," said David Paleologos, director of the Suffolk University Political Research Center in Boston. "The people who will swing this election are the people least connected to party politics: third-party voters, undecideds, and those who are saying today that they will go to the polls and select 'none of these candidates.'"
In the governor's race, County Commissioner Steve Sisolak, a Democrat, (37 percent) led Attorney General Adam Laxalt, a Republican, (35 percent), with Independent American Russell Best, independent Ryan Bundy, and Libertarian Jared Lord combining for nearly 10 percent. Two percent chose "none of these candidates," and 15 percent were undecided. In July, Sisolak trailed Laxalt by 1 point, again well within the margin of error.
In the 2016 presidential election more than 2 percent (28,863 voters) chose "none of these candidates" despite having five choices for president listed on the Nevada ballot. The "none of these candidates" vote total exceeded the margin between Democrat Hillary Clinton and Republican Donald Trump.
Views of Trump
Perceptions of President Trump's job performance (50 percent disapprove – 46 percent approve) have barely changed since July (48 percent disapprove – 47 percent approve). A plurality of midterm voters (45 percent) said they want to cast ballots that will change the direction that Trump is leading the nation, while 36 percent would like their vote to support the president's leadership direction, and nearly 18 percent said their vote this November doesn't have much to do with Trump and his policies.
No to impeachment
Likely midterm voters do not think the House of Representatives should seriously consider impeaching Trump: 59 percent opposed impeachment, while 36 percent were in favor.
Nevada issues
A majority (55 percent to 36 percent) of voters opposed prohibition of legalized prostitution in brothels. Nevada state law now allows prostitution in licensed brothels located in counties with fewer than 400,000 residents.
Similarly voters opposed (51 percent to 32 percent) the Question 3 energy initiative, which would amend the state constitution to allow consumers to choose their energy provider and generate their own energy for resale.
History
In the 2010 Nevada midterm, which also included gubernatorial and U.S. Senate races, the Suffolk poll was the only poll among the final nine public polls predicting that Democrat Harry Reid would prevail over Republican Sharron Angle. In the governor's race, the final Suffolk poll predicted an 11-point win for Republican Brian Sandoval over Democrat Rory Reid. Sandoval won by 11.8 points, according to the Nevada Secretary of State.
Methodology
The statewide survey of 500 Nevada likely voters was conducted Sept. 5–Sept. 10. The margin of error is +/- 4.4 percent at a 95 percent level of confidence. Marginals and full cross-tabulation data are posted on the Suffolk University Political Research CenterPolitical Research Center website. For more information, contact David Paleologos at 781-290-9310, dpaleologos@suffolk.edu.
Contact
Greg Gatlin
Office of Public Affairs
617-573-8428
Office of Public Affairs
617-305-1910