Finding inspiration at the Grand Canyon
Spring break service at the Grand Canyon and a concern for the environment led two Suffolk science students to summer internships at the national park, a potential career path—and an abiding friendship.
Teresa Feijoo and Meagan Dreher met this past summer on their first day as volunteer interns at the Grand Canyon, where they focused their efforts on the park's plant life.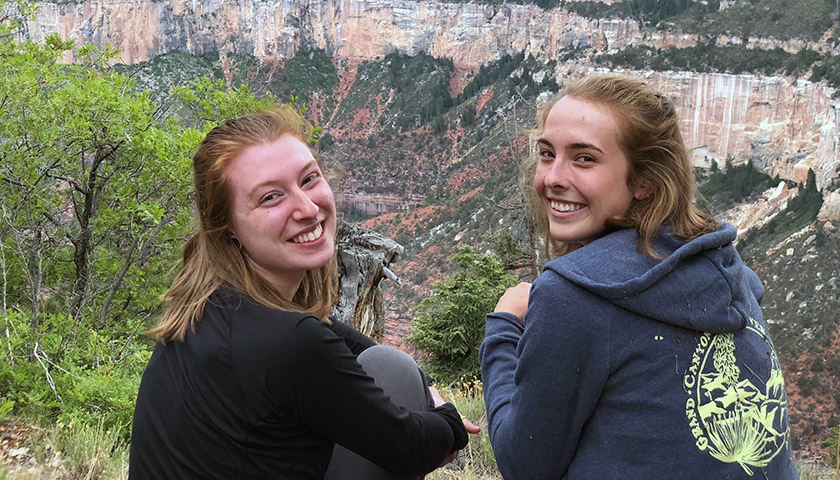 One important responsibility was maintaining and monitoring an endangered plant—sentry milk-vetch—which grows nowhere else on earth but the Grand Canyon.
They also tended to the greenhouse nursery, removed invasive plants, and restored plants throughout the Grand Canyon Village.
Service & travel
Their paths to a summer tending to Arizona's natural wonder were similar.
Each began the journey by taking the service learning course "The Civilian Conservation Corps and the American Landscape," albeit in separate years. The class includes a University-sponsored Alternative Spring Break trip to the Grand Canyon.
Feijoo and Dreher had found the service learning experience transformative, and each built great connections with the National Park Service staff, so, independent of each other, the two students applied for and were accepted as volunteer interns for summer 2018.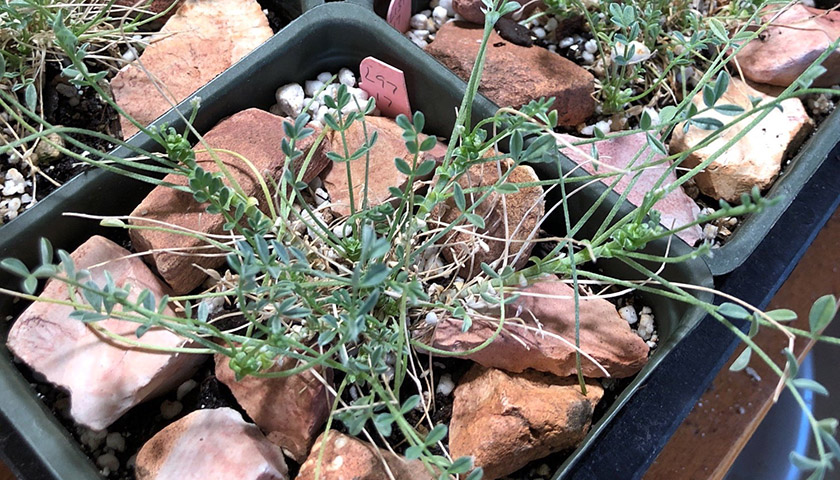 Not afraid of dirt
Once in Arizona, the two students dug right in.
"Being outdoors and getting my hands dirty is my favorite type of work," said Dreher, an environmental studies major. "I really enjoyed being able to see parts of the park that most people don't see."
"Some of the stuff we did was like a workout; it made me feel physically stronger," said Feijoo, who also is following an environmental science path. "I learned about the importance of detail, because many responsibilities we had involved a step-by-step process."
The power of nature
Working in an environment far from their Boston campus taught the students how to function outside of their comfort zone.
"It was an eye-opening experience and made me feel like an entirely new person," said Dreher. "I became more independent and confident in who I am. Now I know what I want to do with my life."
"Working in the Grand Canyon made me see how nature is a bigger and more powerful force than all of us," said Feijoo. "I also learned how important it is that it be taken care of and protected."
"I've never been able to picture myself sitting behind a desk at a nine-to-five job. My goal is to hopefully continue to get my hands dirty doing things that I love."

A protected showcase
Feijoo and Dreher received valuable experience and performed service learning work in "one of the most strikingly beautiful places on earth," said Scott Lussier, practitioner-in-residence in Suffolk's Center for Urban Ecology & Sustainability, who has taught both students and accompanied their respective Alternative Spring Break trips to the Grand Canyon.
"They learned about all the different roles that park rangers play and how there are many layers of activities. Managing millions of visitors is quite a challenge, and now both students have an appreciation of how a large national park is simultaneously showcased and protected," said Lussier.
Path to discovery
The Grand Canyon Alternative Spring Break, one of several spring service trips, is organized through a partnership between Suffolk's Center for Community Engagement and Center for Urban Ecology & Sustainability.
"Alternative Spring Break not only provides a great learning experience during the program, but it can also lead to jobs, internships, and other practical experience that helps students clarify their passion and open up career opportunities,' said Adam Westbrook, director of the Center for Community Engagement.
Today, the bond that connects these Class of 2019 members has never been stronger.
"We're best friends," said Dreher.
"One hundred percent," added Feijoo.
Dreher and Feijoo are exploring the option of returning to Arizona after graduation for full-time employment at Grand Canyon National Park.

"I want to keep experiencing jobs that involve the outdoors—constantly being surrounded by nature and its beauty," said Feijoo.

"I've never been able to picture myself sitting behind a desk at a nine-to-five job," said Dreher. "My goal is to hopefully continue to get my hands dirty doing things that I love."