Alternative Spring Break
The Alternative Spring Break (ASB) program goes beyond the week-long service trip. ASB is a semester-long, student-led program where teams engage in a social justice curriculum to prepare them to learn and serve in communities across the United States during the one-week trip over spring break.
During the spring semester, each group meets either on Tuesday or Thursday from 12:15 - 1:30 p.m. The weekly meetings are a critical component of ASB and will prepare students to create a rich and meaningful service experience. On the service trip, groups of students are accompanied by staff and faculty members and engage in a week of service related to social justice issues such as affordable housing and poverty relief, LGBTQ+ rights, immigration, and racial justice. After the service trip, students will meet two additional times to reflect on how they can address the same critical issues they explored during spring break here in the Greater Boston community.
Applications will open at the start of the fall semester.
ASB 2021
March 14 - 20, 2021
Past sites have included:
Habitat for Humanity in the following cities: Denver, CO; South Bend, IN (CAS Honors trip); Clarkesville, GA; Battle Creek, MI; Gulfport, MS; and Meridian, MS
LGBTQ+: Washington, D.C.
Racial Justice: Washington, D.C. and Baltimore, MD
Requirements
Students must participate in 7 pre-trip meetings and 2 post-trip meetings with their team. Meetings take place either on Tuesday or Thursday from 12:15 - 1:30 p.m.
These meetings are a time to get to know the group, learn about social justice issues through the ASB curriculum, and receive important information regarding the trip and the communities students will be living and volunteering in over spring break
Students must be in good conduct standing with the University
Cost
Students accepted into the ASB program are required to submit a $100 non-refundable contribution to help cover program expenses such as housing, meals, and transportation. Students are responsible for baggage fees and meals during travel time (at the airport or during a van ride).
Scholarships and Financial Aid
A limited number of need-based scholarships are available to cover the $100 student contribution, and are determined on a case-by-case basis; please contact Assistant Director Dennis Harkins for details.
Staff Advisors
Suffolk staff and faculty advisors travel with each student group to serve as advisors and offer support and guidance to the group. There is no cost to staff advisors. If you are interested in applying to become a staff advisor for an Alternative Spring Break trip, please contact Assistant Director Dennis Harkins.
Become an ASB Student Leader
ASB trips are led by student leaders who are committed to providing Suffolk students the opportunity to serve and learn in communities outside of Boston. ASB leaders are responsible for all aspects of the Alternative Spring Break trip, including recruiting and selecting participants, trip logistics, coordinating with the host site, delivering a social justice based curriculum to the group, and leading the actual trip. Serving as an ASB trip leader is a year-long commitment, and a meaningful community leadership experience. Leaders are selected during the spring of the year prior to the dates of the trip. Contact us for more information.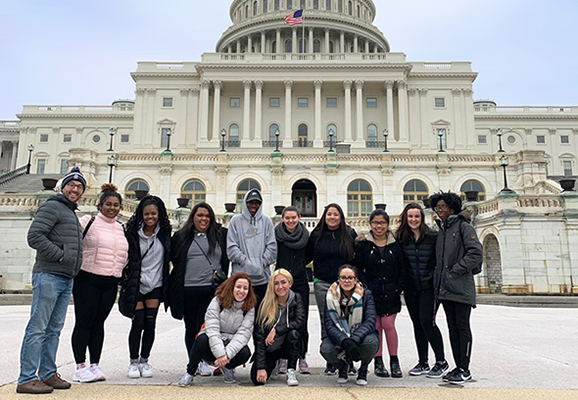 In 2018, Abby Shobajo (far right) proposed creating a racial justice ASB trip. The CCE immediately started working with her to develop the program for spring 2019. Over the next year, Abby built relationships with community partners, developed learning goals for the trip, and co-led Suffolk's inaugural racial justice ASB trip to Washington, D.C. with Adriana Taplin (second from left).