Supporting 'the Voice of the People'
Students staff polling places on Election Day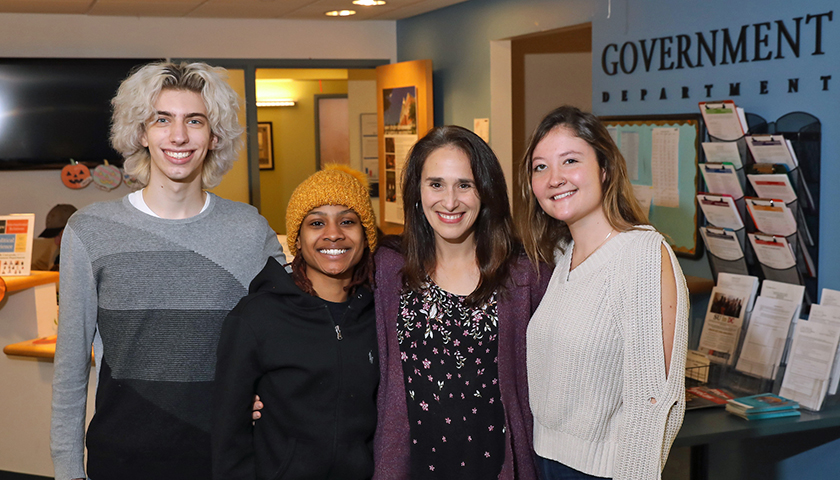 Supporting 'the Voice of the People'
On an Election Day that saw record voter turnout in Massachusetts, around 50 Suffolk students worked long hours to support voters exercising their civic responsibilities.
These Suffolk students, many of them enrolled in Government Professor Rachael Cobb's Voting Rights and Election Law class, took on the mantle of poll worker and at the same time received a hands-on lesson about the significance of voting.
Having students fan out to work at Boston voting places is one of a number of civic awareness efforts that have led to Suffolk's being nationally recognized for its student voter participation.
"It was an awesome experience," said Kasey DiLoreto, Class of 2019. "I learned firsthand how voting can make such an impact to what is happening all around us."
Cobb requires that students in Voting Rights and Election Law class sign up to work the polls on Election Day, handling tasks that include setting up polling locations, preparing ballot-counting machines, hanging information signs, handing ballots to voters, and assisting voters who have disabilities. She also reaches beyond her class to find students who help Boston fill its poll worker positions.
Many moving pieces
"Students are struck by how intense the experience is, how many rules there are to follow, and how many moving pieces go into making elections run smoothly," said Cobb, chair of Suffolk's Government Department.
"They see, with their own eyes, what it takes to enable the voice of the people to be heard. I am so grateful that our students participate in this important event and thrilled that they learn so much."
DiLoreto spent 15 hours stationed at the State House on Election Day, doing everything from checking in voters to instructing them how to feed their ballots into the voting machine.
Interacting with the general public gave her a boost of confidence.
"I'm a public relations major, so interacting with many people helped me to understand the importance of being professional, self-assertive, and not afraid to ask questions," she said. "These are skills that will definitely help me in the future."
Confirming voter eligibility
At City Hall, Michael MacRae, Class of 2019, answered calls about voter registration. "The phones were ringing off the hook," he said. "It was organized chaos."
MacRae, a government major, enjoyed being a contributor in the middle of the action.
"Every phone call was an opportunity to confirm somebody's eligibility to vote, and that's important," he said. "It was a successful day and it felt good to make a difference."
Nonpartisan registration drive
Before the election, Cobb's students worked in nonpartisan voter mobilization teams, promoting the importance of voting among their peers. MacRae and his group had two main tasks: Get students to register to vote and then to actually cast a ballot.
Employing a range of tactics, from flyers posted around campus to social media, MacRae and his team met its goal of exceeding 80 percent student participation in the vote.
"We learned that you have to make it easy for students to complete the task that you want them to do," he said. "You have to cast a wide net to reach students who are available at different times and different days of the week."
DiLoreto and her team did their part by creating a nonpartisan election brochure that was handed out to students, delivered it to student organizations, and marketed on social media.
"Our goal was to better educate Suffolk students on the key candidates and issues involved in the midterm election, and I believe we achieved that," she said."
High student voting rates
Suffolk was named one of the "58 Best Colleges for Student Voting" in the 2018 Washington Monthly College Rankings, which also listed the University among the top 100 that serve the nation.
A year ago, the University received a silver seal for achieving a student voting rate between 60 and 69 percent in the first-ever ALL IN Campus Democracy Challenge, which recognizes colleges and universities committed to increasing college student voting rates. And the University was classified as a "high-voting-rate campus" in a 2016 report on student voting rates from Tufts University's Jonathan M. Tisch College of Civic Life.
"Suffolk is truly an institution with a public purpose and commitment to civic engagement," said Cobb. "Students here take an active role and care deeply about the common good."
Contact
Office of Public Affairs
617-573-8428