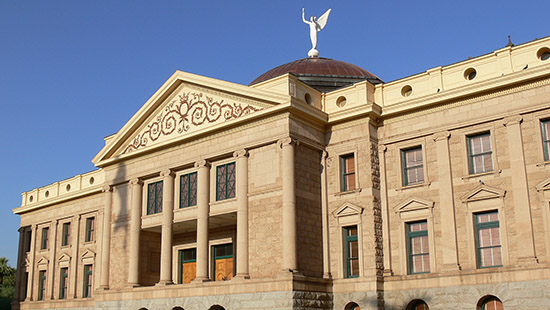 Poll Shows Democrat Leading in Arizona's U.S. Senate Race
In the Arizona race between two congresswomen battling to succeed Republican U.S. Sen. Jeff Flake, Democrats have a chance to flip the seat from red to blue, according to a Suffolk University/Arizona Republic poll of likely midterm voters.
Meanwhile, Flake, a Republican who called for a delay in the full Senate vote on Brett Kavanaugh's nomination to the Supreme Court to allow the FBI to investigate sexual assault allegations against him, has become popular with Arizona Democrats but is looked on unfavorably by voters from his own party.
U.S. Senate race
Democrat Kyrsten Sinema (45 percent) leads Republican Martha McSally (42 percent)—well within the margin of error, according to the poll. Green Party nominee Angela Green is at 2 percent, and 11 percent are undecided. Sinema led 88 percent to 2 percent among Democrats and 43 percent to 29 percent among independent voters, while McSally led 86 percent to 7 percent among Republicans.
Kavanaugh nomination
A plurality of Arizona voters support Brett Kavanaugh's nomination to the Supreme Court, with 49 percent approving of Kavanaugh and 42 percent opposed.
The numbers reveal a partisan gap, with 79 percent of Arizona Democrats opposed to Kavanaugh's nomination and 11 percent in favor. Among Republicans, who have a 4-point party registration advantage over Democrats in the Grand Canyon State, 92 percent supported his nomination, while 4 percent opposed. Arizona's independents make up about a third of the state's electorate, and 49 percent opposed the nominee, while 37 percent supported him.
Arizonans played dramatic roles in the Senate Judiciary Committee hearings last week, with Arizona prosecutor Rachel Mitchell questioning Kavanaugh accuser Christine Blasey Ford on behalf of Senate Committee Republicans. After the hearings, Flake, who had said he would vote for Kavanaugh, brought about the delay in the full Senate vote.
Flake recorded a 30 percent favorable and 47 percent unfavorable rating among all midterm voters. However, more Democrats, viewed him favorably (44 percent to 28 percent), while 20 percent of Republicans viewed him favorably and 66 percent unfavorably, and independents were tipped against him 44 percent to 26 percent.
"Senator Flake's move won praise from his Democratic colleagues in the Senate and appears to explain his popularity among Democrats in his home state and his unpopularity among Republicans and independents," said David Paleologos, director of the Suffolk University Political Research Center in Boston. "His vocal opposition to President Trump also could be a factor. But Flake's call for a delay and a reopening of the FBI investigation may have the most significant and lasting impact on the one-term senator's legacy."
Governor
Incumbent Republican Governor Doug Ducey (50 percent) has a commanding lead over Democratic challenger David Garcia, an educator, (38 percent) and Green Party candidate Angel Torres (2 percent) with 10 percent undecided.
Views of Trump
Though Donald Trump won Arizona by more than 3 points in 2016, voters are split on whether they approve of the job he's doing as president (48 percent approve/disapprove) and negative on his personal popularity (49 percent unfavorable – 46 percent favorable). Arizona midterm voters are not ready for the U.S. House of Representatives to seriously consider impeaching Trump: 58 percent oppose impeachment and 35 percent are in favor.
Methodology
The statewide survey of 500 Arizona likely voters was conducted Sep. 27–Sep. 30. The margin of error is +/- 4.4 percent at a 95 percent level of confidence. Marginals and full cross-tabulation data are posted on the Suffolk University Political Research Center website. For more information, contact David Paleologos at 781-290-9310, dpaleologos@suffolk.edu.