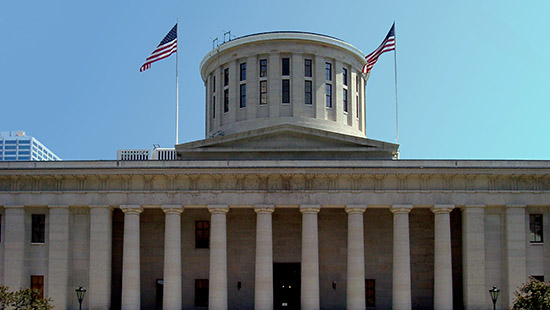 Poll: Democrats Lead in Ohio's U.S. Senate and Statewide Races
Ohio's Democrats are leading in U.S. Senate and statewide races, indicating the possibility of a blue wave in a state that helped turn the tide for President Donald Trump in 2016, according to a Suffolk University/Cincinnati Enquirer poll of likely midterm voters.
Incumbent U.S. Sen. Sherrod Brown has an 18-point lead over Republican Congressman Jim Renacci (54 percent to 36 percent), with 10 percent undecided.
In a tighter race, Democrat Richard Cordray, former director of the Consumer Financial Protection Bureau, leads Republican Attorney General Mike DeWine by 6 points in the race for governor (46 percent to 40 percent), with 10 percent undecided.
"The poll confirms our June findings that midterm voters are in a markedly different mood than they were when Ohio went for Trump in the 2016 presidential election," said David Paleologos, director of the Suffolk University Research Center in Boston. "We could see low turnout among conservatives who see the GOP nominee for U.S. Senate, perhaps the most consequential race, trailing by such a wide margin."
Issues of concern
Voters said their top issues in the Senate race are health care (23 percent), Donald Trump (22 percent), the economy (19 percent), immigration (9 percent), and corruption (8 percent).
By contrast, the top issues in the governor's race were the economy and health care (22 percent each), education (15 percent), and taxes, opioids, and corruption (8 percent each).
Additional constitutional offices
Democratic nominees are leading their Republican counterparts in all of the statewide races, but many are close, and the significant numbers of undecided voters could turn the tide before Election Day.
In the race for attorney general, Democrat Steve Dettelbach, a former U.S. attorney, (42 percent) leads Republican State Auditor Dave Yost (36 percent), with 21 percent undecided.
The auditor's race is even closer as Democrat and former Congressman Zack Space (36 percent) leads Republican State Rep. Keith Faber (33 percent), with 25 percent undecided.
Trump & Kavanaugh data forthcoming
Embargoed questions about President Donald Trump and Supreme Court Associate Justice Brett Kavanaugh will be posted on the Suffolk University Political Research Center website in the coming days.
History
The last time Ohio had a midterm election with both U.S. Senate and gubernatorial races was 2010, and the final Suffolk poll predicted Republican Rob Portman would defeat Democrat Lee Fisher by 10 points. Portman went on to win by 18 points. In the governor's race, the Suffolk poll predicted Republican John Kasich would win by 4 points over Democrat Ted Strickland. Kasich won by 2 points.
Methodology
The statewide survey of 500 Ohio likely voters was conducted Oct. 4–Oct. 8. The margin of error is +/- 4.4 percentage points at a 95 percent level of confidence. Partial marginals and cross-tabulation data will be posted on Wednesday, Oct. 10, on the Suffolk University Political Research Center website, with additional data to be added in the following days. For more information contact David Paleologos at 781-290-9310, dpaleolo@suffolk.edu.