New Issue of Salamander Literary Journal
Featuring poetry, fiction, reviews, and artwork.
Fall/Winter 2018/2019
The Fall/Winter 2018-2019 issue of Salamander, a literary magazine published in affiliation with Suffolk University, is now available, with feature excerpts available online.
This issue has poems by George Kalogeris, Fred Marchant, and David Ferry, all of whom are affiliated with the Suffolk English Department, as well as a poem by a Suffolk English Department alumnus Paul Rowe.
Highlights from the issue include:
Poetry
Jennifer Clarvoe, Ira Sadoff, Rebecca Foust, Rage Hezekiah, Dai Weina, Gail Mazur, Yudit Shahar, Joyce Peseroff, Teresa Cader, Vismai Rao, David Ferry, Diane Mehta, Fred Marchant, Paul Rowe, George Kalogeris, AD Tenn, and many more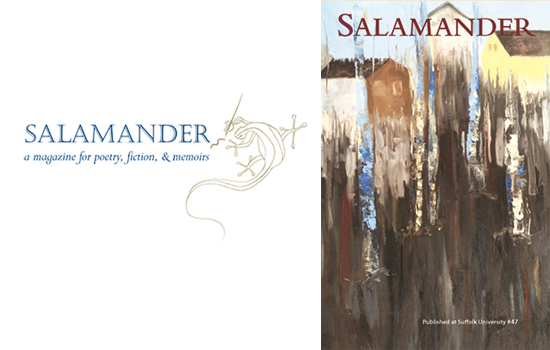 Fiction
"Tokoloshe" by Matthew Dougherty—Salamander Fiction Contest First Prize
"Listening to Birds" by Heather De Bel— Salamander Fiction Contest Second Prize
"Interstate" by Kate Lister Campbell
Memoir
"The Blue, an excerpt from Salvage" by Oona Patrick
"from The Body Papers" by Grace Talusan
Reviews
No Small Gift by Jennifer Franklin, reviewed by Valerie Duff-Strautmann
Thomas Bernhard: Collected Poems, tr. by James Reidel, reviewed by Jeffrey Brown
Guide to Greece by George Kalogeris, reviewed by Drew Swinger
Come West and See by Maxim Loskutoff, reviewed by Katie Sticca
Outside Is the Ocean by Matthew Lansburgh, reviewed by Jacqueline Kolosov
Poet and English Department Scholar-in-Residence Jennifer Barber launched the Salamander literary journal in 1992. This edition will be her final as editor-in-chief, as she plans to devote more time to writing. Suffolk University Professor Emeritus Fred Marchant will be guest editor for the Summer 2019 edition.