Salamander Literary Journal Celebrates 25 Years
"One of my dreams for the journal was that it could break through the parameters of the literary world and reach the informed general reader." —Editor-in-Chief Jennifer Barber
The publishing world has changed dramatically in the 25 years since Jennifer Barber launched the Salamander literary journal, with writers now self-publishing online and through Amazon.
But Salamander's mission has not changed, and the demand for a journal that provides opportunities for promising writers remains strong.
Barber, a poet, published Salamander from her home for 12 years before the brought the literary journal to Suffolk after joining the University's English Department as scholar in residence.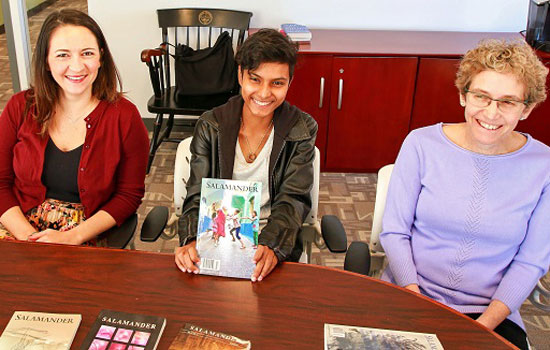 The idea for a journal had come to her after she was a few years out of an MFA program and had started a family. She missed seeing work from her MFA colleagues, as existing journals tended to publish from their stables of writers.
"It seemed like a good idea to start a new journal for writers reaching artistic maturity," she says.
"One of my dreams for the journal was that it could break through the parameters of the literary world and reach the informed general reader," says Barber. "You don't have to be a member of the club to understand and appreciate the works published in Salamander."
At first Salamander submissions came from writers Barber knew, but as word of the journal spread, work came from outside Barber's circle. The publication features poetry, reviews, fiction, memoir, and artwork.
Literary launch pad
Salamander has helped introduce many notable writers, including:
Jhumpa Lahiri, who won the Pulitzer-Prize-for her first book, Interpreter of Maladies, a collection of nine stories. "We caught her on the cusp of her success," says Barber.
Carys Davies, who counts among her many awards the Frank O'Connor International Short Story Award for The Redemption of Galen Pike.
Yiyun Lee, a 2010 MacArthur Foundation fellow whom The New Yorker named as one of the top 20 writers under 40. Salamander published the title story of Lee's first book before it came out.
Elliot Ackerman, author of the novel Green on Blue, who served five tours of duty in Iraq and Afghanistan and whose essays and fiction have appeared in The New Yorker, The Atlantic, The New Republic, and Ecotone.
While some authors came to Salamander through its network of writers, others, like Ackerman, were chosen for publication through the regular submissions process.
The journal also conducts an annual fiction contest, and three published submissions were selected for prestigious literary collections in 2017.
The O. Henry Prize Stories for 2017 includes "Floating Garden," by Mary LaChapelle, and "Blue Dot," by Keith Eisner, while The Best Short Stories of 2017 includes "Gabe Dove," by Sonya Larson. All three stories were first published in Salamander.
Publishing revolution
The literary environment has changed since Salamander's first issue appeared.
"All journals have come through a time when they had to start thinking about websites and the new electronic world even as they kept up print editions," says Barber. "One thing I admire about journals is that they can do more with less."
Today a would-be poet might write a verse and just put it up on Facebook, she notes. "It's an easy way to distribute work without the effort of submitting to multiple journals. But the temptation with Facebook is that you can write a poem today and post it tomorrow."
Such a quick turnaround may keep a writer from exploring all the possibilities in the poem, unlike a poet such as Barber, who takes a more thoughtful and deliberate approach. She has published three collections of poetry, including the award-winning Works on Paper, and her poetry has appeared in a number of literary journals, including Harvard Divinity Bulletin and The New Yorker.
One person who took early note of Barber's talent and the journal she had begun was Fred Marchant, a fellow poet and friend who is now an English Department professor emeritus.
Jane Brox, Andrea Cohen, and Natalie Shapero Marchant knew about Salamander and supported the idea of bringing it to the University. The journal's transition from a home-based to Suffolk-supported publication followed Barber's first year on the faculty.
While the journal provides a welcome outlet for writers, students also benefit as they learn about literary publishing through Salamander internships and a practicum Barber teaches.
Silver anniversary celebration
Salamander will celebrate its 25th anniversary from 6 to 8 p.m., Thursday, March 1, in the Poetry Center located in the University's Sawyer Library.
The celebration will feature readings by Jane Brox, a memoirist whose work appeared in Salamander's first issue, and poets Andrea Cohen, who also has appeared in the journal, and Natalie Shapero, whose work will appear in the next issue, due out in June..
A bookcase display of the 44 published issues of Salamander may be seen in the library's commons area.
"I am so appreciative of Suffolk's longtime support of the journal," says Barber. "It has allowed us to grow, to double the length of each volume, and to pay our writers. We've been able to offer internships to students and see them go on to form their own literary entities."