Students build homes and skills on Alternative Winter Break service trips to Cambodia and Myanmar
Students learned about cross-cultural communication and community building through international service-learning experiences in Cambodia and Myanmar over winter break.
The Suffolk group helped build Habitat for Humanity homes working alongside the families who will reside there. The experience gave students insight into the needs and daily lives of the communities they were serving, and helped them gain new skills — from breaking down language barriers to raising roofs.
Building and growing
First year journalism major Phuong Le came to Suffolk from Vietnam. Her goal is to someday travel the globe as a reporter, telling the stories of underrepresented people. Building a home for a Cambodian family in need gave Le exposure to a culture very different from her own, while helping her build language and practical skills.
"The hardest thing for me was actually learning how to use the tools," says Le. "I was able to do it because I wasn't alone. We were all working as hard as we could for the homeowners."
Working so closely with the Suffolk group also helped Le quickly build friendships and improve her English skills — which she called a "great opportunity for a new college student".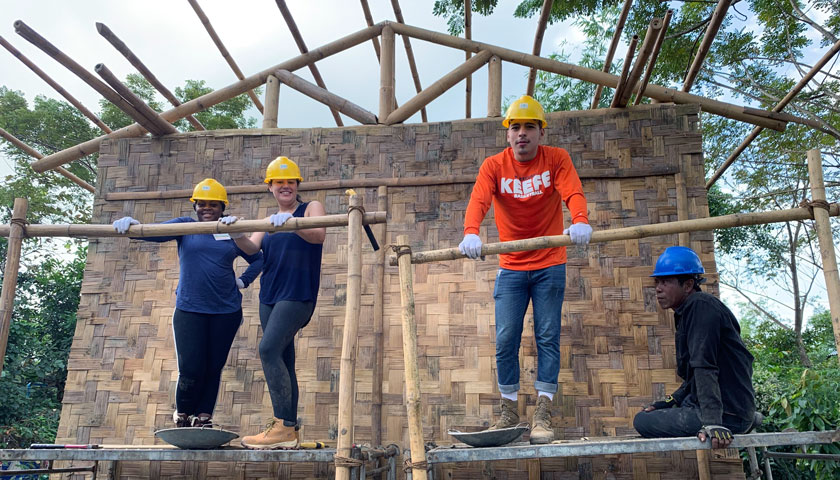 The Suffolk students visited historical and cultural sites, experiences that provided the underpinnings for their spring semester Government course examining the historical context of regions that have experienced political and social upheavals.
Both groups also visited local schools and interacted with students, preparing meals, teaching English, and playing games.
"I definitely want to go back to Myanmar and teach," said first year student Kevin Luna-Torres. "I might change my major from the Crime and Justice area of Sociology to Asian Studies and Government. I want to make a difference in countries that are still developing."
The experience was transformative for Morgan Robb, who capped a strong college record of service learning with her trip to Cambodia:
"Within a week of coming back from this trip I knew I needed to view my post-graduation plans through the lens of service and giving back. I want to make sure helping people is a part of my path going forward," Said Robb, Class of 2019, a marketing major and Student Government Association president.
Culture in context
The Alternative Winter Break trips to Cambodia and Myanmar were part of the spring semester Government course "Conflict and Reconciliation in Asia," which addresses the history and public policies of the region. The first-hand on-site experiences add an important dimension to the class discussions and reflection.
The course is taught by International Relations Professor Roberto Dominguez. He and Center for Community Engagement Assistant Director Dennis Harkins accompanied the students to Cambodia, while the Center's director Adam Westbrook and Associate Dean of Students Shawn Newton traveled with students to Myanmar. Funds from the Rosenberg Institute for East Asian Studies helped defray the students' travel costs.
Suffolk's Center for Community Engagement has organized annual Alternative Winter Breaks since 2007. Previous service-learning experiences have brought students to El Salvador, Vietnam, and India. The center also sponsors Alternative Spring Break service-learning trips nationwide.