Reaching New Heights With a Suffolk MBA
Part-time student and full-time engineer is earning an MBA to learn the business side of the infrastructure industry.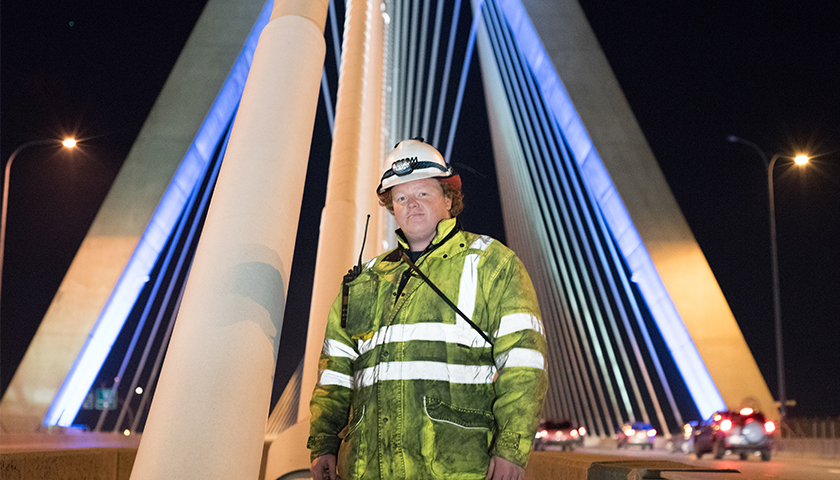 Gregory Mirliss, MBA '19, isn't your typical MBA. When he's not in class, he works full-time as an engineer, inspecting bridges and tunnels around the country for AECOM, a Fortune 200 multinational engineering firm. His job is to ensure that our nation's infrastructure is safe for the public to drive over, under, and through. And we should be glad he's on the job.
According to the American Society of Civil Engineers, the United States has 614,387 bridges, almost four in 10 of which are 50 years or older. Over 56,000 (9.1 percent) of those bridges were structurally deficient in 2016, and on average there were 188 million trips across a structurally deficient bridge each day. The most recent estimate puts the nation's backlog of bridge rehabilitation needs at $123 billion.
So with all this decaying infrastructure to keep him busy, why would he pursue an MBA?
"Infrastructure is as much a business as manufacturing, sales, finance, and pretty much any other industry," he says. Which is why an MBA from Suffolk will be so valuable, something his bosses think, too.
"When Gregory told me that he was pursuing his MBA I thought it was a perfect complement to our engineering business," said David Ryan, senior vice president at AECOM. "The engineering business is extremely competitive, and just being good engineers does not ensure success. We also must be good financial managers."
A two-way street
MBA programs benefit when they include students from "the real world" who can bring actual work experiences to the classroom. That's especially true with Mirliss in his classes.
"Because Gregory comes from an engineering background, he brings a completely different perspective to the discussion," says Jodi Detjen, MBA program director and one of Gregory's professors. "As a result, everyone else is initially surprised and then the whole conversation shifts. He helps everyone understand the concepts from a deeper level."
Not only has Mirliss been able to bring the outside world to his class, he's had experiential opportunities for real-world clients within the classroom.
"One great experience was in MBA 720, World Class Clusters. We worked with a client who asked us to develop an actual solution on what they should do for a property they had recently acquired," says Mirliss. "This project allowed me to combine my MBA studies and my engineering knowledge to create a concept the client could use. It was the true collaboration of business and infrastructure."
Suffolk: the right site
Because he's working full time, Mirliss needed a program that not only fit in with his busy life but made him feel like he was making the most of his precious time. Turns out, the Sawyer Business School was just the place.
"I looked at several other schools in the Boston area but never got the feel that I really wanted," he says. "When I spoke to people at Suffolk, they understood what I was looking for and explained how their program was a perfect fit."
It's been such a good fit, in fact, that even with his busy schedule, Mirliss has chosen to be president of the Suffolk University Graduate Business Association (SUGBA), which develops business, social, and academic initiatives that support the goals of the University and alumni. One of their signature events is the "Lunch with a Leader" series, which brings Boston business executives to network with MBA students over lunch.
"I recall one of the deans stating at orientation how important networking is," says Mirliss. "At the time I didn't think much about it, but now I agree 100 percent. It is the possible connections you make now that will lead to future opportunities and success down the road. I want my fellow Suffolk classmates to continue to have these opportunities."
Suffolk students went to AECOM for a flash consulting assignment. See what happened.
Contact
Greg Gatlin
Office of Public Affairs
617-573-8428
Ben Hall
Office of Public Affairs
617-573-8092