Data Driven
Students reflect on the Master of Science in Business Analytics program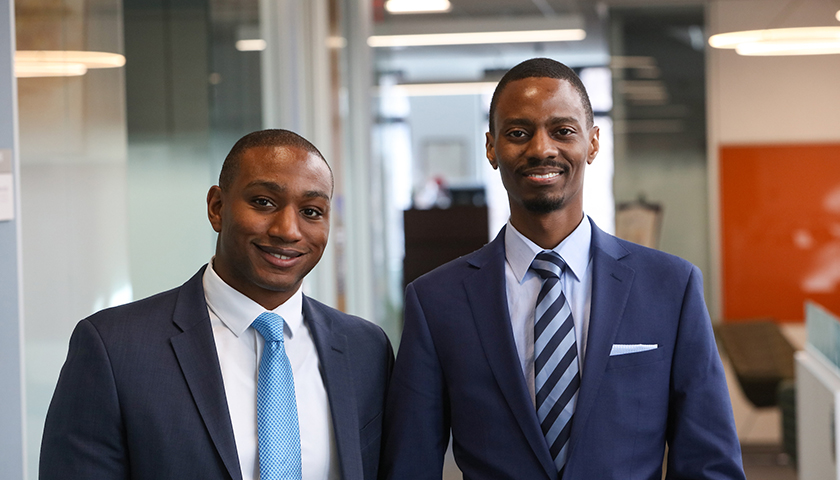 The Sawyer Business School launched its Master of Science in Business Analytics (MSBA) in the fall of 2017 to provide a focused degree for business students who love digging deep into data.
It's a good field to be in. The need for financial analysts is projected to grow 11 percent from 2016 to 2026, according to the Bureau of Labor Statistics. That's faster than the average growth rates for all occupations.
"Technology is changing so quickly and affects how we do our work every day," says Daniel Muwamba, Class of 2020, who is working on a Suffolk MBA/MSBA. "Things change every year, even semester to semester. The MSBA program helps me stay current with the changes in technology."
Muwamba is deputy CFO at Boston Healthcare for the Homeless. He says he's able to take what he learns in his MSBA classes and apply it directly to his job. "I'm pretty excited about budgeting period this year," Muwamba says with a laugh. "With the new methodologies I've learned, I'll be much more efficient."
Muwamba also values the connections he's made with the MSBA program's professors. "We can ask them 'real-world' questions, and they can help us," he says. "I think that's pretty powerful."
Antwan Webb, Class of 2020, also an MBA/MSBA candidate, is putting his new knowledge to work as a wealth analyst at BNY Mellon Webb has especially enjoyed becoming more proficient with SQL, Tableau, and Python. That's because the ultimate value he can provide as an analyst is to take data and figure out the best way to present it—to display conviction for any type of conclusion you're making, as he would say.
The result? Webb is helping clients better understand their money.
"You have some people who like to see all the numbers listed out. And you have others who are very visual. So working with the wealth managers, I try to help convey what story is going to help that client understand their portfolio best. I help solve problems."
Learn more about the MSBA.
Contact
Greg Gatlin
Office of Public Affairs
617-573-8428
Ben Hall
Office of Public Affairs
617-573-8092