Conversation Starter
Master's in Marketing candidate researches how people communicate with Siri, Alexa & other AI devices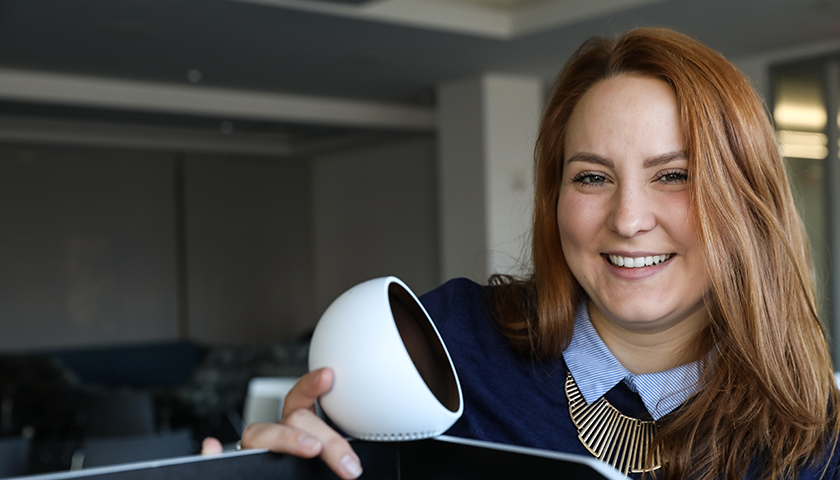 "Hey, Siri. How do you feel about our relationship?"
Most people don't spend time contemplating their interactions with virtual assistants.
But for Isabela Daudt, Class of 2019, how people communicate with the Alexas and Siris of the world is a big deal. That's because the thesis she's writing for her Master of Science in Marketing degree (MSM) explores how consumers interact with devices that use artificial intelligence to provide conversational assistance.
Daudt doesn't care so much about the technology behind it all. Rather, she's interested in understanding the dynamic that occurs when people use the devices.
"My idea is to do research based on different scenarios in retail and customer service and figure out how consumers feel about conversational assistance," says Daudt. "For example, do their perceptions change if it's a male versus a female voice? Or if's a more human-sounding voice versus a robotic voice? There are so many possibilities."
Deep dive into research
The Sawyer Business School launched the Master of Science in Marketing in fall 2018 to give students a grounding in areas like product management, market research, digital analytics, and sales management—in short, the skills that any student of marketing needs to build a successful career in a fast-growing field. (The Bureau of Labor Statistics predicts that employment of market research analysts is projected to grow 23 percent from 2016 to 2026, much faster than the average for all occupations.
Daudt, who's earning a dual MBA/MSM, feels that the marketing curriculum has been perfect for her.
"The MSM is very focused on research, and that's what I wanted from the beginning" she says. It even helped her land an internship at Affectiva, an emotion measurement startup located just blocks from Suffolk's downtown Boston campus. One nice part? Being able to use ideas from her marketing classes at the internship—and vice versa.
"It was nice to have the work experience and share it with my class as well as to bring my research to the internship," Daudt said. Even better, she has a job waiting for her at Affectiva after she graduates this spring.
Contact
Greg Gatlin
Office of Public Affairs
617-573-8428
Ben Hall
Office of Public Affairs
617-573-8092