Q & A with Incoming Provost Julie Sandell
Suffolk University's next provost shared her thoughts about her upcoming new role
In August Suffolk University will welcome new provost Julie H. Sandell.
Sandell has extensive experience as both a faculty member and administrator and comes to Suffolk from Boston University, where she currently serves as senior vice provost. She recently shared thoughts about her upcoming new role at Suffolk:
Q: What excites you about joining the Suffolk University community?
A: Suffolk has a wonderfully aligned vision and mission that permeates the faculty, staff, and students. It's really important to me that people all be pulling in the same direction to move a university forward, and I really get the sense at Suffolk that everyone has their own perspective on what needs to be done, but everyone is working to serve the same mission.
It's a mission that really excites me, and Suffolk has taken wonderful advantage of its unique location to craft a distinctive experience for students that's in concert with that mission. I'm excited to see how I can contribute to those efforts.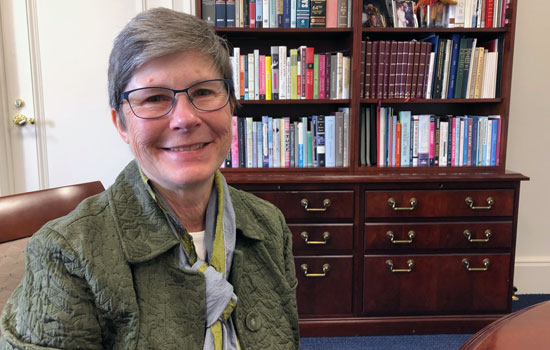 Q: How will you leverage Suffolk's location to advance its mission?
A: Location and integration within Boston are such fundamental parts of the Suffolk identity. Suffolk is able to leverage its location in Boston to draw students to the University during a very formative period of their lives—and then send them out to change the world with that Boston experience at their core.
I want to explore more ways that we can encourage and support students to take part in experiential learning that translates the knowledge they gain in the classroom into preparation for multiple different career opportunities.
Suffolk students often work in one or two jobs or internships in their areas of interest while they're going to classes. That requires a supportive environment that recognizes that interaction with the city is a very important part of students' education, building on what they're doing in the classroom. Those connections and partnerships should be supported at the highest levels.
Q: What are your plans to enhance student success and prepare students to be global citizens?
A: The opportunity to travel to another country is eye-opening for students—even if it's a fairly limited engagement of a few weeks. There are Suffolk programs already doing that very well, and I am interested in finding ways to build on that institutional knowledge and infrastructure to allow more students the opportunity to travel outside the United States.
That will involve developing more global partnerships to create internships and educational experiences that apply to students' studies and to their future careers. International experience also will enhance students' chances of finding employment. Today, even jobs that had previously been thought of as being domestic jobs increasingly have a global component to them. We must prepare students to participate and compete.
Q: Do you see opportunities for the University's three schools to work together?
A: The fact that Suffolk has three schools can provide a richer and more holistic student experience. Suffolk is unique in the way it grew and developed three very strong school identities. That has served the institution well, but one of the things that attracted me to this position is that I sensed a real appetite to build bridges among those separate entities.
The provost's position is well placed to offer insight into where those opportunities might be. I will have the ability to work with faculty, students, and the administration to see strategically across the institution and find connections between great ideas and the means to implement them. There also might be ways to draw on resources from across the University to create unique programming that will reengage alumni and help build a stronger community. I look forward to being at the nexus of these strategic and academic discussions and finding ways to invest in new collaborations.
Q: You will have a key role in implementing the new strategic plan. How will you engage the community in that work?
A: It isn't finalized yet, but when I look at what's likely to be a large and ambitious plan I try to find connections and understand how the different parts can reinforce one another to achieve each goal. Often the goals overlap, and making progress in one area can support multiple priorities.
It's important to be as transparent as you possibly can. I think that having a strategic plan is the best tool for transparency that a leader can have when making tough decisions about where to invest money or where to invest effort or what's going to be a priority. Having a strategic plan that's been developed very broadly as Suffolk's has been, and that's available to everyone in the community, is a terrific tool for an administrator in the decision-making process, because in order for the plan to be successful one needs to make decisions that are aligned with the plan.
The overarching goal of the strategic plan is to support student success. It will be critical to draw in all parts of the community to accomplish each one of the goals through the integrated work of faculty, staff, and students. I include students in this implementation discussion because Suffolk students have a very strong sense of investment and involvement in the future of the institution. We can't build an implementation process that is impractical from the student perspective, because at the end of the day the whole plan revolves around serving them.
Q: How do your experiences as both a faculty member and administrator inform your decision making?
A: I had a very traditional faculty career for the first fifteen years. I became interested in pursuing an administrative career when I was elected to a role in faculty governance. I became the chair of our faculty council, and that put me in a position of interacting with faculty broadly across the university and the administration at the highest levels. That was an eye-opening experience. What I enjoyed most was helping the administration understand the faculty perspective on various initiatives and helping the faculty understand where the administration was coming from and how they were trying to achieve their goals. My work for the past eight years has allowed me to work on everything that touches on faculty, including recruitment, promotion and tenure, compensation, diversity and inclusion, and policies to support junior scholars and new parents, among many others.
The provost is in a unique position in the administration to interface between the president and faculty. I'm excited to engage in that work at the highest levels at Suffolk.
Q: How will you support the teacher-scholar model and encourage faculty development?
A: One of the most important elements of student success is the relationships that students develop with faculty. We should encourage and support more student-faculty interaction around research projects and professional activities.
In my experience, undergraduate students have tremendous energy and excitement about working on topics that are important to them. The chance to work one-on-one with a faculty member on a question of scholarly interest can be a very positive way of engaging students while also supporting the scholarship of the faculty. I've trained graduate students and found that having a student to guide made me think long and hard about my processes and provided a stimulus for my own work.
There are ways to support students—financially or through credit for experiential learning—that would make it feasible to do more of this, including in disciplines where externally funded research opportunities aren't common. I see it as a win-win for the teacher-scholar and for the student.
Q: In your career you've taken an active role in advancing diversity and inclusion. What steps will you take to support these initiatives at Suffolk?
A: I am eager to work with President Kelly, Vice President of Diversity, Access, and Inclusion Joyya Smith, and other partners on existing and expanding efforts in many areas, including the development of deeply inclusive faculty search processes. It's important to have vocal and active buy-in at all levels to increase both diversity and transparency. The provost can help the University have an honest conversation about where we stand, how we compare to other institutions, and how we can set goals for progress.
There is a huge need for students to have people from varied backgrounds to connect with and see as role models. The faces that students see as they navigate around the campus really matter to them in terms of their sense of belonging in, and success at, the institution. I think it's also critically important for all students to see a diverse faculty of leaders whose characteristics and backgrounds are different from theirs, because that is what they'll encounter in the world and in the workplace.
Q: Where are you from originally, and what is your favorite thing about Boston?
A: I was born in Detroit and grew up outside of Philadelphia. I came to the Boston area for graduate school and have been here ever since.
Boston is a very progressive city within a very progressive state. People don't always agree, but they feel free to speak their minds. There is an element of respectful listening to different opinions in Boston that might not be as prevalent in other areas.
We have a rigorous exchange of ideas, and that's partially due to our large population of students. Boston is a constantly renewing college town in a sense. Every fall when new students arrive I feel an influx of energy. It is hard to imagine finding the unique combination of history and constant renewal that we have in Boston anywhere else.