It All Started With Pokemon Pencils
Finance program graduate talks about her journey to and through Suffolk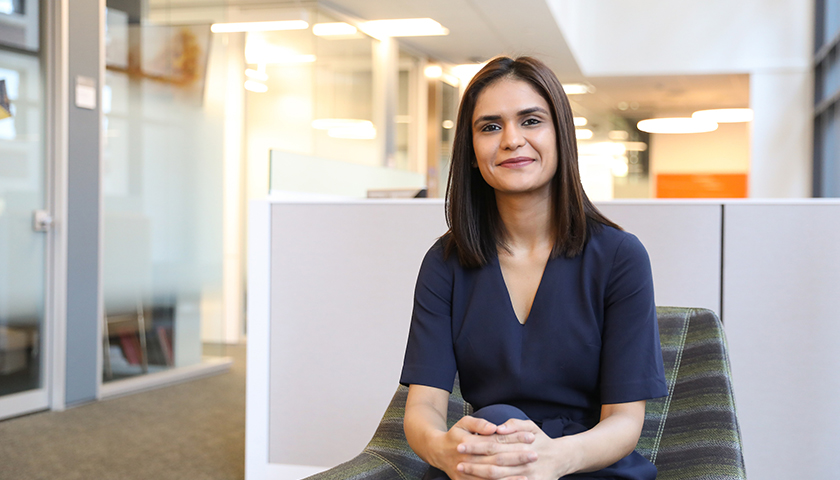 Priya Suhag knew business was her calling when she was 10-years old.
Riding on the bus to school in India, she would reach out the window to buy glittery Pokemon pencils from street vendors and then sell them at a profit to her classmates. She got so successful that her mother wondered if she might be doing something illegal.
"I always had a wad of cash," laughs Suhag. "Even then, I knew I wanted to be a businessperson. I quickly learned the principle of supply and demand as well. I would pay attention to what the girls liked versus what the boys liked and bought accordingly."
That focus and drive is still apparent. Suhag recently graduated with a Master's in Finance (MSF) from the Sawyer Business School…completing her degree in just one year. (Full-time students usually complete an MSF in two.)
Suhag says one of the favorite parts of her Suffolk experience was the two-day course, "You as a Leader: Effective Career Planning."
"It was the most pivotal weekend as well the most incredible class I've ever taken," Suhag says. "It was totally exhausting, but I learned a lot about myself."
Suhag describes doing a SWOT analysis for the course, in which she analyzed her own strengths, weaknesses, opportunities, and threats. "I wrote them down before the class, and what I found out about myself by the end was very different," she says. "That was definitely an 'aha' moment."
One thing Suhag says she learned was how to better critique colleagues by offering them a criticism "sandwich," in which the critique is preceded and followed by a positive statement.
During another exercise in which participants chose different roles for a hypothetical corporation, Suhag immediately raised her hand to be COO. "It showed me that I'm a little bit more fearless than other people," Suhag says. "But I also learned my weaknesses. I'm assertive sometimes but maybe not enough."
Imitation education
John Brosnahan, BSBA '94, MSF '97, spoke In Suhag's financial policy capstone course one day and started handing out brand-new Bose speakers and headsets. "We were all, like, 'sweet!'" says Suhag. "Turns out, everything was counterfeit. There was no way we could tell." Brosnahan explained that wherever he goes on business, he checks out the counterfeit market as a way to help protect the Bose brand.
"That day I was truly forced to think about business outside of just the financial modeling and the numbers," says Suhag. "It forced me to think about risk factors that aren't always quantifiable while doing planning and stress-tests."
Now that commencement is behind her, Suhag has started working at the professional services firm EY, doing financial advisory for wealth and asset management clients.
"I really loved the program," she says. "The MSF not only gave me the knowledge I need to be successful but taught me how to apply that knowledge in the real world.
Contact
Greg Gatlin
Office of Public Affairs
617-573-8428
Ben Hall
Office of Public Affairs
617-573-8092