Raising the Bar
How a soap maker uses his Suffolk Executive MBA to grow his business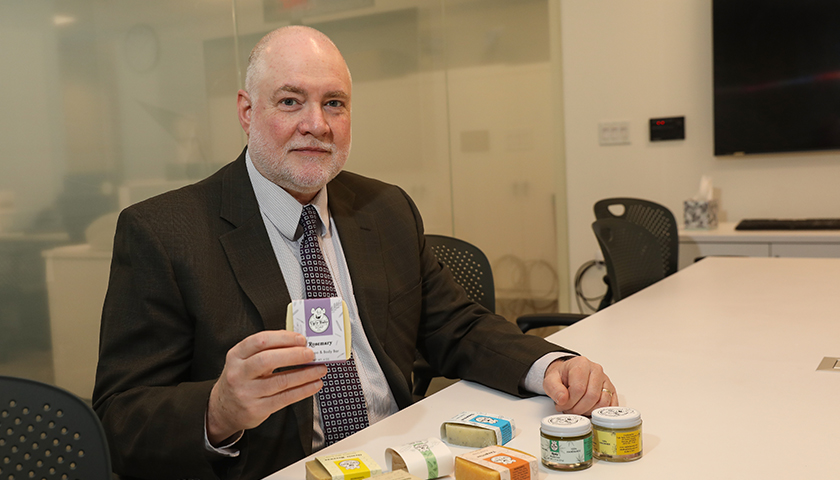 Steve Hamilton, EMBA '16, is cofounder of Ugly Baby Soap Co., and the first question most people ask him is, "How did you come up with that name?"
Turns out, it came from his Sawyer Business School Executive MBA capstone class. Before the final project presentations, Professor Jodi Detjen admonished each student not to succumb to the "Ugly Baby Syndrome" in which people pay a compliment to a parent even if the baby's ugly. Detjen wanted the students to give honest feedback on other students' projects.
So in part to remind his fellow students to be honest about his idea, Hamilton branded the soap "Ugly Baby," and the name stuck. He even used an illustration of an infant his brother-in-law made years before for a baby shower and enlisted a Suffolk Art & Design student to help him design the logo.
"I remembered this invitation he drew, and the baby was actually quite ugly," Hamilton says. "I just incorporated it into the samples I put together for the class. We didn't plan on using that name permanently, but based on the reactions we got, we realized that nobody's going to forget that name."
Now Hamilton and his wife, Melanie, are working full-time to grow Ugly Baby, which offers hand-crafted products developed using the same traditional methods Melanie learned from her mother. Soaps, lotions, lip balms: They're all organic and all hand-crafted.
Behind the suds
In the EMBA program, each student had to come up with a list of 20 different ideas for a business; soap was only #18 for Hamilton. "It was just something my wife had been doing," he says. But after realizing that some of his other ideas weren't going to work, soap became his first choice.
"The soap thing floated to the top as I started learning more about operations in my classes," he says. "My background had been in IT, but operations really got me excited as I started to go through the EMBA program."
That—and the fact that he got to work with his wife in his retirement—were the reasons he dove full time into Ugly Baby after finishing his career at the Office of the Comptroller of the State of Massachusetts.
As he quickly learned, though, there's a lot more to making soap than just making the soap. Hamilton has to deal with contracts, organic certifications, where to put bar codes on packages, and much more every day, daunting tasks even for such a simple business. But he credits his Suffolk EMBA preparing him for the multiple issues that come along.
"The EMBA program has been a great resource to be able to lean on," says Hamilton. "I still have my textbooks and go back and look at them. I don't have a boss. I don't have employees. So if there's something that needs to be done, I need to do it and do it right. It's nice to have that solid educational foundation and support to stand on."
Ugly Baby products are available online, at select stores, and at farmer's markets around Massachusetts.
Contact
Greg Gatlin
Office of Public Affairs
617-573-8428
Ben Hall
Office of Public Affairs
617-573-8092