A Whole New World
Alumnus helps "imagineer" 'Star Wars': Galaxy's Edge at Walt Disney World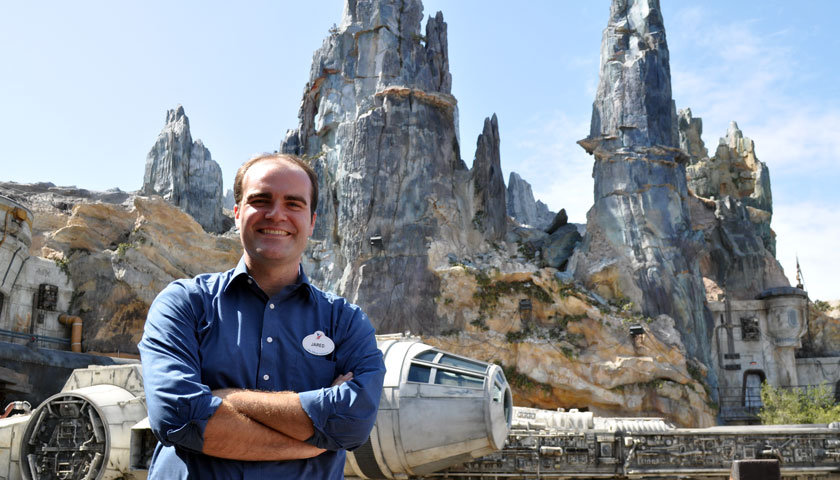 When interior architecture alumnus Jared Sell caught up with Suffolk in 2017, he had just finished work on Pandora—The World of Avatar at Walt Disney World's Animal Kingdom Park. Now just two years later he is celebrating the launch of a brand-new world he helped bring to life as a Walt Disney Imagineer: Star Wars: Galaxy's Edge. Sell discusses his role as project manager supporting the area development and Black Spire Outpost, what it's like to be part of the Walt Disney Imagineering team, and how he applies his graduate education to his work:
Q. Are you a Star Wars fan? Did the iconic nature of the films make working on the exhibit more or less difficult?
Sell: I would consider myself a typical, pop-culture-style fan. Each project has its own unique set of challenges and opportunities. We always set out to provide an immersive experience for all of our guests and Star Wars: Galaxy's Edge is the next chapter in our product delivery.
Q. What was the most challenging aspect of this project?
Sell: As our largest single-land expansion to date at the Walt Disney World Resort, the sheer size and magnitude became an undertaking that pushed our team. Without the diversity and collaborative nature of the Walt Disney Imagineering team, a project like this never would have been possible.
Q. What parts of the land are you most proud of?
Sell: I'm proud of every part of Black Spire Outpost. Take Oga's Cantina for example: It is uniquely Star Wars in its atmosphere, creating a one-of-a-kind experience for the "off-worlders," as guests are called by the locals on Batuu.
Q. Are there any hidden details visitors should look for in Star Wars: Galaxy's Edge?
Sell: The land is rich with Star Wars past, present and future. Every time you visit, you will find new details. We want you to be able to live your own Star Wars story, so I'll hold my favorite ones until you find them yourself.
Q. What's your advice for anyone thinking about starting the master's program in interior architecture?
Sell: A graduate degree is typically a part two in your education. Don't be afraid to take your undergraduate education and utilize it to further enhance your graduate degree. It will make the experience uniquely you. While my undergraduate was in landscape architecture, it was the blending with interior architecture that helped me grow into the professional that I am today.