Suffolk Votes campaign encourages civic engagement
Students began to fill the lobby of the Sawyer Business School shortly after noon for a "feel good" event marking National Voter Registration Day.
Signs for free pizza and T-shirts and the upbeat sounds of a four-piece band set a festive mood on Sept. 24 as students learned about the political process and the importance of civic engagement.
Suffolk Votes Ambassadors Sabrina Holland and Devon Rutter were among those fielding questions from fellow students about how to register to vote and the status of upcoming elections.
"Getting students to register to vote is only the first step," said Rutter, a Politics, Philosophy & Economics major. "We then want to inspire them to get involved in government and make an impact in our community."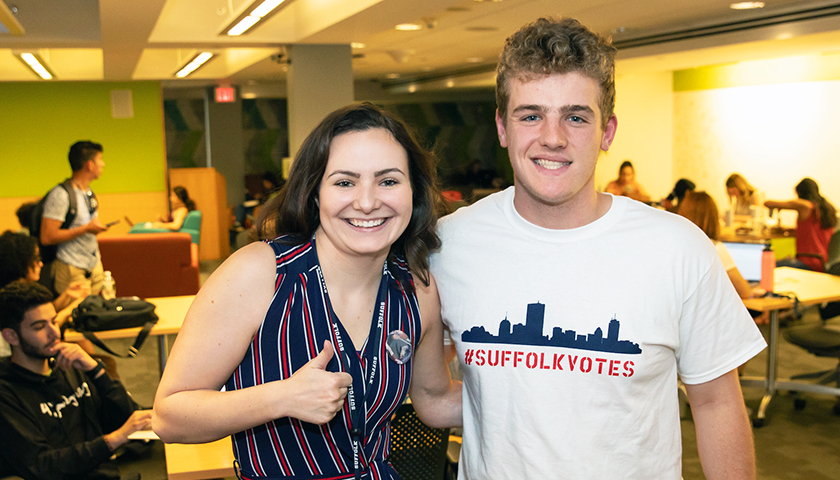 Power of the people
"Students and everyday people have to follow through with the process," said Holland, who is a Political Science & Legal Studies major. "Elections are not determined by the majority of people; they are determined by the majority of people who show up at the polls."
Holland and Rutter, both Class of 2023, say that college students today are willing to vote and create change because they believe the current system is not working for them.
"A lot of young people understand that there are big issues affecting us on the national stage, such as climate change, safety in schools, and even college debt," said Rutter, who works as an intern for Massachusetts Secretary of State William F. Galvin. "These are all important matters to them, and they know their vote counts."
Holland listed immigration, health care, and women's rights as topics that need to be addressed immediately.
"We (college students) have a lot of work to do and we will not be quiet until these issues are resolved," she said. "We need to get involved because we are the future. As President John F. Kennedy said, 'the torch has been passed to a new generation.'"
The Suffolk University student voting rate increased 13 points (23.5 percent to 36.5 percent) between the midterm elections in 2014 and 2018.
The increase in student voting can be attributed in part to Suffolk Votes, a University-wide initiative led by Professor Rachael Cobb, chair of the Political Science & Legal Studies Department, and Adam Westbrook, director of the Center for Community Engagement.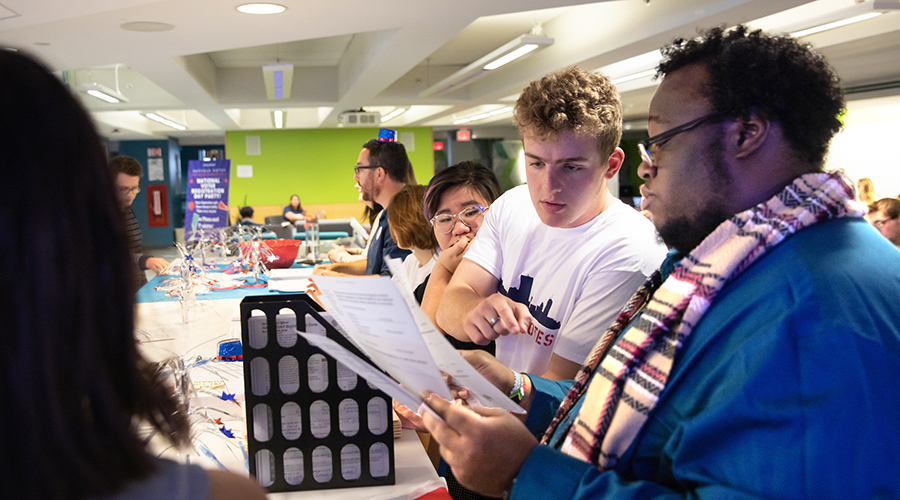 Easing the path to the polls
The College of Arts & Sciences, Sawyer Business School, and Law School are working together to educate students about how the political process works.
"We are trying to take the guesswork out of voting," said Cobb. "New voters are often surprised at the number of steps it takes to actually get to a polling place, including registering to vote, learning where to vote, learning about the issues, and so on.
"We want to provide a space for students to really understand holistically how to engage in electoral politics. This is a very exciting time in the world of politics and our goal is to provide our students with all the resources necessary to be informed and engaged."
Students encourage voter engagement
"This year we have a strong group of Suffolk Votes Ambassadors," said Westbrook. "They are energized to get as many students involved as possible as our country and the world decides how to face pressing public challenges.
"We're also thrilled to be partnering with local organizations like MassVote to work together to raise the level of voter engagement here at Suffolk."
Upcoming Suffolk Votes events
"Why Vote?" Workshop with MassVote. 5-6:30 p.m., Tuesday, Oct. 15, Stahl Center, 73 Tremont St., Room 100.
"Fake News" Workshop with MassVote. 12:15-1:30 p.m., Thursday, Oct. 17, Samia Building, Room 114.