Peter Burn advises EPA and others on pollution and the potential impact of climate change
Most people don't think twice about where water goes "so long as it disappears down the drain," said Biology Professor Peter Burn.
Out of sight. Out of mind.
Not exactly. There are many biological and engineering challenges when it comes to providing clean drinking water and disposing of the wastewater humans produce.
Because of his deep understanding of these important concerns, Burn has been asked to advise the Environmental Protection Agency and the Massachusetts Department of Environmental Protection on scientific matters through his recent appointment to the Outfall Monitoring Science Advisory Panel.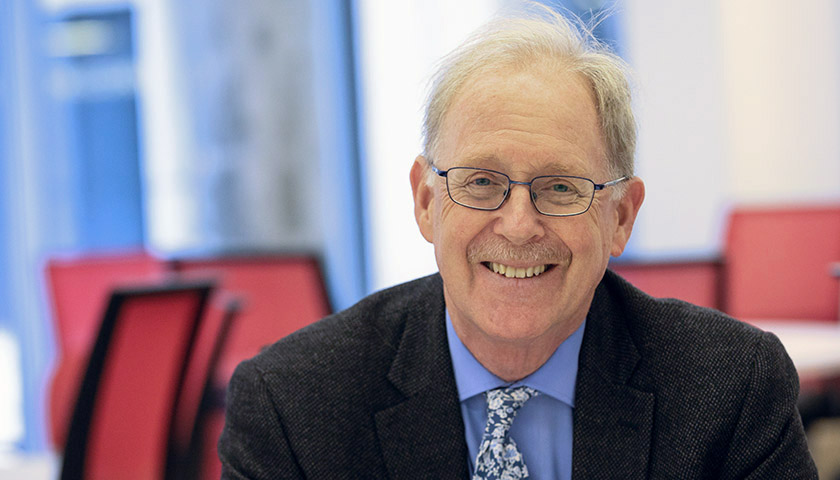 Monitoring potential pollution
The 10-member panel, which includes university experts and representatives of the Woods Hole Oceanographic Institution, meets regularly to review and evaluate data and consider possible changes to the monitoring protocols related to the Massachusetts Water Resources Authority (MWRA) Massachusetts Bay sewage outfall.
"We consider acute risk and chronic risk for traditional pollutants," said Burn. "Our biggest concern is to make sure we're looking at the right things."
Boston Harbor was severely polluted in the 1980s because sewage was of directly disposed into its waters, according to Burn. Public pressure led to the MWRA's building a new treatment plant on Deer Island and discharging the treated sewage through a nine-mile tunnel into Massachusetts Bay.
The new facility came on line in 2000, and a 350,000,000-gallon-per-day river of treated sewage has been discharged into Massachusetts Bay ever since.
And data show that, while the harbor has become cleaner, the bay has not been adversely affected.
"It's a success story," said Burn. "The good news is that after almost 20 years of the offshore discharge, there are few visible effects on the flora and fauna of the bay. The treated discharge is much cleaner than from the old plant and contains fewer bacterial spores or other toxins."
Eyes on the future
The advisory panel is now debating whether it has looked at all the possible contaminants and adequately anticipated the effects of climate change.
"Our current meetings are dominated not just by examination of current monitoring results, but the discussion of what might be needed in the future," he said.
Looking ahead, Burn and his colleagues are interested in learning more about microplastics in the ocean and chemicals generated from pharmaceuticals and personal care products.
"There could be effects that we have missed, and that makes the current day very interesting," said Burn.
"The world of the 21st century is changing rapidly, and it's important to try to stay ahead of the adverse effects of sewage disposal and to protect Massachusetts Bay."