Income Inequality: Overcoming the Divide
Fall 2019 Moakley Breakfast Forum explores the disparity of wealth in the Commonwealth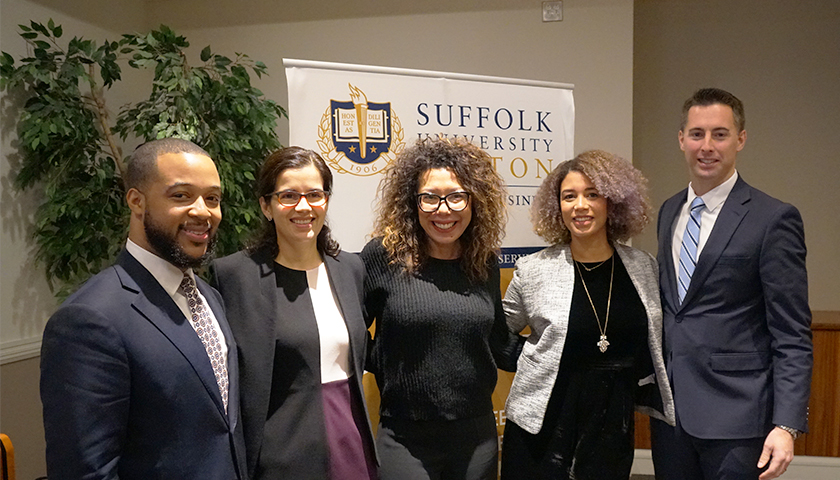 The first panelist of the fall 2019 Moakley Breakfast Forum started the morning with a sobering statistic: Nationally, for every dollar of wealth white families have, African-American and Latino families have about 5 cents.
"The gap doesn't change much even when you control for income and education," continued Anna Steiger, vice president of regional and community outreach at the Federal Reserve Bank of Boston In fact, she said, white families in which at least one person has a high school diploma or the equivalent have more wealth than African-American and Latino families in which at least one person has a bachelor's degree.
Steiger was one of five panelists who explored the sometimes startling divide in wealth and income across the state of Massachusetts. The forum was co-moderated by Suffolk Professor Richard Taylor, director of the Sawyer Business School's Center for Real Estate and former secretary of transportation under Massachusetts Governor Bill Weld; and Suffolk Professor Linda Melconian, former Massachusetts Senate majority leader and assistant counsel to the late U.S. House of Representatives Speaker Thomas P "Tip" O'Neill, Jr.
Steiger was followed by Malia Lazu, executive vice president and chief experience and culture officer at Berkshire Bank. Using the Oakland-based Runway Project as a model, she's helping Berkshire Bank start an initiative that offers community-underwritten microloans to new minority business enterprises (MBEs). The bank's goal is to issue $1 million in loans by the middle of 2020.
"For the minority community, $1 million is a lot of money. So it's easy to have real impact." In Lazu's view, the loans are as much about helping MBEs get a business going as building relationships within the community. "We want to be there at the beginning," she said.
More Grim Numbers
Segun Idowu, executive director of the Black Economic Council of Massachusetts, which works to ensure that cities, towns, and the state invest in businesses of color, offered his own stark statistics about the wealth gap: In fiscal year 2018, the city of Boston spent $664 million on approximately 14,000 vendor contracts, only $4 million of which went to minority business enterprises. Idowu explained that, in Boston, "Minority doesn't mean black or Latino. Minority means 'non-white.' So in a city that is 50 percent people of color, 0.5 percent went to minority businesses."
Marie-Frances Rivera, president of the Massachusetts Budget and Policy Center. noted that Massachusetts is the sixth most unequal state in the U.S. when it comes to income inequality. "I believe income inequality has been at a crisis level here for a very long time," she said. "So we have to be bold in how we're outlining the problem and bold in proposing solutions."
State Senator Brendan Crighton, chair of the Joint Committee on Housing (who earned his MPA from the Sawyer Business School in 2009), talked about another issue within the wealth gap: housing, an issue the Moakley Breakfast Forum explored in spring 2019. "We're producing less than half the housing we produced back in the 1970s," he said. "Rent has increased 75 percent since the year 2000. And since 1980, our single-family home prices have more than any state in the country."
Despite these somewhat discouraging discussions, there was an air of hopefulness to end the breakfast. In the final minutes, co-moderator Melconian asked each panelist: What can everyone in the room do to help overcome the wealth divide?
Responses included:
Anna Steiger: "Be aware of the history of policy in this country; that can help change the narrative."
Malia Lazu: "Understand the difference between 'equality' and 'equity.'"
Marie-Frances Rivera: "When you love yourself, you're going to be okay with other people having things as well."
Segun Idowu: "For our white brothers and sisters in the room, if you really want to help with sustaining the future of the Commonwealth, it is what you do when you're in a room with other white people. More often than not, we are not, if ever, in the room, so it's important that you're our voice."
Brendan Crighton: "Hold your elected officials accountable."
Hosted twice a year by Suffolk's Institute for Public Service, the Moakley Center for Public Management, and the Moakley Foundation, the Moakley Breakfast Forum brings local experts together to discuss a single timely issue.
Contact
Greg Gatlin
Office of Public Affairs
617-573-8428
Ben Hall
Office of Public Affairs
617-573-8092