Exhibits Focus on the Concept of Home
Faculty images from Senegal among photographs featured at campus art gallery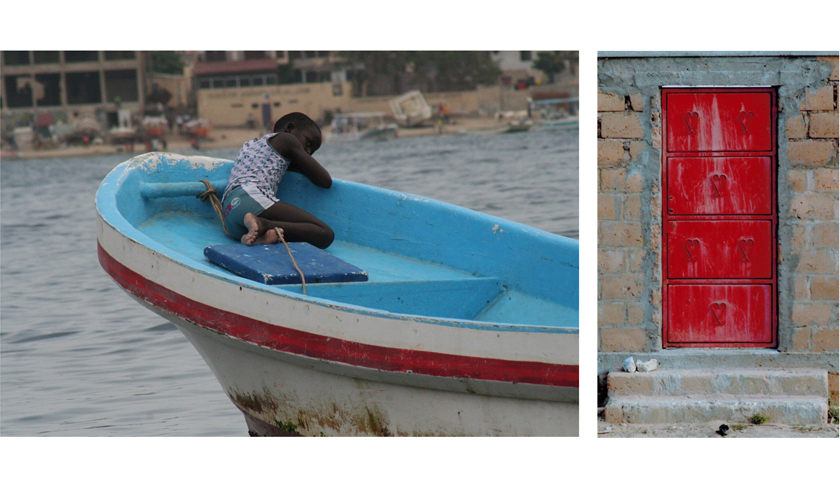 Professor Robert Bellinger and Kenneth Martin are friends, educators, and photographers who share a love for the West African nation of Senegal.
Their interests coalesce in the exhibit Home of the Heart, a collection of photographs of people and places captured over many years in Senegal and now on view as part of a larger photography exhibit at the Suffolk Art Gallery from Nov. 19, 2019 through Jan. 22, 2020.
"I've been to Senegal about five times in the last decade, and Ken and I have been there at the same time over the years," said Bellinger, who teaches history and is the founder and director of the Black Studies Program at Suffolk. "We have found many connections over there, which makes it feel like home to the both of us."
"Sharing my work with Bob through exhibits has become a natural thing," said Martin, who teaches photography and photojournalism at Suffolk. "Although we see things through our own individual lenses and have different perspectives, we have the same concerns for showing the Africa that we both know in a realistic and positive way."
Bellinger is an independent photographer who describes his work as "documentary portraiture." He likes to photograph people of all ages in the moment, whether they are working, playing, or freely expressing themselves.
"When I'm with my camera, I don't look for any specific shots," said Bellinger. "I have my eyes peeled on interesting people doing interesting things, like at a festival where they are active and coming together."
Bellinger is a founder and director of The Géwël Tradition Project which works in Dakar, Senegal, with a family of géwëls, who are keepers of historic, cultural, and spiritual traditions.
Martin, who has taught photojournalism at the School for International Training in Senegal and visited the nation a number of times, says he was treated as family by all the people he met there. In the Keur Sadaro village in the Wolof Heartland, he and students were given African names and new "parents" during their stay. Martin stays in touch with his friends in Senegal through Facebook.
The concept of home also is the focus of the Suffolk Art Gallery exhibit Finding Home on display in conjunction with Home of the Heart, featuring the following artists:
Christine Collins examines the intimate and perhaps overlooked moments in a domestic space.

Stefanie Klavens creates portraits of people through the places they inhabit, home and away from home.

David Hilliard focuses on the personal, the familiar, and the simply ordinary, striking a balance between autobiography and fiction.

Eduardo L Rivera, collaborates with his immigrant mother to make photographs "influenced by the pleasures and terrors of home life in the American Southwest...."

The late William Christenberry photographed rural Hale County, Alabama, where he spent time with extended family. The area's Depression-era farmers are the topic of Let Us Now Praise Famous Men, written by James Agee, with photography by Walker Evans.

Max Belcher photographed the Americo-Liberian community of his youth, which had been colonized by freed slaves and free-born blacks from America.