Crowdsourcing a Scholarship
Sawyer Business School Alumni Board takes the lead on endowing a new financial aid fund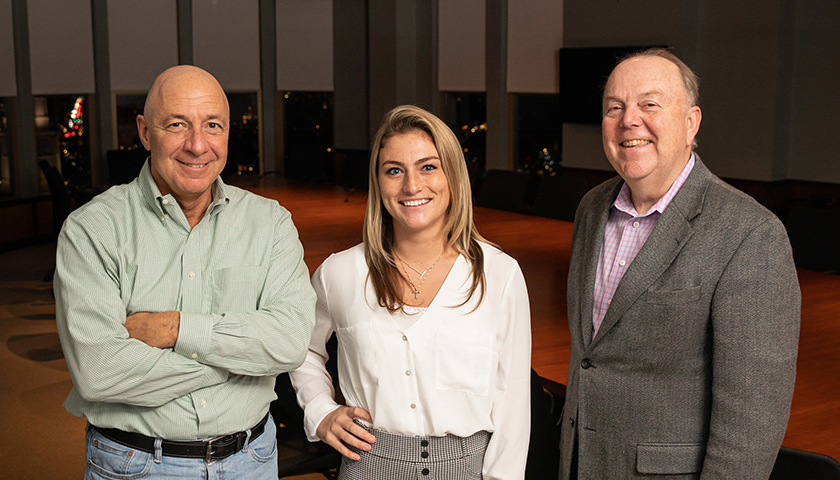 Currently, about 95 percent of Suffolk students receive some form of need-based financial aid and/or merit scholarship. Ensuring our students have the means to remain here and complete their degrees is a key element of the University's mission.
So any assistance that comes along can be incredibly important to SBS students.
That's what motivated Ken Mooney, BA '77, MBA '80, to do something beyond just writing a check. With the total support of the Sawyer Business School Alumni Board, he set out to create an entirely new scholarship for the Business School that would be funded en masse by alumni.
"The Alumni Board approved the fund in April 2017," says Mooney, "and four months later we had surpassed the threshold we needed to become an endowment. That was very exciting. It showed that Business School alumni really believe in the mission of the School and understand how essential it is to help our current students."
Unlike term gifts to the University, which expire once they're used up or after a certain time, the Sawyer Business School Alumni Association Scholarship is endowed, which means the interest the fund generates can be used in perpetuity.
The most recent recipient, Talia Riccioli, Class of 2020, is a finance major with a minor in big data. She learned about her award in October of 2019.
"It's so exciting," says Riccioli. "I've worked so hard and it feels good to know that people appreciate that. It made my day. It made my year!"
In meeting Talia, Mooney recounts how rewarding it was to see how well she fit the scholarship criteria, especially through her active involvement in the University.
As former president of the Business School Alumni Board, Mooney knows how important it is to support Suffolk. He himself is a double Ram and has two daughters who are also Suffolk graduates: Kiara, BSBA '11 and Delia, BS '12. He's hoping that other alumni will give back to Suffolk by making a gift to the scholarship.
"This is a straightforward way to contribute and help Business School students because it goes directly to them," says Mooney. "Whether it's a $25 gift or you're joining the Summa Society by giving $1000 or more, that donation is helping the fund's endowment grow, which ultimately means more tuition assistance for students."
Mooney says the Board's goal is to grow the endowment so that larger, multiple awards can be made in the future.
"I encourage all alumni to give back to Suffolk, and I know the University is very grateful for our support," says Mooney.
Comprising 15 undergraduate and graduate Business School alumni, the Sawyer Business School Alumni Board connects fellow alumni with each other and Suffolk University through social and business networking opportunities and seeks to advance Suffolk and the Sawyer Business School by assisting with student and alumni career development, admissions outreach, and fundraising initiatives.
Contact
Greg Gatlin
Office of Public Affairs
617-573-8428
Ben Hall
Office of Public Affairs
617-573-8092