From Student Reporter to a Career in the Big Leagues
Suffolk experience leads to career as digital content specialist for Boston Bruins
As a first-year print journalism major, Eric Russo was determined to get involved on campus and was happy when he landed a sports-writing gig with the Suffolk Voice, the online student news publication.
He soon got his first press pass and, as a longtime hockey fan, jumped at the opportunity to cover Boston Bruins games only a slap shot away from campus at the TD Garden.
"I was living a dream," said Russo, Class of 2015.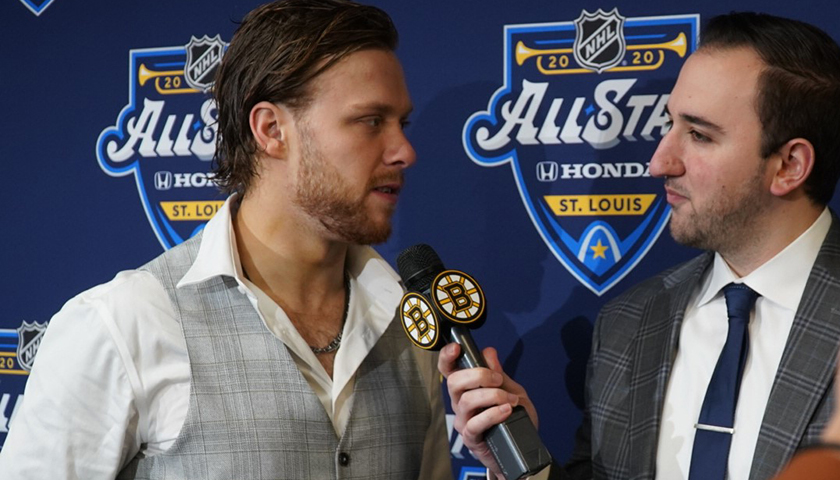 Internship paves the way
He still is. That role as a student reporter led Russo to an internship and then a career with the Bruins.
"Without covering the Bruins while at Suffolk, I don't get that internship, and without that internship, I don't get the full-time job I have today," said Russo, now a digital content specialist for the National Hockey League team.
"Suffolk opened the door for me to work for a pro sports franchise in my own hometown."
Here, there & everywhere
Russo's responsibilities include being the main on-camera and web reporter for BostonBruins.com and the team's social channels. He appears in daily news packages, one-on-one interviews, and occasionally on the TD Garden jumbotron. He also assists in the production of the Bruins' two television shows—Behind the B and Bruins Academy.
In addition, he manages content for the Bruins' website, writing daily feature stories, blogs, and notebooks, and posts timely information on Twitter, Facebook, and Instagram.
"This job keeps me on my toes," said Russo. "Sports isn't scripted, so you never know what's going to happen from one day to the next. You have to be ready for anything, such as an injury, a trade, or a historic moment."
Every opportunity explored
Besides developing his writing talents as a Suffolk student, Russo worked as an on-camera analyst for and producer of the University's official sports talk show, Clash of the Rams, discussing sports—at Suffolk, around Boston, and nationally. He also learned how to write scripts, produce graphics, and develop show ideas and topics.
The opportunity to learn by doing prepared him for the work he does today, and he has particular regard for Suffolk television studio manager Jerry Glendye, who helped him learn the ropes.
"He molded us as students into on-camera personalities by not only challenging us, but also making it fun," said Russo. "He gave us the opportunity to use the studio and pushed us to come up with different approaches and formats on our own."
Glendye knew that Russo had what it takes to be a success in a highly competitive business.
"Eric asked a lot of questions and thought outside the box," he said. "He was always trying to better himself, and the core values he learned here at Suffolk have definitely made him a valuable representative of the Bruins organization."
Global experience
Through his work with the Bruins, Russo, a former Everett High School hockey player and coach, has walked on the Celtics parquet floor, sat in the Red Sox dugout, and met Patriots coach Bill Belichick.
He's visited arenas in every major city in the United States with the team, traveled to China, and will be headed to Mannheim, Germany, this fall for an exhibition game and to the Czech Republic for the Bruins' season opener in Prague.
"My job is not only about professional hockey; it's a life experience," said Russo. "I love what I do, and I can't see myself doing anything else. Looking back, everything has lined up perfectly."