Suffolk Law Leads Effort to Increase Court Access During Pandemic
Innovation lab tapping volunteers from across the globe
Imagine a woman living with an abusive partner, isolated for months during the pandemic shutdown. Eventually, she goes to the local courthouse to get help, but the doors are locked when she arrives. Massachusetts courts have been closed to the public except for emergencies, because of the pandemic.

She waits outside for hours, until a clerk finally comes with a stack of complex papers for her to complete on her own.

"Unfortunately, this actually happened," says Quinten Steenhuis, a legal technologist and clinical fellow in Suffolk's Legal Innovation & Technology (LIT) Lab.

To help avoid these types of situations, in March 2020, in the early days of the pandemic, the Massachusetts Supreme Judicial Court put out a call for ideas to increase public access to justice. The LIT Lab sprang into action, and set out to create court forms that people facing legal emergencies could fill out on their mobile phones and submit to the courts.
An innovative approach
Within just a few weeks, the LIT Lab had recruited 100 volunteers across five continents: coders, designers, lawyers, linguists offering translation services, and the LIT Lab's own committed student team. Together, in less than two months, they built smart, mobile-friendly court forms that walk users through complex legal documents, in the same way that TurboTax simplifies tax filing.

The project, dubbed Courtformsonline.org, is a remarkable feat, both for its swift turnaround and its $0 price tag for the courts. Without the volunteer army, Steenhuis estimates the project could have cost over $1 million.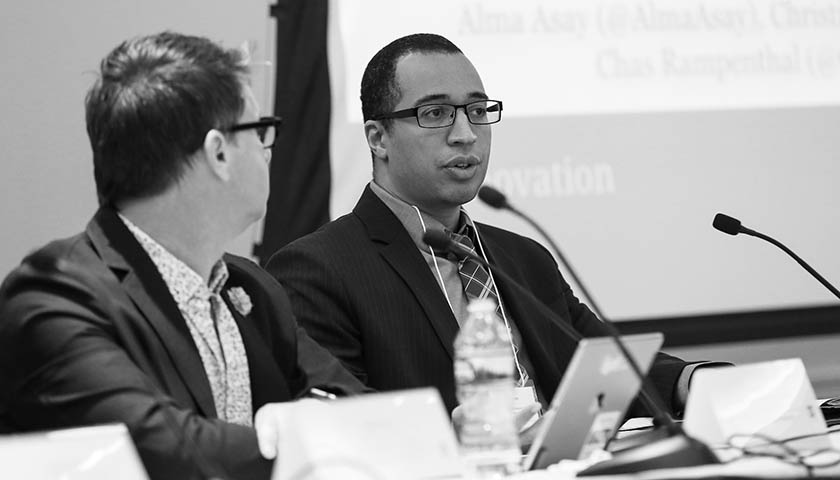 Media Coverage
Critical access, pandemic or not
Across the U.S., such smart forms are sorely needed. Even without the additional challenges brought on by the pandemic, Steenhuis says, nearly nine out of 10 low-income people face civil legal issues without an attorney to guide them — including domestic violence survivors seeking restraining orders, renters trying to force a landlord to repair a broken sewage pipe, and tenants facing eviction.

Nor will the need for smart court forms diminish as the pandemic wanes, says David Colarusso, director of the LIT Lab. Numerous factors — lack of transportation, child care, or a computer printer in the home; bad weather; employers who won't allow time off from work for court visits — can prevent someone from filing court papers even in the best of times.

"People can file our forms at their convenience," says Colarusso, "including in the middle of the night when the court's closed. It means not having to take time off work to pick up or deliver a sheet of paper."

The team's forms have been completed more than 10,000 times in the last year. Across the country, thousands of people have also turned to a free online tool the Lab designed, which helps tenants determine whether they qualify for eviction relief based on the Centers for Disease Control and Prevention's eviction moratorium order.


Students spurring a movement
These tools have earned national media recognition, from outlets like the New York Times, The Chronicle of Higher Education, Telemundo, NBC-Boston, and PreLaw Magazine, which named Suffolk the No. 1 school in the country for legal technology.

"It was my lifelong dream to learn to code," LIT Lab student Aubrie Souza, Class of 2022, told PreLaw — as well as an honor to work on a program that "really affects people's lives. You may never know them. You may never meet them. But we help[ed] them in one of the more stressful times of their lives."

And now the smart forms idea is spreading.

The Lab has trained court administrators, nonprofit staffers, and attorneys as far away as Germany and South Africa, as well as from 12 U.S. states, to create similar forms for their jurisdictions. The framework for coding the forms, Docassemble, is open source, so anyone with an interest can access it.

Paul Tuttle, assistant clerk of the state's appeals court, sums up Lit Lab's impact this way. "In addition to providing a template for making their arguments, your elegant work will reduce the stress that burdens someone who doesn't know where they will be sleeping tomorrow night, if they can even sleep at all."