Number 1 in the Nation
Suffolk Law earned top ranking for legal technology in 2021
Suffolk University Law School's groundbreaking program was named No. 1 in the nation by preLaw Magazine in its 2021 ranking. [Below image, NBC Boston interviews LIT Lab Clinical Fellow Quinten Steenhuis.]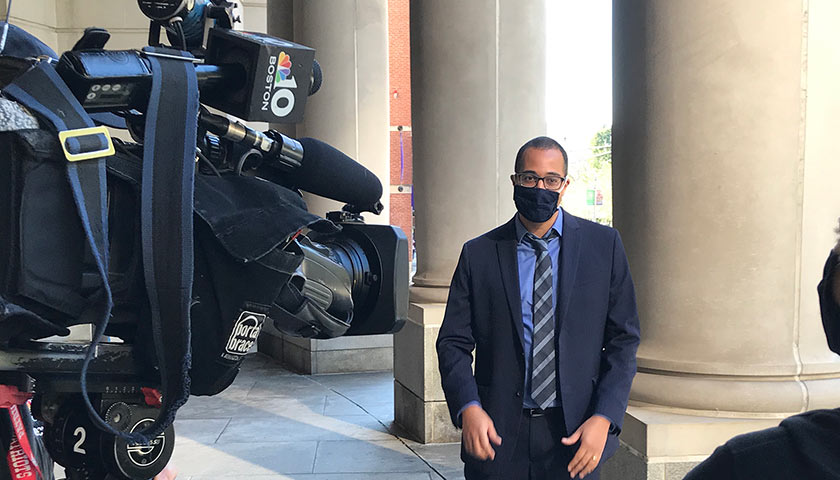 In the Winter 2021 issue, Suffolk cemented its place in the top spot, which it also held in the magazine's last ranking in 2018, finishing ahead of Georgetown (No. 2) and University of California-Berkeley (No. 3).
PreLaw evaluated which law schools were doing the best job preparing the lawyers of the future. The magazine was especially interested in how well law schools are teaching students to harness technology to meet the demands of a legal industry transformed by the global pandemic.
"Suffolk had a growing and nationally recognized legal tech infrastructure well before COVID hit. It boasts the
Legal Innovation & Technology (LIT) Institute
, the
LIT Lab
, the
LIT Concentration
, the
Online LIT Certificate
and
LIT electives
," wrote preLaw's managing editor Mike Stetz in his rankings coverage.
PreLaw said this "tech firepower allowed Suffolk to jump into action" when the pandemic struck. It praised Suffolk's "tech whizzes" for creating a
mobile tool
that allows people to access court forms and then walks them, step by step, through the forms' complex questions.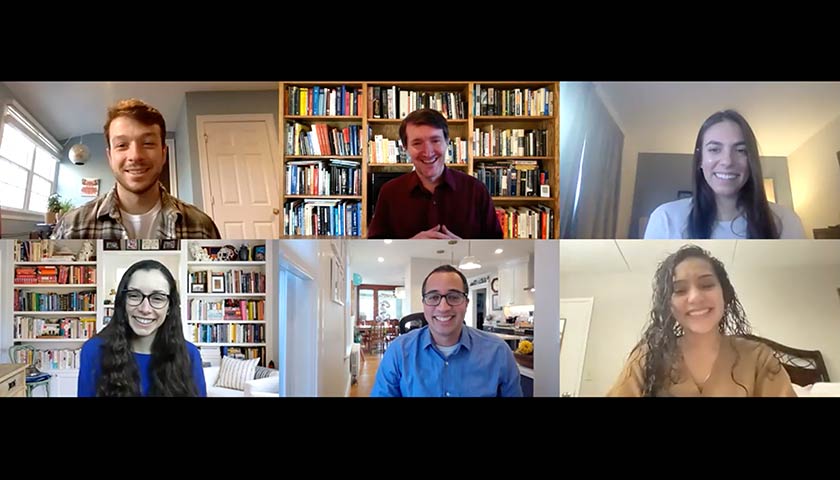 PreLaw called the smart tool "a huge deal, given that many Massachusetts courts have been closed and the ability to seek relief from life's many pandemic-related problems can be challenging, particularly if you don't have deep pockets."
PreLaw also singled out the innovative way that Suffolk developed the smart tool, by "reach[ing] out to volunteers worldwide—such as coders, lawyers and paralegals—to construct the online mobile system. They got help from people from Tennessee to South Africa. And, of course, Suffolk students played a major role."
One of those students was Aubrie Souza, Class of 2022. "It was my lifelong dream to learn to code," she told preLaw, as well as an honor to work on a program that "really affects people's lives. You may never know them. You may never meet them. But we help[ed] them in one of the more stressful times of their lives."
"It's vital to push for these kinds of innovations," Dean Andrew Perlman told preLaw. Not only can legal technology increase efficiency and help close the justice gap, he said, but it also makes Suffolk Law students considerably more marketable.
"Law firms are reaching out to hire our students," he said.
A legal innovation and tech ecosystem
"This recognition of Suffolk Law's leadership in legal technology is especially well deserved," said Suffolk University President Marisa Kelly. "As preLaw magazine notes, Suffolk Law is using technology to develop solutions to real legal challenges that affect real people. This is critical work and needed more than ever in this difficult time. My congratulations to Dean Perlman, to the faculty and staff, and to all involved in this important work."
Suffolk Law's prominence in the field began nearly eight years ago. The idea was to bring together academics, legal futurists, techies, designers, practicing lawyers, and legal nonprofit leaders to set a vision for what a law school's legal innovation and tech programming ought to be—and more importantly, what its students, with open minds and the courage to learn a new way of thinking, might accomplish to help the community, and maybe even the nation.
As the saying goes, build it and they will come. Working with then-Dean Camille Nelson, then-Professor Andrew Perlman created Suffolk's Legal Innovation & Technology Institute and the country's first LIT Concentration. Eight years later, the school continues to educate students and lawyers around the world in what technology and innovative processes can do to increase efficiency, affordability, and access to justice.
Practical solutions, awards, and media recognition have followed, from outlets like the New York Times (which highlighted Suffolk's tool to help tenants apply for eviction relief), the Chronicle of Higher Education, Telemundo, and NBC-Boston. The World Justice Forum named a Suffolk/Stanford crowd-sourcing tool to a shortlist of the world's most innovative access-to-justice projects, and Bloomberg has praised Suffolk's online Legal Innovation & Technology Certificate Program, which has drawn students from five different continents.
Perlman called the 2021 ranking "deeply gratifying," and credited Suffolk Law pioneers like Gabriel Teninbaum, assistant dean of innovation, strategic initiatives, & distance education; David Colarusso, director of the LIT Lab; Professor Dyane O'Leary, director of the LIT Concentration; and Clinical Fellow Quinten Steenhuis, with helping to make the law school a national leader in legal tech.
"I think the attention is justified when you look at the human impact of what the LIT faculty and students have accomplished," Perlman said, pointing to "AI tools that are making it easier for ordinary people to get substantive legal help online; smart, mobile forms for pro se litigants facing eviction or domestic abuse; a tool that helps families going through divorce create a parenting plan, and many more."
Particularly satisfying, he said, is that students learned new skills like coding, process improvement, and data analytics, to help build services for nonprofits and others traditionally priced out of cutting-edge innovations and technologies.
"Suffolk Law students are helping the community and at the same time helping themselves by learning relevant skills that legal employers of all kinds sorely need."
Read preLaw's "The Best Schools for Legal Technology"
Watch Quinten Steenhuis explain the LIT Lab's smart forms legal project on NBC Boston