Election Aftermath
Distinguished panel of experts unpacks the 2020 races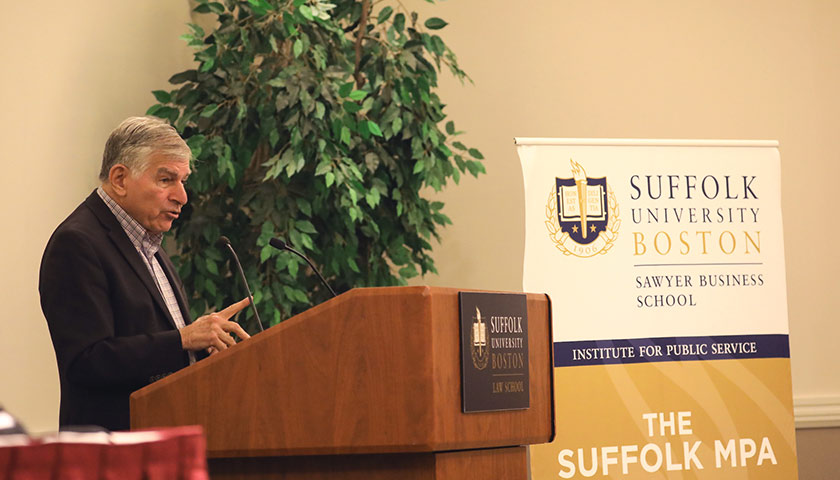 On the Saturday after the election, as votes were still being counted in key battleground states, Suffolk's Institute for Public Service and the Moakley Center for Public Management co-hosted a "Presidential Election Panel" to parse all that had happened during the tumultuous election season. The keynote speaker was former Massachusetts Governor and presidential candidate Michael Dukakis, and panelists included Congressman Jim McGovern (D-Mass.), Suffolk University pollster David Paleologos, and political consultant Anthony Cignoli.
Moderated by Sawyer Business School Professor and former state senator Linda Melconian, the panel discussed the just-completed election, the Electoral College, why the polls were mostly wrong (again), and the challenges facing soon-to-be president-elect Biden. It was the featured event of the Northeast Conference on Public Administration (NECoPA), a two-day virtual forum where almost 1,000 professionals, academics, and students from around the world had opportunities to engage in dialog about a wide range of public service issues. Watch the full discussion.
The Election. Anthony Cignoli echoed the sentiments of the panel—and probably most of the attendees—when he said, "This week has been stunning." Indeed, the panel took place as Biden was nearing the 270 Electoral College votes he needed to become president…four suspense-filled days after the election.
But all the panelists noted that the election had actually run quite smoothly. Doomsday scenarios some pundits had predicted didn't materialize. Ballots were cast. Votes were counted. Democracy was working.
"Despite a lot of anticipation of possible violence and conflict, this has been a remarkably well-run process throughout the 50 states," said Dukakis. "That's one of the reasons why we're going to have an orderly transfer of power."
And yet even when Biden becomes president, there are still more than 70 million people who voted for Trump. "President Trump may exit. But Trumpism may continue to go on," said Cignoli. "What's the future of the Republican party?"
The Electoral College. Dukakis in particular was very concerned that the Electoral College had long outlived its usefulness and, in fact, was inhibiting the democratic process. "If there's one thing that stands out with what's happened with the past elections, it's that the Electoral College has got to go," he said. "This system is not only inappropriate, it's unfair, it doesn't represent the broad majority of the American people, and it creates a situation where the winner of the popular vote doesn't become president of the United States."
The Polls. David Paleologos, director of the Suffolk University Political Research Center, weighed in on why so many polls around the country missed the mark. One theory is that live surveys of mobile phones may undercount rural voters, who rely more on landlines. Paleologos also pointed to the impact of demographic weighting. "It's like whack-a-mole," he said. "You weight one demographic down, another one pops up wrong and you've got to weight that down, and then another pops up wrong."
Overall, Paleologos was philosophical. "When you look at it on balance, some of us got it wrong, some of us got it right. At Suffolk we had a good year, and it could get better as votes are counted," he said.
(In fact, the Polling Research Center batted a thousand: In the six Suffolk polls taken in the final five weeks—including the states of Minnesota, Florida, New Hampshire, Arizona, and Pennsylvania, as well as their final national poll—all had the correct winner and were within the margin of error in the two-way ballot test.)
President-Elect Biden. Congressman Jim McGovern, who just days before had been re-elected to represent Massachusetts' 2nd Congressional district, soberly laid out his party's challenges for the next few years: a smaller Democratic majority in Congress, no "blue wave" in the Senate, an ongoing pandemic, and a hugely divided country. But he thinks Biden is the right person to be president at the right time. "If anyone can pull this country together, I think it's him," said McGovern.
Still, he urged Democrats to carefully consider the widespread support that Trump received. "We need to try and understand what happened here," he said. "Do people really identify with some of the things that Trump does and has said? Or is it that we're doing a lousy job of connecting?"
Knowing that Biden was starting to think about his next steps, Cignoli said, "Hopefully he'll be able to take a page from Lincoln and put together a team of rivals to come together and try to address the biggest problems we have right now."
Learn more about Suffolk University's Institute for Public Service and the Suffolk University Political Research Center.
Contact
Greg Gatlin
Office of Public Affairs
617-573-8428
Ben Hall
Office of Public Affairs
617-573-8092