The Pandemic's Effects on Women Around the World
Sawyer Business School marketing students uncover COVID's global toll on women's mental health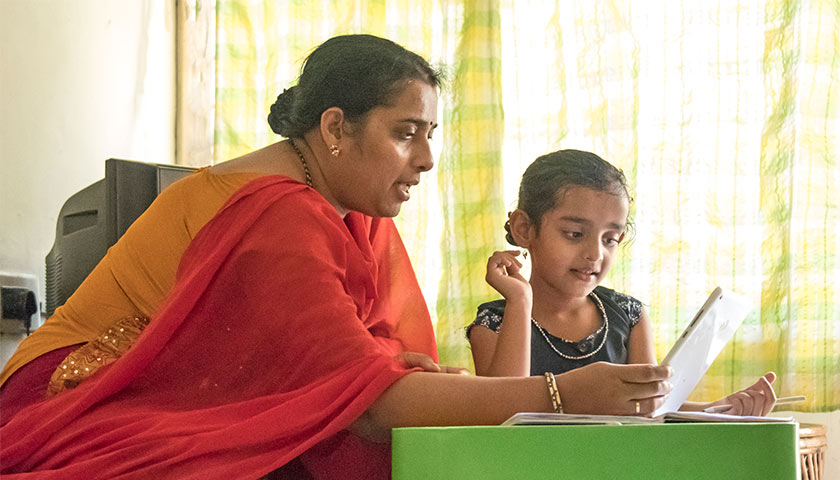 During the fall of 2020, the international humanitarian agency CARE asked graduate students in the Business School's Marketing program to research how women around the world have been faring during the pandemic. Beyond the devastating physical toll, students found that, in many places, the mental suffering has been just as severe.
Students in the marketing program often work with more "traditional" clients such as iRobot, SiriusXM, or Pandora. They do research, create surveys, conduct interviews, and crunch numbers to provide strategic recommendations to companies. With CARE, they used the same methods to come up with a different deliverable: policy ideas.
What gave the project extra resonance is that the students in the capstone course collected data from their home regions: the United States, Puerto Rico, Taiwan, Vietnam, and India. And their conclusions were the same across the board: quality of life for women has declined during the pandemic, including negative effects on women's mental wellness that may have gone under the radar.
"What was interesting is that the cause of those mental struggles varied from country to country," says Professor Pelin Bicen. In the U.S. and Puerto Rico, the stressor was financial issues. In India, it was relationships. Lack of child-care options was a pressure point in the U.S. and Puerto Rico, but wasn't in Vietnam and Taiwan because of their collectivistic cultures, which prioritize the group over self.
"One thing that did not vary across countries was that the more help women received from their environment—family, friends, relatives, partners—the higher the satisfaction they had with their lives," says Bicen.
"This project was really refreshing. It showed us how we can apply our skills to a different sector and help others."
Nicole Náter-Navarro, MBA/MSM '21
in Aguadilla, Puerto Rico, with her boyfriend, Héctor Morales
Close to home
Nicole Náter-Navarro, MBA/MSM '21, chose to research her home of Puerto Rico, which was still reeling from the impact of hurricanes Irma and Maria when the pandemic hit.
"I lived through all these things I talked about in my presentation. It was very personal to me," says Náter-Navarro.
The project took on extra significance when, days before her final presentation to CARE, Náter-Navarro learned that the mother of one of her interviewees had died of complications from Parkinson's Disease. "The person I interviewed had been a caregiver for her mother," says Náter-Navarro. "So I was going to try and tell her story."
Náter-Navarro discovered that one of the biggest pandemic stressors for women in Puerto Rico was food insecurity, already an issue in a country that has to import 95 percent of its food. One factor, of course, was economic instability due to job loss or reduction. Another was the Jones Act of 1920, which dictates that supplies—whether day-to-day items or emergency provisions—can only be transported to Puerto Rico on U.S.-flag ships that are constructed in the United States, owned by U.S. citizens, and crewed by U.S. citizens and U.S. permanent residents. That can add greatly to import and distribution times—already challenged by workers getting sick with COVID—and why the cost of living is 13 percent higher than in the 50 United States.
Another reason was strict curfew times and rules that limited people's access to food. One of Náter-Navarro's interviewees shared how she was unable to buy food one day because the grocery store wouldn't let her bring in her two young children. Her only other option was to leave them in the car alone. A man offered to look after the kids, but she didn't feel comfortable with that, either.
Stories like that gave all the students extra motivation, says Náter-Navarro. "We were so passionate about this project," she says. "I would want to work on it all week."
That passion was evident to their clients at CARE, who attended the presentations virtually. CARE CMO John Aylward says it was clear the students "all connected to the work in some personal way, either through their home country or their heritage."
Also clear, he adds, was the value of their work. "Additional research is always useful to us. It's good to join it up with the existing data and work that we've done."
One of the project's ancillary benefits was that it showed students the nonprofit space can be just as data driven as any for-profit business, and that market research is vitally important in any space.
"Most business schools don't teach much about the nonprofit sector," says Náter-Navarro. "So this project was really refreshing. It showed us how we can apply our skills to a different sector and help others."
Marketing students are doing more research for CARE during the Spring 2021 semester, examining COVID vaccine hesitancy in different countries around the world.
Contact
Greg Gatlin
Office of Public Affairs
617-573-8428
Ben Hall
Office of Public Affairs
617-573-8092