In the Zoom Where it Happens
Students in this year's Washington Center Inauguration Seminar questioned the experts as history unfolded
Before Press Secretary Jen Psaki held her first official White House briefing with reporters, she faced tough questions from college students — starting with Suffolk University international relations major Samantha Garcia.
Garcia was tapped to ask questions on behalf of her peers as a student ambassador during The Washington Center's Inauguration 2021 seminar. She opened with a question of her own: How would Psaki address the challenge of repairing the strained relationship between the press and the presidency?
"My hope, and I think our hope, is that people will receive even more policy information about what we're thinking and about what [President Biden] is thinking and find it to be truthful and accessible, but others will be the judge of that in a few months," Psaki responded as she outlined plans for reinstituting regular press briefings and making policy experts available to the media.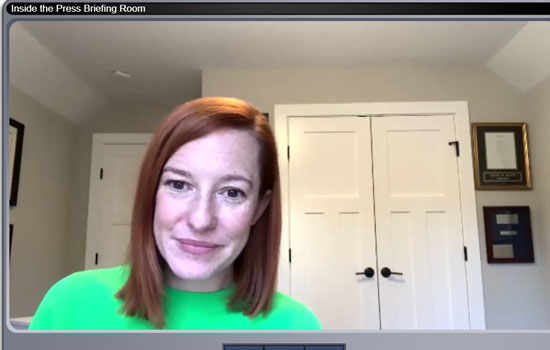 Garcia knows the chance to engage with such a high-profile figure is rare. Only a few dozen credentialed reporters can regularly question the White House Press Secretary. As the first in her family to attend college, the honors student and McNair Scholar has sometimes struggled with feelings of "imposter syndrome" — but she never wants fear to keep her from pursuing opportunities. So she pushed herself to apply for the student ambassador position to ensure that she couldn't fade into the background.
"I worried that I wouldn't have enough to contribute to the conversation. I took all night to prepare my questions. It took me out of my comfort zone more than I expected it to. But then I realized I was just in a Zoom room, and I was getting messages of support from other students," says Garcia. Gradually, she realized: "I put the work in and I deserve to be here."
"Don't be afraid to bring your true self to the table. You don't need to come from the suburbs to be politically involved or know what you're talking about. If you inform yourself and are politically active and engaged you'll be able to speak with the utmost confidence. I grew up in the South Bronx and my community wasn't very politically active. I had to seek out information myself. Now my goal is to advocate for my community through educational policy and make sure no one is left behind."
Samantha Garcia
Class of 2022
The insiders' view, from many perspectives
During the demanding week-long program, a cohort of 25 Suffolk students joined peers from around the country to hear from policy experts and political insiders on the pressing topics facing the new administration, from the coronavirus pandemic and climate change to economic recovery and foreign policy.
Students spoke with emergency physician and professor Leanna Wen on the politics of public health, and weighed contrasting views on foreign policy from liberal and conservative think tank experts. Garcia talked with former RNC chairman Michael Steele about his experience as a Black Republican, and Ethics and Public Policy Center vice president and senior fellow Peter Wehner about the future of the party after the Trump presidency. Fellow student ambassador Hillary Mensah interviewed C-SPAN founder and chairman Brian Lamb, historian Richard Norton Smith, and author Bob Deans of the National Resource Defence Council Action Fund.
Sometimes they weren't the only ones asking the questions.
In a session on "The History of the American Presidency," Lamb stepped into interviewer mode, asking Mensah to describe how she became interested in politics. Surprised to have the spotlight turned back on her, Mensah quickly rose to the occasion.
"I am the daughter of small business owners and Ghanaian immigrants. Growing up in a lower-income area I've always been interested in public policy and trying to make a change in my community," she told Lamb. "I worked in the 2016 presidential election in my local polling place. I've always advocated for racial justice and women's rights."
"Being at Suffolk and being in Boston has elevated my passion, and listening to all the speakers [in this seminar] has helped clarify my path and what I want to do. I definitely would like to run for office one day."
Hillary Mensah
Class of 2021
It's hard to throw Mensah off her game.
The political science major had last summer all mapped out, for instance — she would intern at both national political conventions through Suffolk's Washington Center program, and waitress in between to save up money for her senior year. The pandemic dashed those plans. The convention programs were canceled. She was laid off from her job. Worst of all, she got sick with COVID-19. Still, she tried to see the weeks of recovery and isolation as an opportunity.
"I thought a lot about my path during quarantine, the goals I've set for myself and how to realistically achieve them," she says.
So when Political Science & Legal Studies Professor Christina Kulich reached out about the virtual Inauguration Seminar, Mensah jumped at the chance to learn and network with experts and peers during the Washington Center sessions, and alumni in the field at evening events hosted by Suffolk.
"Listening to alumni tell their stories gives me hope as I'm preparing to search for a job, and opened my eyes to the network Suffolk has," says Mensah. "Now I have a list of people to connect with."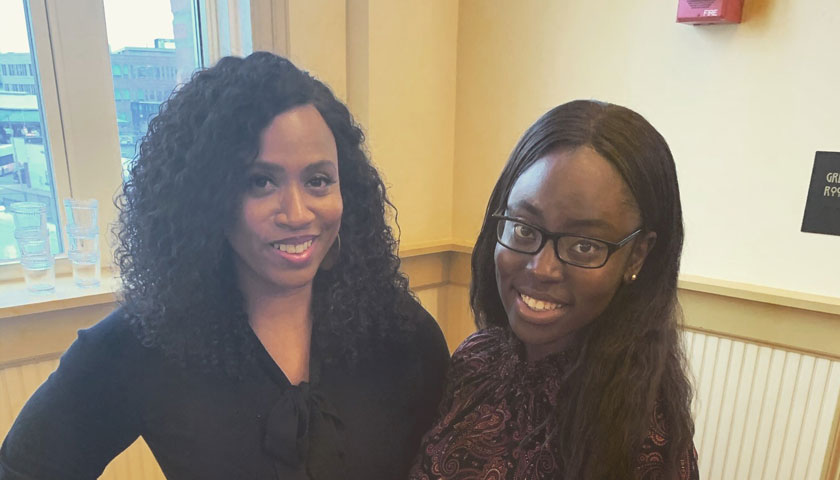 Candid conversations about the country's future
The coronavirus pandemic made a remote format necessary this year, long before the assault on the nation's Capitol led to even stricter Inauguration Day restrictions. But the attack on January 6 shaped the conversations between students and experts as everyone grappled to make sense of the jarring events — and forecast their impact on the incoming administration and the future of American politics.
"One common thread was Republicans who don't agree with Trump," says Garcia. "A lot of the conservative speakers addressed it before questions were even asked. It was nice to have people being very transparent. The news can misinterpret and misconstrue, and so can social media, so it's nice to hear it straight from the source."
Another common theme emerged in those conversations: unity.
"We asked a lot of questions about [the Capitol assault] and the speakers said it shifted what they'd planned to talk about. A lot of those analysts and professionals talked about how the job of the next four years to unify the country is not just their job, but everyone's job," says junior political science and international relations major Kevin Luna-Torres.
Safeguarding democracy
Luna-Torres is already doing his part to preserve democracy. He joined the National Guard to give back to his country and hopefully help his family, including his older siblings who came to the United States as small children, find a path to citizenship. He watched the violence at the Capitol unfold "in disbelief."
"I was watching the news all night trying to figure out why this happened. When I saw that the National Guard was deployed I knew we could be next to be called down along with many of my friends from basic [training]."
In his daily seminar class debriefing exactly one week later he wondered aloud to his Suffolk classmates: Would his unit be deployed to protect the Capitol during the inauguration?
That evening he got the call. Saturday morning he was on a bus to Washington, D.C. He spent the week of President Biden's inauguration on grueling 12-hour shifts, catching brief naps in parking garages and empty offices with his platoon.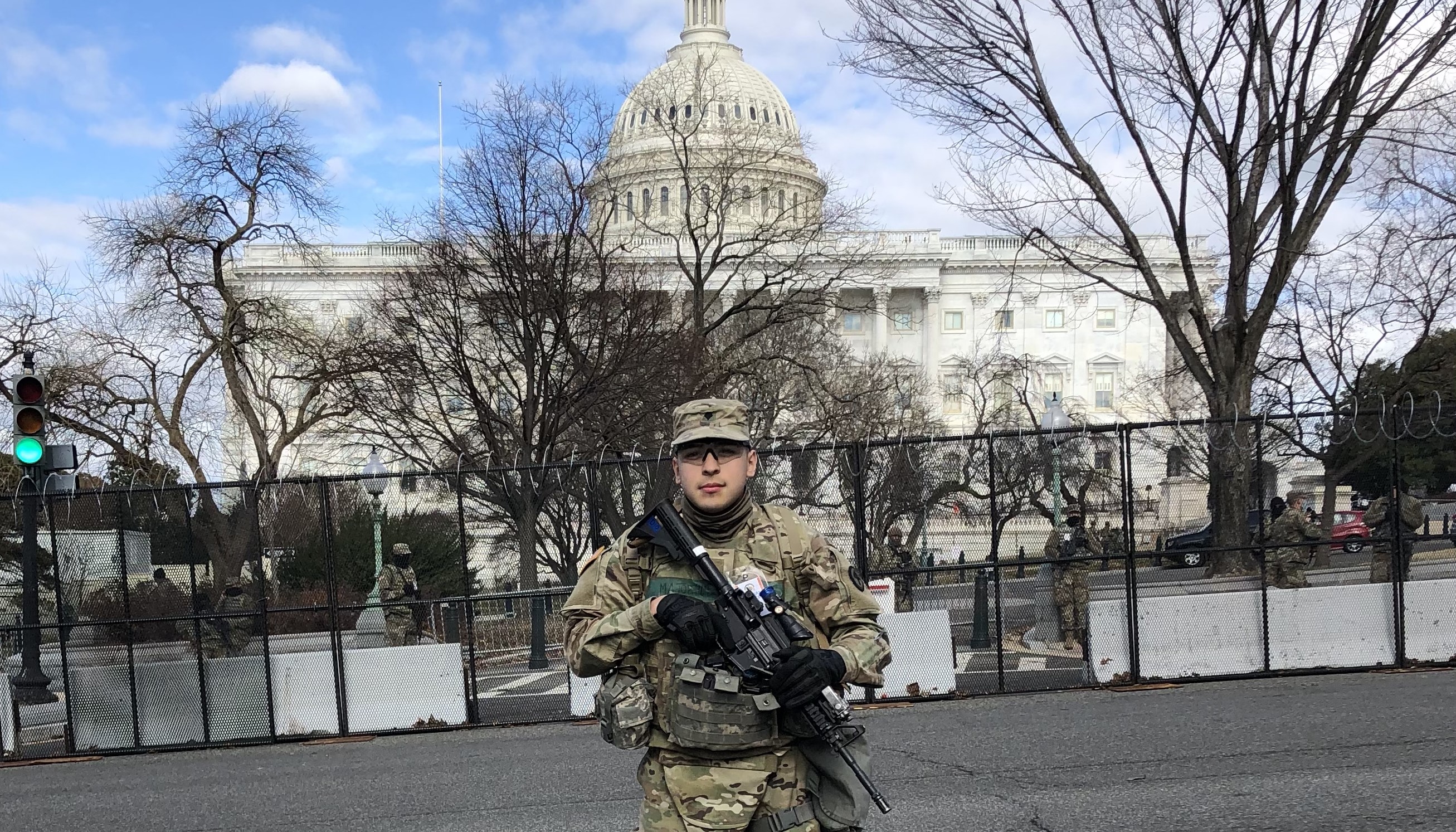 Ironically Luna-Torres, likely the only student from the Inauguration seminar actually in attendance at the historic event, spent the day facing away from the speeches, celebrities, and spectacle as he worked to secure the Capitol perimeter in the bitter cold alongside thousands of fellow troops.
The experience highlighted Luna-Torres' intersecting worlds — those of a student and a soldier, going from academic exploration and analysis to active duty all in one week. That dichotomy will continue when he graduates in 2022 and joins the Army full-time. He plans to pursue a law degree while he serves.
Participating in the Washington Center seminar helped him bridge the divide.
"I'm one of the few liberals in the military. Many of my peers have very different views, but having the information from the Washington Center seminar allowed me to have productive conversations with them. I was able to have very educated discussions about issues with my platoon sergeant, who is a lawyer, on what's going to happen next and what policies are needed."
Kevin Luna-Torres
Class of 2022
Keeping those conversations going across ideological lines is key to mending a distressed democracy, says Professor Kulich, who helped create a spring virtual classroom series of events in partnership with the political science and legal studies department, Ford Hall Forum at Suffolk, and the GBH Forum Network. No. 46: Examining the First 100 Days of the Biden Administration builds on the Washington Center experience by bringing students together with expert speakers and the general public to spark dialogue and encourage civic engagement. Each event is free and open to the public.
Kevin Luna-Torres will be balancing classes with the National Guard's Mountain Warfare training this semester, but he plans to participate in every session. "I'm interested to see what these first 100 days continue to look like for the Biden administration," he says."He has made a lot of promises and keeping him accountable is important."
Samantha Garcia is looking forward to the series, too.
"I'm excited to have more discussions, and I'm confident in my ability to ask thought-provoking questions after my experience doing it through the Washington Center program," she says.