Surprise Scholarship
A new endowment for healthcare administration students comes from an unexpected source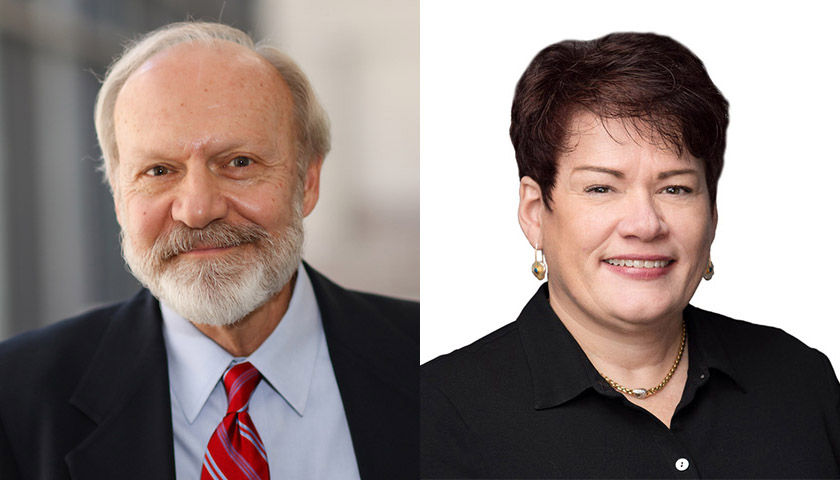 Anne Marie Conway is an alumna of the Master of Healthcare Administration (MHA) program who has built a successful career in clinical research and drug development. Rick Gregg is a dedicated educator who has worked tirelessly to build and promote the Sawyer Business School's healthcare administration programs. Together, the two of them have taught the "Innovation: The Future of Healthcare" course for a decade.
"We have done amazing work in creating learning experiences for our students and had a wonderful time doing it," recalls Gregg.
It's one thing to have a strong working relationship with a colleague. It's quite another when that colleague endows a $50,000 scholarship in your name.
Working with Suffolk's Office of Advancement, Conway and her husband, Art LaMan, have established the Richard "Rick" Gregg Scholarship, which will be awarded each year to a healthcare administration student who demonstrates financial need.
"Education and lifelong learning are important to my husband and me," says Conway. "To be able to provide that in a way that's renewable every year—to make it sustainable—that appealed to us."
And, for Conway, naming the scholarship for Gregg was an easy decision.
"In the ten years Rick and I have been teaching this course, I've observed his dedication to the program, his service to the University, and his drive to always want things to be successful for the students," says Conway, MHA '00. "He always puts the students first."
Not only does Gregg teach several courses each year, he also mentors students and helps them build relationships with healthcare professionals throughout the Boston area. He co-leads the popular London Healthcare Travel Seminar. And he's a tireless advocate for the Healthcare Administration Programs, communicating with many prospective students and accepted applicants—sometimes for an hour at a time.
Indeed, that dedication is one reason both the on-campus MHA and the new online MHA programs have received accreditation from CAHME, the body that oversees graduate programs in healthcare management in the United States and Canada.

Conway is just one of many alumni who've demonstrated a real commitment to the Business School's mission over the past year.
"We are grateful to Anne Marie for establishing a scholarship that directly and profoundly benefits our students," says Dr. Amy Zeng, dean of the Sawyer Business School. "Support from our alumni is essential to helping students make the most of their time at Suffolk, earn their degrees, and start successful careers."
What made the surprise even greater is that Gregg had known about the scholarship for months. He and Conway had been working with the Office of Advancement to figure out the details; Conway just didn't mention whose name would be on it until the last minute.
"Anne Marie called me up and said, 'Rick, there's one thing you don't know. I'm naming the scholarship after you,'" Gregg says. "I was absolutely flabbergasted and as deeply touched as I've ever been. I can't begin to explain how honored I feel that she would do this."
Contact
Greg Gatlin
Office of Public Affairs
617-573-8428
Ben Hall
Office of Public Affairs
617-573-8092