National Honors for a Public Service Mentor
Sandy Matava recognized for her contributions to public service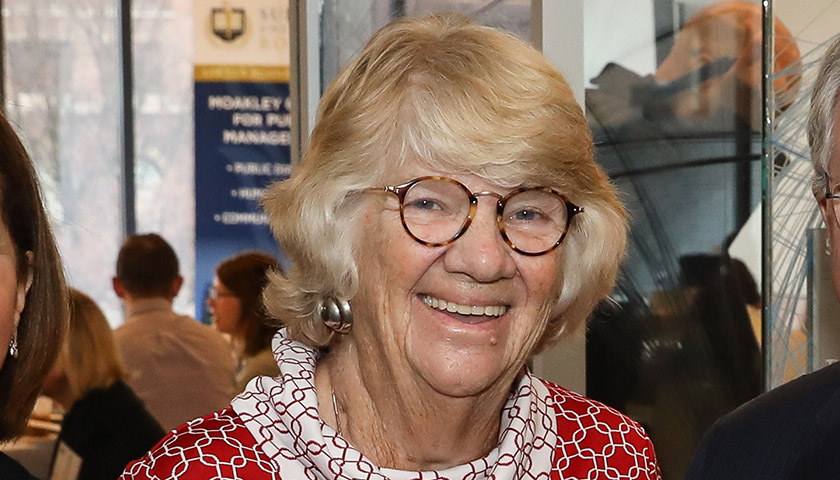 Suffolk University's Marie "Sandy" Matava, who has dedicated her career to the pursuit of the public good and to developing the next generation of government leaders, has been selected as one of this year's recipients of the prestigious National Public Service Award.
Presented by the American Society for Public Administration, the award honors leaders who have made a profound difference in serving the public and whose accomplishments are models of excellence for those dedicated to the public good. Previous recipients include Dr. Anthony Fauci and former Health and Human Services Secretary Donna Shalala.
Matava is director of Suffolk's Moakley Center for Public Management and clinical assistant professor in the Sawyer Business School's Institute for Public Service, which houses the School's Master of Public Administration (MPA) program. Throughout her career leading government agencies, and later in her teaching at Suffolk, she has demonstrated the power of public service to improve people's lives. Colleagues describe her as a leader willing to take on critical public policy issues and an incredible mentor with a remarkable ability to recognize and nurture talent.
"Sandy is deeply committed to developing new generations of public servants who are willing to tackle some of the most challenging problems in our society," said Dr. Amy Zeng, dean of the Sawyer Business School. "We are thrilled and proud that she has received this national recognition for her achievements."
Matava spent the first part of her career working for the Commonwealth of Massachusetts in a variety of roles, most notably as commissioner of the Massachusetts Department of Social Services and commissioner of the Massachusetts Commission for the Blind.
Back to Suffolk
After "retiring" from state government, Matava embarked on a second career in academia, returning to Suffolk's Public Administration Program, where she had earned her master's degree in 1981. In addition to her faculty role, as director of the Moakley Center for Public Management Matava has worked tirelessly to build bridges between the resources of academia and the needs of the community.
Named for former Massachusetts Congressman Joe Moakley, a graduate of Suffolk Law School, the Moakley Center has worked with local and regional public agencies and nonprofit organizations for more than 45 years, providing education, training, and research opportunities for public servants and community leaders.
One of Matava's most impactful innovations is a program that forges partnerships with community organizations to provide graduate-level public service management certificates to local practitioners. Current partners include the Massachusetts Municipal Association, the Providers' Council, the Massachusetts League of Community Health Centers, the Executive Office of Health and Human Services, and the Shriver Center at UMass Medical Center. With more 2,200 graduates to date, the program has helped "build the bench" for state, local, and nonprofit organizations throughout the Commonwealth of Massachusetts.
"Sandy stops at nothing to help public servants achieve training and graduate education to advance their skills and their careers," said Professor Aimee Williamson, chair of the Institute for Public Service and Matava's colleague. "We are lucky to have her on our faculty and leading the Moakley Center."
Learn more about the Institute for Public Service, the MPA program, and the Moakley Center for Public Management.
Contact
Greg Gatlin
Office of Public Affairs
617-573-8428
Ben Hall
Office of Public Affairs
617-573-8092