Confronting Two Interconnected Epidemics
Sociology Professor Rebecca Stone is pioneering new ways to help rural women experiencing both opioid addiction and domestic violence.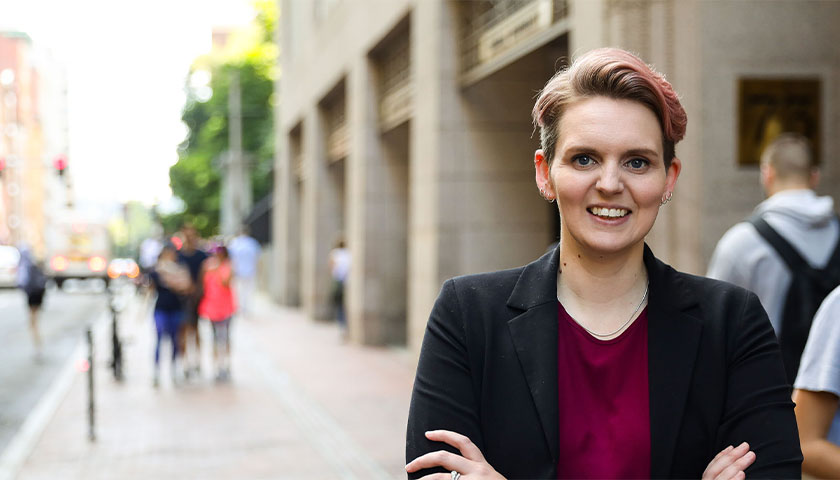 In 2018, before the pandemic hit, Rebecca Stone began researching a pair of different epidemics plaguing rural Vermont: opioid addiction and domestic violence.
"I wanted to make a difference," says Stone, a professor of sociology and criminal justice.
So did the Robert Wood Johnson Foundation. The foundation, which focuses on health care, including substance use disorders, named Stone a fellow in its Interdisciplinary Research Leaders program and awarded her $350,000 research grant. In early 2019, Stone and three colleagues set out to identify the barriers that were keeping Vermont women from seeking treatment.
Last fall, they published their findings in The Journal of Rural Health, in an article whose haunting title — "He Would Take My Shoes and All the Baby's Warm Winter Gear so We Couldn't Leave" — suggests just how hard it can be for some women to get the care they need. But the article also outlines encouraging new steps that states like Vermont can take to close the gap in services and treatment options.
"Our research has had such an exciting ripple effect," Stone says, "especially on the many new connections that have been made between people in Vermont who are working on these issues. This is huge, because it builds community capacity."
The numbers associated with those issues are alarming. According to the Centers for Disease Control and Prevention, 81,003 people died from drug overdoses in a 12-month period ending in June 2020. That's a 20 percent increase from the previous year, and the highest annual number of fatal overdoses ever recorded in the United States.
The CDC also reports that one in four women and nearly one in 10 men have experienced some form of violence or stalking by an intimate partner during their lifetime.
The impact of isolation
Stone and her team began their research by conducting in-depth interviews with 33 people who experienced both intimate partner violence and opioid use disorder. The goal, says Stone, was to hear directly about the challenges they faced, and to "identify gaps that we could close to improve health and safety outcomes in rural communities."
As the team analyzed the data, the barriers to treatment became clear: geographic isolation and transportation difficulties; services that were difficult to access, or which didn't coordinate substance use treatment with domestic violence support; social isolation and stigma.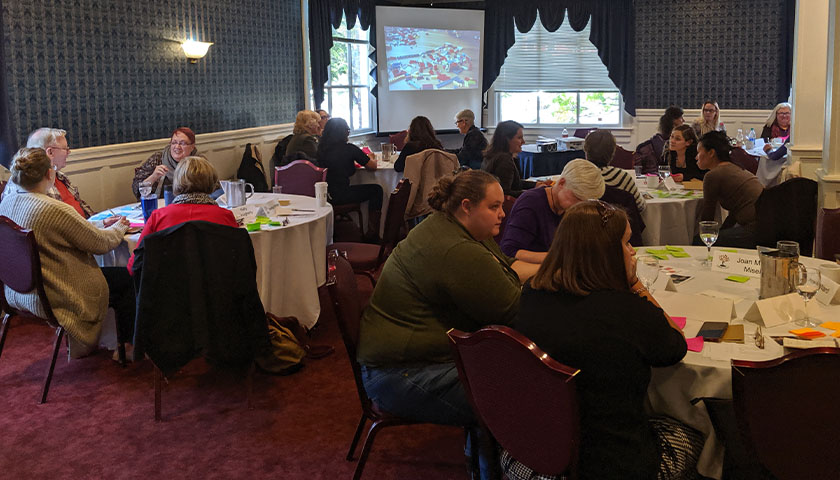 In October 2019, Stone and her research team brought together human services professionals from all over Vermont for a brainstorming session (above). In 2021, they created a novel cross-training program for addiction-recovery coaches and domestic-violence survivor advocates.
The second step was to bring this information back to the community and work together to identify possible interventions. In October 2019, Stone and her research team partnered with two community organizations to host an all-day brainstorming event for close to three dozen human services professionals in Montpelier, the state capital.
That session produced a breakthrough idea: develop a cross-training event where providers who work with people experiencing substance use disorder and those who work with partner-violence survivors could be trained in each other's field of expertise.
In February 2021, that idea became a reality, when Stone and her team welcomed 20 peer recovery coaches and 20 survivor advocates for a one-day, cross-training program. "It was wonderful to work with people who are so passionate and care so deeply about their fellow Vermonters," says Stone. "I heard that many of them are staying in touch and continuing to work together."
Stone's research team includes Emily Rothman, professor of community health sciences at Boston University; Diane Kinney, co-executive director of Circle, a domestic violence shelter in central Vermont; and Julia Campbell, injury and violence prevention research coordinator at Boston Medical Center. A recent addition to the group is Nafisa Halim, assistant professor of global health at Boston University.
Kinney, whose shelter receives 450-500 hotline calls per month, is now leading the way on the development of a new residence in Vermont for women experiencing intimate partner violence and substance use disorder.
"The goals are to provide safety, support, and programming for women and their children," says Kinney. "This will push us to the forefront of the interconnection of two extremely important issues and create solutions."
Stone plans to share the results of her research in an open-access report with community partners and participants, allowing them to use the information to improve their own services. She is also pursuing other funding opportunities to "scale up our training and conduct more research."
"There is," she says, "still so much more work to be done."