Student Entrepreneur Earns $10,000 in Pitch Competition
Ten finalists from all three schools present their ideas at event hosted by Suffolk's Center for Entrepreneurship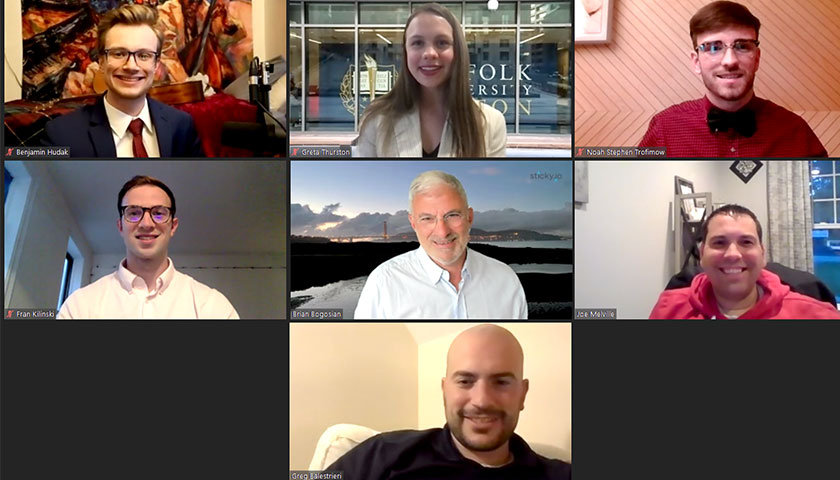 Eco-friendly goalie gloves. An Alzheimer's detection device. A feminine hygiene subscription service.
Those were just a few of the ideas presented at the "Suffolk Ventures 10k Idea Pitch Competition" this spring. Sponsored by Suffolk's Center for Entrepreneurship in collaboration with the Department of Entrepreneurship, the event featured 10 finalists from the College of Arts & Sciences, the Sawyer Business School, and Suffolk Law presenting their pitches to a panel of four judges, all Suffolk alumni.
After making it through an initial submission round in March, the finalists were each awarded $250 in seed money and paired with a coach — most of whom were also alumni — who helped the competitors hone their pitches and prepare for the final competition, which was held live via Zoom.
Financial support for the event came from two of the judges, Greg Balestrieri, BSBA '09, and Joe Melville, BSBA '08. The cousins are founders of Green Rabbit, a company that provides fulfillment and delivery of temperature-sensitive and perishable goods for e-commerce businesses. Active with the Center for Entrepreneurship as students, they understand how coaching and funding can help innovative ideas become flourishing start-ups.
"We're excited that we could leverage our real-world experience and share it through the competition," says Melville.
In fact, many of the ventures are already up and running, and their founders had entered the competition to help them grow. Memmzy is a subscription-based service that delivers feminine hygiene products. BSpec produces a low-cost, high-tech medical device that can diagnose the presence of chemicals in the brain that cause neurogenerative diseases. And for soccer goalkeepers, RG1 creates sustainable, affordable gloves with replaceable palms.
"Sponsoring the event is a great way to give students a real understanding of how to pitch ideas and help them get to the next level," says Balestrieri.
For Professor George Moker, director of the Center for Entrepreneurship and the Carol Sawyer Parks Chair in Entrepreneurial Studies (as well as a Suffolk alumnus), having so many alumni involved as sponsors, judges, and coaches is a testament to the support of the Business School community.
"Our alumni feel it's really important to help students in ways that are meaningful and have impact," says Moker. "The fact that so many people contributed their time, energy, and business knowledge to this competition is a prime example of that."
The buddy system
The first-place finisher was Greta Thurston, Class of 2022, for her company Study Buddies, which connects college-age mentors and school-age mentees. Thurston got the idea for Study Buddies through her lifelong involvement in 4H. While teaching horseback riding to younger kids, parents began asking her whether she was also available for academic tutoring.
"I know firsthand how impactful mentorship can be," says Thurston, who will use the prize money to help improve Study Buddies' search engine optimization to reach more students and attract more mentors, many of whom she hopes will be Suffolk students. Indeed, one criteria the judges used for their decisions was how the ventures can give back to Suffolk — what Professor Joanna Trainor, the Center's associate director, calls "Suffolk GDP."
"We really wanted the finalists to think about that aspect of their pitches," says Trainor. "What economic or other value to the Suffolk community do the ideas have?" With Study Buddies, for example, Thurston not only employs Suffolk students but also gets the University on the radar of prospective future applicants.
Though the company isn't even a year old, Thurston is already planning for the future. She hopes to convince employers to offer Study Buddies as a benefit for employees and their families.
"I'm excited to really build Study Buddies into something successful," Thurston says. "The competition really helped me think of new ways to do that, and having that prize money will help me do it."


2021 Suffolk Ventures 10k Idea Pitch Competition Finalists
First Place ($10,000 Center for Entrepreneurship/Green Rabbit Grant)
Study Buddies
Program that pairs college-age mentors with school-age mentees
Greta Thurston, Class of 2022

Second Place ($2,500 Center for Entrepreneurship New Venture Grant)
Paper Bag Mask Foundation
A nonprofit that offers free holistic classes to help young adults tackle stress and anxiety
Noah Stephen Trofimow, Class of 2022, and Fran Kilinski

Third Place ($1,000 Center for Entrepreneurship New Venture Grant)
Rosewater Recordings
A virtual recording studio offering everything from production to mastering to session musicians
Benjamin Hudak, Class of 2022

Other Finalists

Ridealong
Long-distance ridesharing service
Michael Cronin, JD '21

Bonfire
Drink ordering app
Niv Elka, BS '21, and Ruben Isagulov

Memmzy
Monthly feminine hygiene subscription service
Nicholas R. Fernandes, BS '21

R-YOLO
Sustainable yoga mats
Donna M. Lee, Class of 2022

BSpec
Low-cost neurogenerative disease detection device
Richard Meiklejohn, MBA '21 and Frank Greco

RG1 Goalkeeping
Sustainable goalie gloves
Kyle Rosa, Class of 2023, Steven Lopez Toro, BSBA '20, and Anusha Wasim Kha, Class of 2023

Kip Reading
Audio and video book summaries
Paul Yan, Class of 2022
Contact
Greg Gatlin
Office of Public Affairs
617-573-8428
Ben Hall
Office of Public Affairs
617-573-8092