Law Alumnus Pledges $1 Million for Accelerator-to-Practice Program
Warren and Judy Levenbaum's gift will help train Suffolk Law students to run their own firms while also closing the justice gap.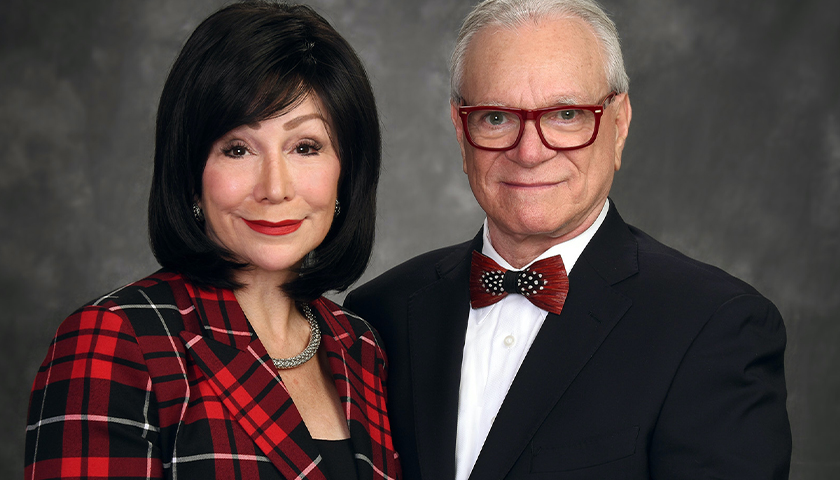 A Suffolk University Law School alumnus and his wife have made a $1 million commitment to a first-of-its-kind program that prepares law students to run their own firms, while also increasing access to justice for underserved clients.
Donors Warren and Judith Levenbaum said Suffolk's Accelerator-to-Practice Program has great personal meaning to them both.
"The education I received at Suffolk has been an integral part of my journey," said Warren, who graduated from the law school in 1973 and founded his own solo law firm just a few years later. "Judy and I are thrilled to support a program that teaches law students what they would otherwise have to learn by trial and error. Not only do they receive a strong legal foundation, but they get a really good head start on the business side of practicing law."
Founded in 2014, the Accelerator-to-Practice Program provides law students with specialized instruction in the management, marketing, and technology skills necessary to run law practices that serve average-income individuals and families.
Suffolk University President Marisa Kelly said the Levenbaums embody the program's entrepreneurial philosophy.
"Warren and Judy both know exactly what it takes to build a successful business," said Kelly. "They are also extraordinarily warm and generous people. We are profoundly grateful that they are creating similar opportunities for a new generation of Suffolk Law students."
According to the American Bar Association, eight out of 10 people of modest means lack legal representation in civil cases, such as evictions, debt collection proceedings, child custody disputes, and other legal transactions and litigation matters that can impact the rest of their lives. Many are moderate-income people who don't qualify for free legal aid, but still can't afford an attorney.
To make legal services available to such individuals, the Accelerator-to-Practice Program teaches students how to use technology and make process improvements that reduce the overhead and costs associated with running small firms, thus passing the savings on to their clients.
"More than 40 percent of lawyers work in solo practices or small firms at some point in their careers," said Andrew Perlman, dean of Suffolk Law School. "By endowing the Accelerator-to-Practice Program, Warren and Judy are helping to prepare our graduates to join or start those kinds of practices. This kind of training is rare in law schools, but it is increasingly essential in a rapidly changing legal industry."
The Levenbaums each grew up in modest circumstances, Warren in Dorchester, Massachusetts and Judy in Denver, Colorado. After working his way through college and law school, Warren moved to Phoenix, Arizona, and founded a personal injury law firm. Within 10 years, his one-man practice had grown to 25, and today his firm employs a staff of 60.
A longtime motorcycle enthusiast, Warren founded the American Association of Motorcycle Injury Lawyers — better known as Law Tigers — in 2001. Since then, he has built Law Tigers into a nationally recognized brand that provides expert legal services to insured motorcyclists across the country, with Law Tigers franchises in 25 states. And in 2020, in the midst of the pandemic, he launched a new nationwide venture, Law Leaders, which provides a broad array of services to personal injury lawyers.
Judy Levenbaum went to work straight out of high school, and eventually opened a successful high-end designer clothing store in Colorado — even though her attorney told her that all odds were against her. "For me, those were the magic words," said Judy, who raised $1 million to launch her business. "The odds have been against me all my life, and I've done very well that way."
That willingness to work hard to overcome long odds has been the key to their success, the Levenbaums said. "We saw that same determination when we met with students in the Accelerator-to-Practice Program," Judy said. "They were so well prepared, and so confident that they have something to contribute. We are proud to support them in their journey."