Executive MBA Recognized for Excellence in Global Survey
Suffolk University's Sawyer Business School ranked among the best EMBA programs globally for career outcomes and diversity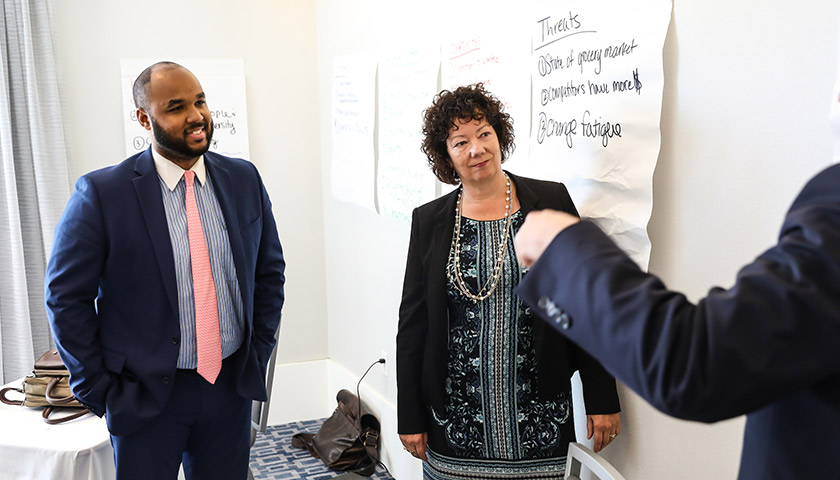 In the recent QS Executive MBA Ranking survey, the Sawyer Business School's Executive MBA ranked #41 in North America. The survey noted the EMBA's particular strengths in two areas: One was career outcomes — in which the Business School ranked #23 in North America — which measures the average salary increase pre- to post-program and the percentage of the class receiving promotions within 12 months of graduating. The other was diversity, which measures both the percentage of female students and distinct number of nationalities.
"Since its launch in 1975, our EMBA program has offered a robust and practical business education opportunity for professionals," said Dr. Amy Zeng, dean of the Sawyer Business School. "To be recognized by QS, particularly for outcomes and diversity, is a testament to the overall value of a Suffolk EMBA."
This year the QS Global Employer Survey, which started in 1990, surveyed 202 Executive MBA programs around the world. The survey asks employers from which schools they prefer to hire EMBA/MBA and business school graduates and why. Beyond outcomes and diversity, other categories measured include employer reputation, executive profile, and thought leadership.
The Sawyer Business School's 16-month EMBA program is currently offered in a cohort format and exclusively on Saturdays in the heart of downtown Boston. That means mid-level executives have the chance to enhance their business skills and yet still manage their busy work and personal schedules. With a focus on practical leadership and high-impact business initiatives, the EMBA offers a topic-immersive format that covers management skills, accounting, analytics, and corporate finance.
Learn more about the Sawyer Business School's Executive MBA.
Contact
Greg Gatlin
Office of Public Affairs
617-573-8428
Ben Hall
Office of Public Affairs
617-573-8092