Suffolk Grads Join the Fight Against Cancer
Medical Dosimetry master's program graduates its first class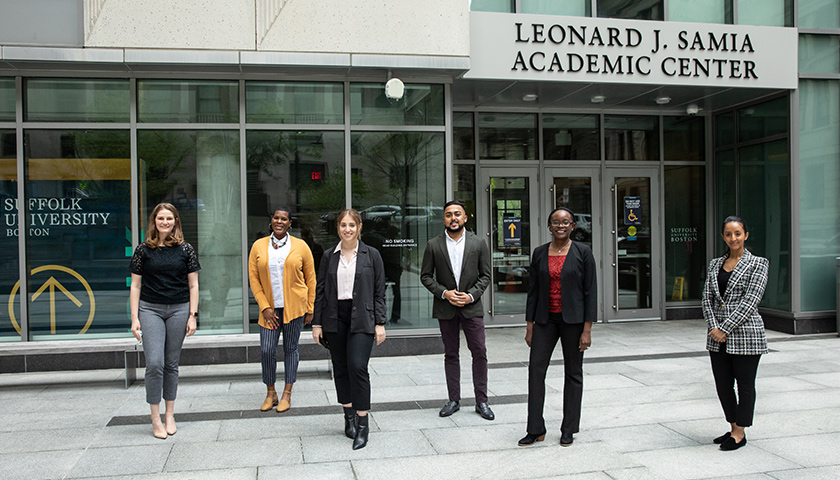 Six students who walked across the stage at this year's commencement ceremony share a unique distinction: they are the first recipients of one of Suffolk University's newest advanced degrees, the Master of Science in Medical Dosimetry (MSMD).
Medical dosimetry is a relatively recent specialization in radiation therapy for cancer treatment. Dosimetrists collaborate with doctors, technicians, and other medical professionals to tailor radiation treatment plans to individual patients' specific needs. This line of work combines training in physics, biology, and physiology with knowledge of advanced equipment such as CT scanners and medical linear accelerators.
Program director Jacky Nyamwanda is gratified by her former students' accomplishments at Suffolk, and eager to see them thrive in their new roles as working dosimetrists.
"I'm very invested in them," she says. "I want them to succeed."
For their part, the newly minted graduates are excited to dive into their careers. All of them received and accepted employment offers around the time they completed their studies.
"Something that I really look forward to is getting notified of successful treatments," says Daniel Miller, who now works in the Radiation Oncology Department at Boston's Brigham & Women's Hospital. "Knowing that our efforts have dramatically increased someone's quality of life creates this feeling of euphoria that is hard to compare to anything else."
For Miller's classmate (and now colleague at Brigham & Women's) Vasantee Reddicks, medical dosimetry represents a rewardingly practical application of cutting-edge technology.
"This career involves a lot of science, but also clinical patient care, which are two things that I am really interested in," she says. "I feel like I am getting the best of both worlds."
A New Program Takes Off
In large part, the MSMD program is Suffolk's response to a growing need in the United States' healthcare system. In 2017, Nyamwanda explains, the Medical Dosimetrist Certification Board updated its requirements to include a formal educational program instead of on-the-job learning only, a move reflecting the profession's growing complexity. Add to this an aging Baby Boomer population with an increasing need of radiation treatments, and a projected nationwide shortage of between 150 and 200 dosimetrists in the next five years, and you have more than enough cause to build a new master's program.
Doing that is not a trivial effort, and Nyamwanda took on many more responsibilities, including the role of program director for the new MSMD. She is, however, quick to credit her colleagues who helped to develop the program, including Biology department chair Lauren Nolfo-Clements and staff in the College of Arts & Sciences' Dean's Office and Office of Graduate Admission. Their collective work has paid off: the program has been fully enrolled in each of the last two years and is expanding its staff.
"We just hired a clinical coordinator; she started on July 1," Nyamwanda says, grateful for the assistance in managing a growing program that she has administered largely by herself since it enrolled its first class in 2019. "I'm not Superwoman," she laughs.
An MSMD That Stands Out
Suffolk's MSMD program combines classroom instruction with extensive clinical experience. The first semester comprises leveling coursework designed to bring students with limited knowledge of or experience in the field up to speed (Those with prerequisite experience may waive this portion of the curriculum.) It's this element of flexibility that Nyamwanda says sets Suffolk apart.
"Some of the other programs require you to have a background in radiation therapy, so it basically screens out a whole lot of people. I think this works well in our favor."
Students' clinical rotations take place at several world-renowned medical centers in Greater Boston, including Massachusetts General Hospital (MGH), located just blocks from Suffolk's campus. Training at MGH offers many advantages, including experience in proton therapy, a specialized technology most often used with pediatric patients.
"There are more [proton] centers popping up," Nyamwanda says, "but MGH is the only proton center in New England right now. We're lucky that [our students] get to do three weeks there."
Students put in clinical hours at smaller community facilities as well, thereby broadening their experience. In a similar vein, they train on two industry-standard dosimetry planning systems—RayStation and Eclipse—instead of just one, as in many similar programs. Nyamwanda likens it to learning both Macintosh and PC operating systems.
"I've heard a lot of students from other programs say they wish they had it. That's been huge for us. All our students get experience in both."
Rising to an Unexpected Challenge
The successes of the MSMD program and its inaugural class are all the more remarkable considering the headwinds the students faced in the form of the global COVID-19 pandemic, which shut down university campuses nationwide—including Suffolk's—in March 2020. This presented a particular challenge to a program centered on in-person training in healthcare facilities.
"I know programs where the rotations were just cancelled," says Nyamwanda.
Yet Suffolk's clinical partners worked with faculty members to maintain the curriculum remotely, capitalizing on the fact that much of the treatment planning process is computer-based.
"We were provided with monitors and online access to treatment planning software to make sure we were still able to get as much out of our internships as possible," says Daniel Miller. "I think our class took it in stride."
His classmate Bezawit Ayalneh agrees, noting the camaraderie that grew within their cohort amid a situation they could scarcely have imagined when they began their studies.
"Even though it took time to get adjusted to remote learning," she says, "we were able to stay on track and made the most out of the unforeseen circumstance. We supported each other throughout the entire program."
By the summer of 2020, the students were allowed to resume their on-site work—seeing patients, reviewing their CT scans, and developing treatment plans with doctors.
"I was definitely stressed and worried about my education being impacted significantly and pushing back graduation," says Vasantee Reddicks. "Ultimately, everything worked out fine."
Career Connections
Suffolk's close ties with its clinical partners continue to keep the MSMD program running smoothly, even in unusual situations like the pandemic. "We've partnered with [surrounding healthcare institutions] for a long time," Nyamwanda says, explaining that representatives from each sit on an advisory committee for the program. "They help us with admissions. They give us feedback on curriculum and advice on trends. It's very collaborative, and I think that's a big strength of the program."
The relationship is mutually beneficial, she continues, noting that it's to the hospitals' advantage to help develop a cohort of highly skilled future employees. She offers the example of Suffolk's recent partnership with Rhode Island Hospital.
"They're expanding, and they know they'll need to hire people. If they're an affiliate, then they know what the program is about and that they can hire these students. In fact, there's a first-year student they've already hired part-time to do quality assurance procedures in the evening."
Whether they're looking for work at Suffolk's partner institutions or farther afield, MSMD candidates have the advantage of career development help built directly into the MSMD curriculum. Nyamwanda teaches a required seminar on employment and job search tactics, featuring resume preparation and mock interviews. Additionally, she partners with Suffolk's newly reimagined and expanded Center for Center for Career Equity, Development & Success to provide students with support specific to their discipline.
Particularly in the medical dosimetry world, she explains, it's vital to have job search preparation that's precisely targeted to the profession, rather than to more general human resources interactions.
"In our field, by the time you get to the HR interview, you kind of already have the job—it's more like a formality. The missing piece was the technical questions. I'm working with [the Career Center] very closely to build out something there."
Getting Ahead and Giving Back
The MSMD program's first graduates feel well prepared for their new roles at institutions like Brigham & Women's Hospital; Memorial Sloan Kettering Cancer Center in New York; Inova Schar Cancer Institute outside Washington, DC; and beyond. Several express a sense of fulfillment as well.
"A very personal motivation for me is giving back in a tangible way by helping those suffering from cancer," says Bezawit Ayalneh. "I instantly felt that this is the profession for me and that it would allow me to make a difference in cancer patients' survivorship."
And at least one graduate is not so sure his involvement with the MSMD program truly ended on graduation day.
"Since I am working in the Boston area, I am strongly inclined to request to be a part of the program in the future as a mentor or professor," says Daniel Miller. "I'd like to be able to give back to a program that did so much for me."
November 2021 Update: The Biology Department is proud to announce that all six inaugural graduates of the MSMD Program passed their board exams.