Professor Brenda Bond-Fortier: The Business of Policing
Faculty Spotlight
Trained in criminology, social psychology, and social policy, Brenda Bond-Fortier is in the "business of policing." Her research specializes in organizational change and management in community safety, making her the perfect fit for the Sawyer Business School's Institute for Public Service.

Bond-Fortier, a professor of public administration, has conducted research across the country, published her work in prestigious journals, and been cited in major media outlets, including The Boston Globe and the Wall Street Journal. She embarks on all new projects with one goal in mind — to have a positive impact on local communities. "Research is supposed to matter," she says. "It should be actionable."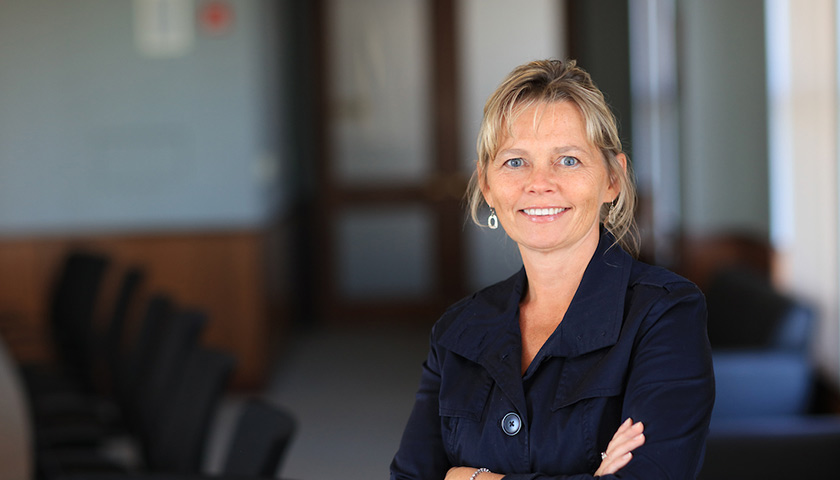 Her book,
Organizational Change in an Urban Police Department: Innovating to Reform
is the result of an extensive research study of a mid-sized city police agency that underwent a transformation to community policing. The research examines the 20-year transformation in the police agency and in police-community relationships.
Bond-Fortier serves as a subject matter expert for the US Department of Justice Bureau of Justice Assistance Strategies for Policing Innovation initiative, where she advises police and municipal leaders across the country on change and organizational improvement. She is also a research fellow for the Washington, DC-based National Police Foundation.
She brings this emphasis on communities to her Suffolk MPA classes. "We have professionals here from across the globe," Bond-Fortier says, "and they are interested in working in the public sector in their home countries. Engaging such a diverse group of public service professionals in conversation is always a fruitful experience."
Bond-Fortier finds inspiration in her Suffolk students. "I admire their passion and interest in working toward a public good. Whether it be in municipal or state government, community nonprofit organizations, or public safety," she says, "my students have a true calling to work in a public service context."
Visit Professor Bond-Fortier's Faculty Profile page.