Giving Sports Fans an Earful
In his new podcast 'Amplification Avenue,' Marketing Instructor Skip Perham explores the intersection of sports, business, media, and society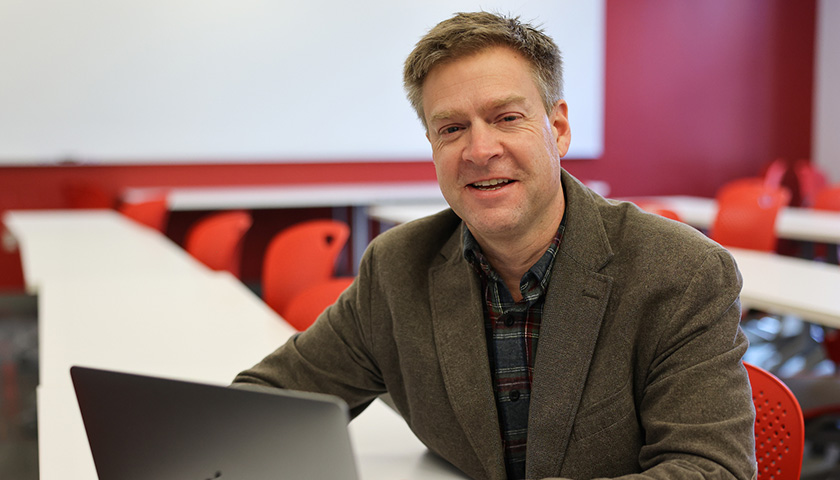 Sunday mornings are among Skip Perham's favorite childhood memories. That's when his stepdad would bring home The Boston Globe, along with a big box of doughnuts for the family.
Along with the tasty treats, Perham devoured the entire sports section. "I've always been fascinated by sports content," says the Suffolk marketing instructor.
He still is. Instead of reading about sports, however, Perham is now talking about them. In the fall of 2021, he launched his "Amplification Avenue" podcast, to educate listeners about the business side of the sports world.
Perham describes himself as "a huge sports fan," but says who wins and loses doesn't interest him for purposes of his podcast: "I created this to focus on the intersection of sports, business, media, and society."
Prior to joining the Sawyer Business School faculty, Perham served as director of marketing for NBC Sports Boston (then CSN New England) from 2010 to 2017. He developed and marketed programs for the network's top sports teams, including the Boston Celtics and the New England Revolution.
From media rights to merchandising
Today, sports is an $80 billion industry, according to 2022 projections from Pricewaterhouse Coopers.
"And that's just in North America," says Perham, who focuses on four revenue sources: media rights, gate revenues, sponsorships, and merchandising. "It's a huge industry that continues to grow."
At $23 billion, the biggest revenue bucket is media rights. That doesn't surprise Perham. "I have a good sense of how much my former employer paid the Celtics annually for the rights to carry their games," he says.
The "Amplification Avenue" podcast covers a wide range of topics, from the U.S. Women's National Soccer Team's pay-equity lawsuit to sponsorship dilemmas at the 2022 Beijing Olympics. Perham also tackles serious issues like sexual abuse, discrimination, bullying, and harassment in the sports world. He's less interested in controversy, he says, than in "talking about subjects that are relevant and topical."
In December, Perham hosted a roundtable discussion featuring Suffolk Law alumni Kristen Kuliga, JD '94, of Vanguard Sports Group, Kim Miale, JD '04, of Roc Nation Sports, and David-Ross Williamson, JD '85, a business law and ethics lecturer at Suffolk, and a Major League soccer agent.
"We talked about today's athletes using their voices to champion social causes, like diversity and gender issues," says Perham. "It's part of that built-in amplification that comes with the power of being a professional athlete."
Student-produced podcast
Perham teaches a variety of sports marketing courses at Sawyer Business School. In fact, his right-hand man on the podcast is one of his students, Alex Caruso, who produces "Amplification Avenue."
"I don't think I could do this without him," says Perham. "Alex is a master at putting all the pieces of a podcast together, from audio and editing, to music and marketing. I feel he is going to do big things in the future."
Caruso, Class of 2023 and a psychology major, says Perham has been a valuable mentor—in and out of the classroom.
"Skip is a very knowledgeable and creative person who has taught me to see things from the inside out," says Caruso, who has hosted and produced over 120 episodes of "The Fresh Fantasy Podcast," which covers the world of fantasy football, since July 2020. "I appreciate this opportunity to work and learn from him."
As for Perham, he's thrilled to be doing something he's been passionate about his entire life. "I'm not solving world peace or doing brain surgery," he says, "but I've built the career that I've always wanted."