Suffolk in the Hub leverages student skills from across the Business School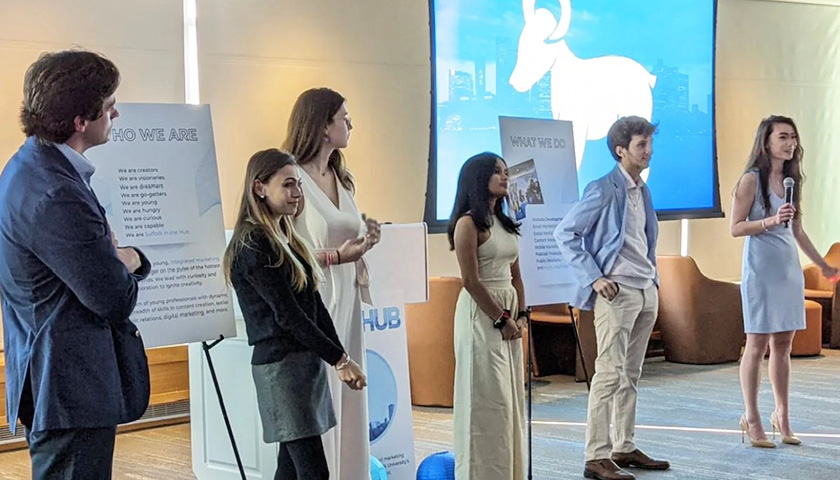 Some of Boston's better known marketing agencies—places like Hill Holliday and Small Army—have a little more competition these days.
That's because of Suffolk in the Hub, an integrated marketing agency staffed by more than 35 students from across Suffolk University's Sawyer Business School. The concept launched in December 2021 and was tested throughout the spring semester. Students work in teams on various client projects that include content marketing, social media, graphic design, public relations, and much more.
Through Suffolk University's Center for Entrepreneurship and school-related connections, Suffolk in the Hub (SITH) has already garnered clients. For Twin Bee Coffee, a minority woman-owned company, they built a social media strategy and rollout from scratch. For TourGuide Games they did everything from consulting on marketing and PR strategy to creation of what SITH calls "thumb-stopping content.
This summer, they'll begin work on R-Yolo, a sustainable yoga mat company started by current MPA student Donna Lee, who recently traveled to Hollywood and give mats to the stars during Oscar week. SITH's goal is to have enough clients to keep the agency self-sustaining.
Like Suffolk's Studio 73, where students do on-air reporting for New England Cable News, SITH is a chance for students to take their classroom skills and use them in the industry. Students serve in agency-style roles, such as account director, marketing coordinator, content creator, and more, delivering high-quality, pro bono marketing solutions to start-up clients, though a fee-based model to work with the agency will be introduced in the near future.
"Having students work with actual clients on their real challenges is what we call immersive consulting, which is something we try to extend across our entire curriculum," says Amy Zeng, dean of the Sawyer Business School. "It's a great example of the School's dedication to experiential education and, by helping minority-owned businesses, societal impact."
SITH is directed and overseen by Kimberley Ring, an adjunct professor in the Marketing Department at Suffolk. Students had told her that they wanted real marketing experience to help them land jobs at agencies once they graduated.
"So I presented the idea to start our own, and we were off to the races," says Ring. "Students started signing up and the next thing I knew, I was building an agency with some of the most purpose-driven students at Suffolk."
For more information, visit Suffolk in the Hub's website.
Contact
Greg Gatlin
Office of Public Affairs
617-573-8428
Ben Hall
Office of Public Affairs
617-573-8092