A Passion for Polling
Graduating 3+1 student's work makes national headlines and opens door to dream career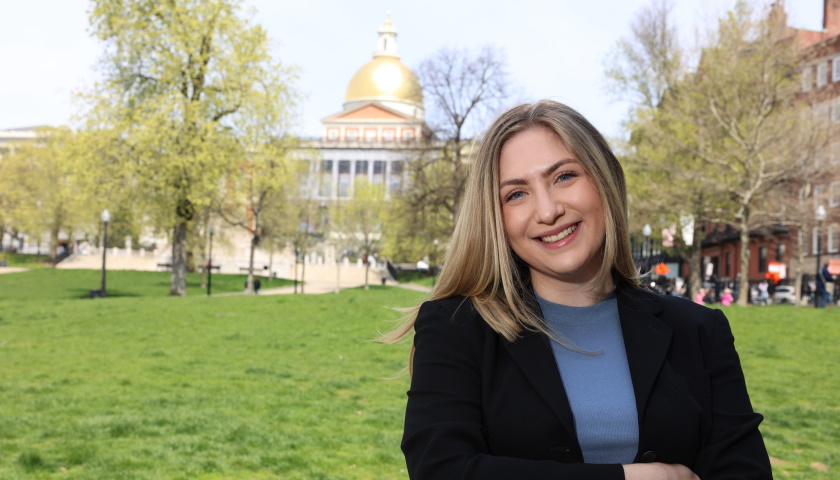 Wanted: Data-loving perfectionist with impeccable research skills and a nose for newsworthiness. Must be able to pore over minuscule columns of numbers late into the night to ensure not one decimal point or semicolon is out of place, and craft a story from those numbers, under extreme deadline pressure.
Polling isn't a predictable 9-5 job. It's "an art and a science" that combines political, statistical, analytical, and communication skills. It requires deep and broad research, but also often means changing tactics rapidly to capture public sentiment on evolving and emerging issues. In other words, it's not for everyone—but for applied politics graduate student Mikaela Linder, it's a calling.
As Linder sat at her desk in her government affairs internship last year she knew something wasn't right. The position was a great first step—for someone—but she struggled to connect with the work.
She thought of how immersed she'd been the previous semester in Suffolk University Political Research Center Director David Paleologos's polling course, and how he'd told his students to reach out if they ever needed anything. So she did, proposing an independent study that would put her in the thick of local and national issues—and launch her into her dream career.
The Suffolk University Political Research Center
Established in 2002, the
Suffolk University Political Research Center
(SUPRC) conducts statewide and national surveys as well as bellwether polls. It examines political races and analyzes voters' opinions on key issues. Suffolk's presidential polls have predicted outcomes in key battleground states, and its innovative CityView polls provide valuable insight into major urban areas across the country. Nate Silver's FiveThirtyEight.com ranked the SUPRC at the top of its list of
The Most and Least Accurate Pollsters of 2021-22
for its polling of the 2021-22 Senate, House, and gubernatorial races.
Learn more about the SUPRC
"I am inherently an incredibly curious person," says Linder, who completed the undergraduate portion of her accelerated bachelor's/master's program in 2021. "I love to know what people are thinking. Polling is such a great way to gauge public opinion and identify the broader conversations we need to have."
Asking the right questions
In the polling course, Linder and her fellow students went behind the scenes, learning how to write questions and plan surveys in the field, and how to proof and analyze the results.
For Linder, just looking "at numbers on a paper" provokes anxiety. But in Professor Elena Llaudet's Data Analytics and Politics course, she learned that applying data to real world applications like polling helped make math "understandable and accessible."
"I always think of the poll numbers in terms of real people in a room, moving around in different groups," she says. "It's project-based, which I love. I think that's how I learned best."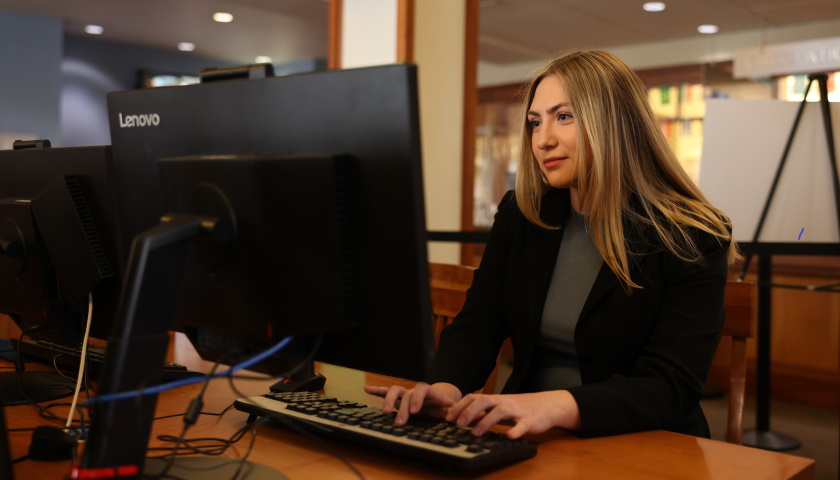 Paleologos remembers being struck by Linder's professionalism in the course. "She would submit draft assignments early for feedback, then revise them," he says. "In the polling world we call that a 'pretest' and we do it often to find out whether or not questions resonate with a respondent."
Linder submitted a draft poll question on how respondents viewed the events of January 6, 2021: Was it a protest, a riot, or an insurrection? Her question was chosen for use in a national Suffolk poll and received wide media coverage. As she watched the mentions roll in, she realized how much of an impact her work could have.
Later, diving into her independent study she researched the psychology behind polling: how to write questions and where to order them in a poll's structure to elicit meaningful answers. Then she got to work.
Paleologos says he could trust Linder to work at a high level immediately based on her "exemplary" work in his course. She started by proofreading data for a Florida midterm election poll, and quickly became involved in questionnaire design, proofing, and analysis for a total of nine polls over the semester covering national and local politics, plus hot topics such as gauging Ukrainian and Russian American sentiment about the war in Ukraine.
"I've been given so many opportunities to learn," says Linder. "It's never been a question of 'Oh, we'll see if you can handle it.' Professor Paleologos puts a lot of trust and a lot of faith in his students."
"By contributing poll questions, our students are not just participating in important political conversations—they're helping to shape the discourse."
David Paleologos
Professor and Director of the Suffolk University Political Research Center
A professional pollster
Over the semester, Paleologos was so impressed with Linder's contributions that he decided to offer her credit in the polls' statements of methodology, akin to sharing authorship in a scientific paper. He also welcomed her input on his USA TODAY column.
"What Mikaela and her generation offer are different questions, and different ways to ask questions," says Paleologos. "Whether that's for my column or for authoring questions, if I have the benefit of her perspective then the Suffolk polls are going to connect with that next generation much better than our competitors."
When Linder started her job search, she realized her experience with the SUPRC opened all the right doors.
"With the polling work on my résumé, job interviews weren't a problem to get. It completely set me apart. Without that opportunity and without that mentorship I would not be in the position that I am," says Linder, who will start as a junior analyst at Beacon Research right after Commencement.
Beacon Research's clients include campaigns, issue and advocacy groups, and corporations. Linder's new position will allow her to continue doing the work she loves while expanding her skills into new areas such as focus groups.
As she leaves Suffolk—though with a promise to come back and speak to Paleologos's polling class—Linder has advice for the next crop of political science students:
"All of the faculty and staff are amazing, and very approachable. If you say to them, 'This is what I want to be doing, how can we make this happen?' they're going to find a way to help you. That accessibility is such a unique and important part of what Suffolk is all about."
Mikaela Linder
3+1 Political Science/Applied Politics, Class of 2022