Saluting Suffolk's Student Veterans
Top military leader says Suffolk sets highest standards in educating student veterans and active duty members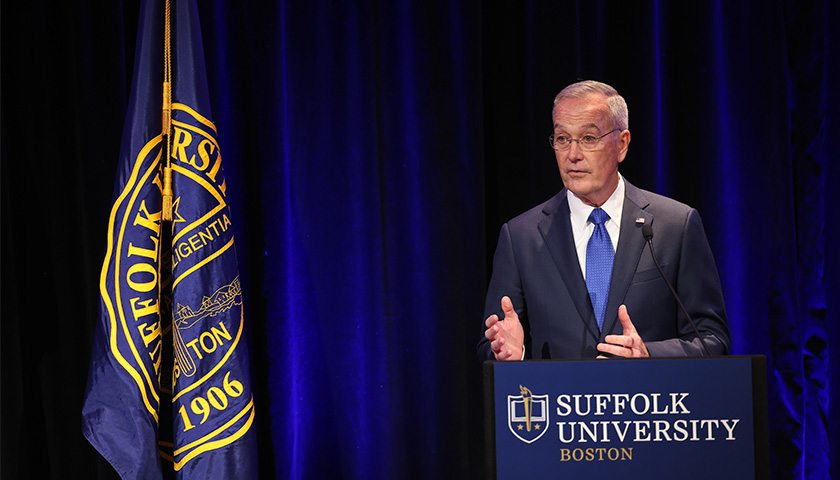 A group of graduating Suffolk University student veterans received a salute from one of the nation's retired top military leaders in a special ceremony to honor veterans and active duty members of the military who completed their education while serving their country.
"Since I've taken off my uniform, I've seen how the service and impact of veterans can go far beyond their time standing watch on active duty," said Former Chairman of the Joint Chiefs of Staff General Joseph F. Dunford, Jr., urging the students to assume leadership roles in their communities as civilians. "Democracy is not a spectator sport. There are lots of ways to serve if we want our communities in this experiment we call democracy to succeed. We actually need to step up and do something about it."
Dunford, a Massachusetts native, served as the nation's highest-ranking military officer, and the principal military advisor to the president, secretary of defense, and National Security Council from 2015-2019.
Dunford personally thanked Suffolk President Marisa Kelly for setting the highest standards for institutional and educational support of students in the military and veterans-in-transition, and their families.
For more than a decade, Suffolk has been named a Military Friendly School in recognition of its specialized programs for military members as well as academic initiatives, activities, and dedicated resources for veterans.
"Your presence here today speaks volumes to the commitment you have to veterans and veterans' education," said Dunford.
Student vets represent all five military branches
The ceremony honored 36 student veterans from Suffolk's Classes of 2022, 2021, and 2020. The 2022 graduates represented all five branches of the military, and had a combined 196 years of active duty service, including service in Operations Iraqi Freedom and Enduring Freedom.
"Despite all of the challenges in the world, from a global pandemic to a long-overdue racial reckoning to the pain of international conflicts, you have stayed focused on your educational goals," Kelly said in her remarks to the group. "But of course, as veterans, you know what it means to be dedicated and to persevere because you exercised those qualities every day as distinguished members of the armed services."
After the graduates received gold-embossed navy stoles representing their military service, Suffolk Trustees Chair Bob Lamb, a West Point graduate and retired Army captain, welcomed the students to another tight-knit fellowship—the Suffolk Alumni Association.
"You understand, and have proven through your actions, that freedom is not free," said Lamb. "It requires people like you, who volunteered to serve. Our country and Suffolk University are better for your service."
The stole ceremony at Sargent Hall capped weeks of pre-Commencement ceremonies that also included Suffolk Night at Fenway Park, where several dozen students sang the national anthem and four student veterans served as a color guard (picture below). In addition, a May 12 ROTC commissioning ceremony was held at Faneuil Hall for three graduating student officers, including Suffolk Class of 2022 graduate Kevin Luna-Torres, who was assigned to help protect the US Capitol during the 2021 inauguration (picture at bottom).