From the Lab to the Links
Whether she's working as a biology research assistant or leading the women's golf team, Isabel Smith always brings her 'A' game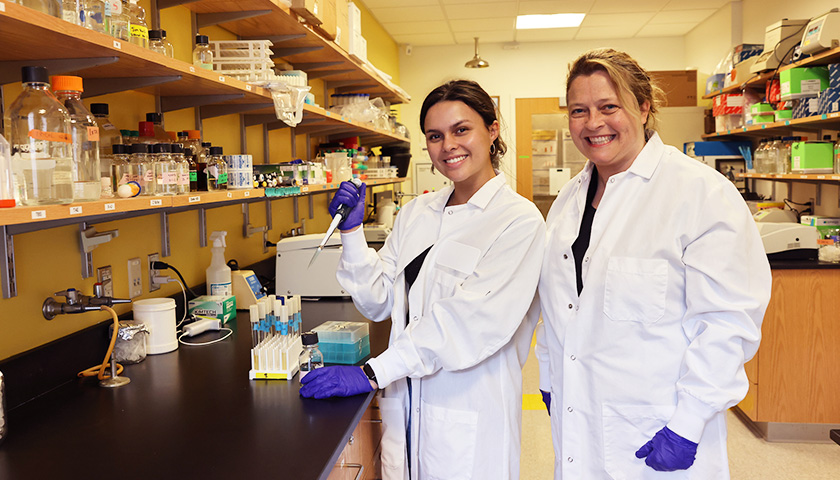 Many college students celebrate the end of the academic year by heading straight to the beach.
Isabel Smith, Class of 2024, is not one of them.
Samia Building. Seventh Floor. Biology Department. That's where you'll find the biochemistry major this summer, hard at work five days a week as an undergraduate research assistant.
It's not that Smith, a standout member of Suffolk's women's golf team, doesn't enjoy the great outdoors.
"My two happiest places are the lab and the golf course," she says. "What I enjoy about research is that once I'm done with one project, it doesn't end there. There are always more questions to find answers to. It's an endless cycle."
Taking research to another level
That curiosity made an immediate impression on Biology Professor Celeste Peterson when Smith took her genetics course last fall, and she invited her to work as a lab assistant during the spring semester.
"Isabel is highly skilled in her lab techniques and very detailed as a writer in communicating her findings. She takes research to another level," says Peterson, who adds that she's a fan of working with student-athletes because of their good time-management skills and their ability to take and give feedback.
Peterson's research explores how bacteria enter and exit a state of dormancy. Because dormant bacteria are often resistant to antibiotics, she notes, "understanding how the cells enter and exit a state of dormancy can help with the development of new antibiotic drugs." Together with her research assistants, she has identified a specific type of sugar that is important for the signal to exit dormancy. In addition, Smith has also demonstrated that a messenger RNA, which codes for this sugar metabolism protein, has a role in controlling this exit process.
"Isabel has contributed to our understanding of the dual roles that some RNAs play in coding for proteins [while] also being signaling molecules themselves," says Peterson.
Smith, a three-time member of Suffolk's 4.0 Club, respects Peterson's teaching style and the trust she places in students to work independently.
"She is open to ideas that I or my lab mates have for improving the lab or explanations for the results that we are getting," she says. "Working with her, I feel more capable of problem-solving creatively and collaborating in a team environment."
Record-breaking Ram
Smith has taken those skills from the lab to the links, where the Rams' top women's golfer has been an All-New England and All-Conference selection the past two years. Last fall, she set a program record with a two-day score of 156 at the Husson Invitational tournament held in Bangor, Maine.
Not only is Smith a great athlete with a powerful swing, says Head Coach Jay Parker, "she is also a great leader who gets along with everyone." He caught glimpses of all those qualities when he recruited her at Westford Academy. After watching her play, the pair "walked for nine holes talking about everything," he says. "We just clicked."
Parker was the Rams' assistant baseball coach for 18 years before taking over the women's golf program in 2016, one year after Suffolk added six new varsity sports, including women's golf, women's ice hockey, and men's and women's track and field, both indoor and outdoor.
"I was looking for an opportunity to build something," says Parker, whose team has won the New England Intercollegiate Golf Association (NEIGA) championship three out of the last four years. "It has been a very rewarding experience."
Smith says she is proud to be following in her parents' footsteps: Both Peter Smith, EMBA '03, and Maria Gabaldon-Smith, EMBA '04, graduated from Suffolk. When it's her turn to graduate, she hopes to work as a researcher for a biotech company.
But for right now, Smith's happy place is the Samia bio lab. "With every result, I find that there is still so much we have yet to understand," she says. "I just want to keep learning."