Happy Landings
Former flight attendant pursues her Master of Science in Marketing with a focus on customer experience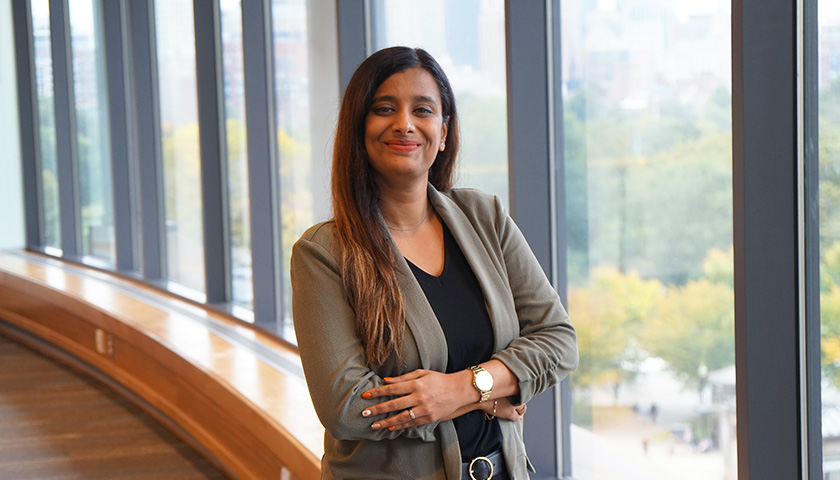 Sarika Nimkar, Class of 2024, is comfortable around sophisticated technology. After all, as a flight attendant for 11 years, she got to know her way around Boeing and Airbus aircraft.
But there's one thing that worries her being back at school after over a decade: Navigating a laptop computer.
"That wasn't something I used that much in my job," she says with a smile.
Until April 2022, Nimkar worked as a flight attendant for Air India and several other Indian airlines, doing all the things that flight attendants do: Conducting preflight inspections. Giving safety demonstrations. Serving meals. Maintaining calm during medical emergencies and flight turbulence. And, mostly, dealing with customers—some polite, some not so much.
She's brought that wealth of on-the-ground (or in-the-air) knowledge to Suffolk University's Sawyer Business School, where she's completing her Master of Science in Marketing (MSM).
"Suffolk was one of the only places I looked that had a marketing degree along with the customer experience concentration," Nimkar says. "So that was a major reason I came here." In the concentration, she'll explore topics such as customer centricity, design thinking, consumer marketing, customer insights, and neuromarketing.
While it's been a while since she's been in school, Nimkar is confident that her flight attendant experience will be helpful working with fellow students. After all, a Boeing 777 has 16 crew members who have to learn to work together for a 17-hour flight and ensure the safety and happiness of more than 300 passengers. Working on a project for a client has some of the same pressures.
"If you smile, you can get through anything," Nimkar says. "That helps...and having a lot of patience."
Mumbai to Mass.
Originally based in Mumbai, Nimkar moved to Boston this past summer. But she's not too worried about winter weather: Some of her regular routes on Air India took her to other chilly climes like New York City and Chicago.
As the academic year ramps up, Nimkar is excited to bring her extensive customer experience background into the classroom. "The technical knowledge is something I never learned as a flight attendant," she says. "Combining that with marketing and the customer experience will be a new start as well as a challenge I'm looking forward to."
And looking to the horizon? Nimkar would like to pursue a career in product marketing with a blend of marketing and customer service...but not as a flight attendant.

"One of my goals would be to work at Google, Amazon, Microsoft, or Apple to utilize my experience and learn hands-on how marketing works in a tech company," she says.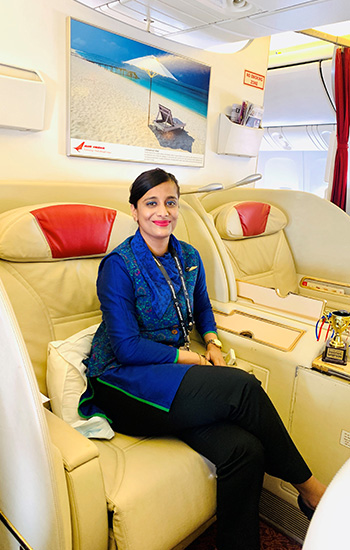 Contact
Greg Gatlin
Office of Public Affairs
617-573-8428
Ben Hall
Office of Public Affairs
617-573-8092