Sawyer Business School Opens First-of-its-kind Marketing Lab
New facility gives students cutting-edge tools to understand customer behavior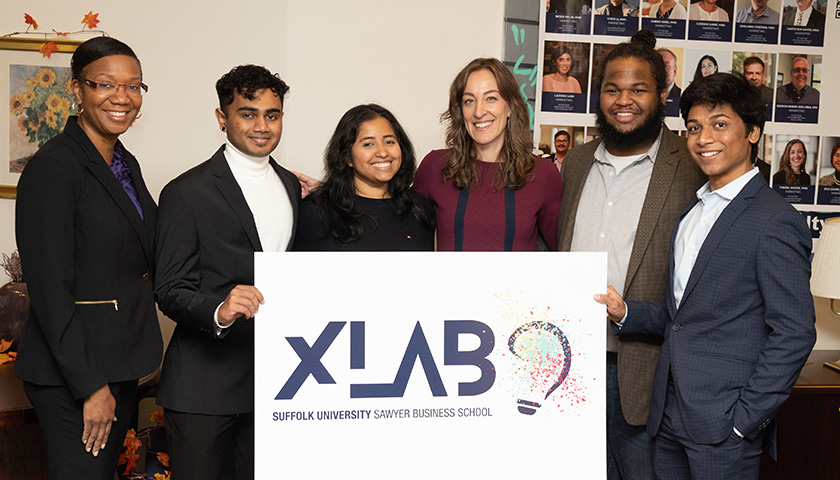 "What are they thinking?"
Marketing students at Suffolk University's Sawyer Business School have a powerful new way to help understand how customers make decisions: the recently opened X-Lab.
It's the first human behavior facility in Massachusetts to be integrated into a business school curriculum while also advancing academic research.
The on-campus space, featuring Boston-based iMotions' leading biosensor research platform, will provide graduate students with unique opportunities to study and analyze consumer experiences using tools and technologies that are becoming increasingly important to business success.
iMotions' multimodal technology measures eye metrics, facial expressions, and electrodermal activity (aka finger sweat). As a participant looks at a picture or watches a video, a computer integrates their bio-measurements to provide more objective insights into a person's responses to, say, a Superbowl ad or a package design.
"The X-Lab will not only equip Suffolk students with a front-line technique for user-experience analysis, but also provide additional research opportunities for Suffolk faculty in the ever-growing field of behavioral research," said Sawyer Business School Dean Amy Zeng at the lab's opening. It will also give students additional ways to be workforce ready: UX design ranks No. 14 on CNNMoney/PayScale list of the top 100 Best Jobs in America.
Or as Peter Hartzbech, founder and CEO of iMotions, said in his remarks, "Companies are screaming for this kind of knowledge."
Plumbing the Unconscious
X-Lab will be used in a STEM-designated Master of Science in Marketing program (MSM) led by Professor Müjde Yuksel, a consumer behavior researcher who examines digital consumption. The course will focus on understanding the influences, emotions, and reasoning that occur in consumers' nonconscious brains and how that can be used to improve customer experiences.
"Great marketing necessitates understanding the human condition on a deeper level, beyond just what people can tell or show you," Yuksel said. "With X-Lab, we're preparing the next generation of marketers and market researchers to look at the driving influences and emotions behind consumers' decisions and actions."
Hartzbech praised the Business School for developing a curriculum that provides students with access to tools, technologies, and information that will be central to success in business. "It's no longer enough for marketers to know what decisions consumers made; they need to understand why those decisions were made—the reasoning, influences, and motivations behind behavior that ultimately can unlock greater success," he said.
Also in attendance at the opening were Suffolk President Marisa Kelly, Suffolk Provost Julie Sandell, members of Suffolk's Information Technology Services team, who were instrumental in supporting the X-Lab from its inception, and members of Suffolk in the Hub, the University's student-run marketing agency, which designed many of the X-Lab's marketing materials.