Pups for Vets
Suffolk grad student and former Army Staff Sergeant David Campisano has launched an organization to reduce suicide rates among veterans—and he's enlisting therapy dogs to help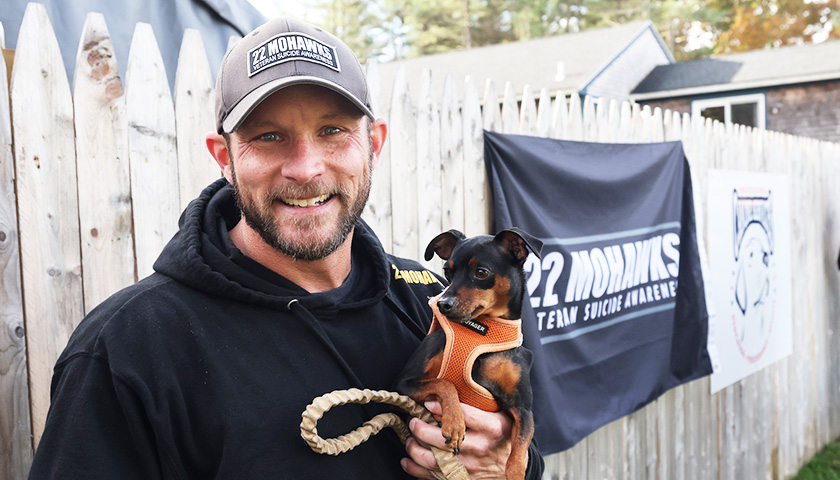 After he lost two members of his Army regiment to suicide, Suffolk alumnus David Campisano, BSBA '19, knew he had to do something.
"A leader always remembers his men and his team," says Campisano, 40, a staff sergeant who served for 15 years before retiring with a medical discharge and earning his undergrad degree at Suffolk. His friends, he says, were "brave, dedicated men who were proud to serve." Yet when they return home, many vets face new battles: with post-traumatic stress disorder, depression, and physical disabilities, including brain injuries.
On average, 22 veterans commit suicide every day.
Determined to "fight for those who fought for our country," Campisano launched a nonprofit called 22Mohawks to raise awareness about suicide prevention.
His first recruits in that fight? A platoon of trained therapy dogs, whom he matches free of charge with veterans to provide them with a steady supply of emotional support and companionship.
Since it launched in fall 2021, 22Mohawks has matched 21 veterans with dogs—including Michael McGee, 31, a retired Marine Corps sergeant from Dennis, Massachusetts, who was paired with a terrier named Axel, now 18 months old.
Campisano "provided me with a best friend and reinvigorated my focus on the mission: to simply live a comfortable, happy, long life," says McGee. "I never knew I'd find myself again. Thanks to 22Mohawks, I have."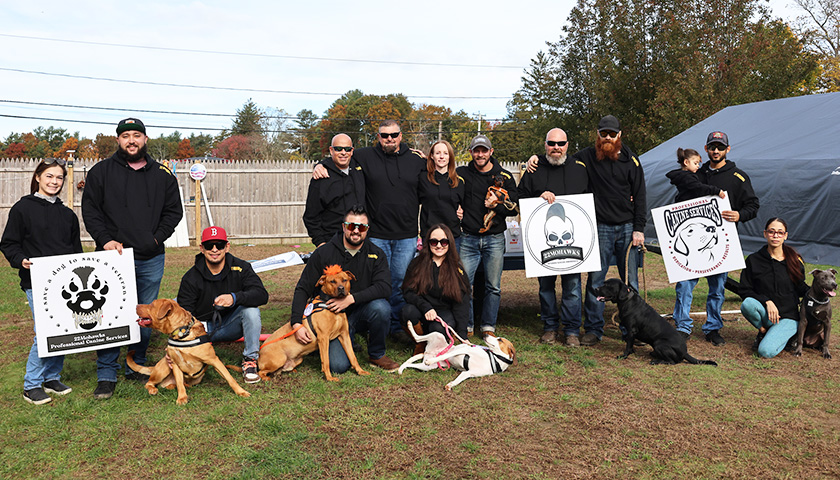 A new lease on life
Campisano's "Pups for Vets" program partners with Professional Canine Services of Middleboro, Massachusetts, which supplies and trains the dogs. It's part of a multi-pronged effort to help veterans like McGee rediscover themselves and their mission in life.
Based in Millis, Massachusetts, 22Mohawks runs suicide awareness and prevention classes for both active and reserve military. It also connects veterans with various mental, physical, and financial support services—as well as joy-fueled, high-adrenaline activities like static line parachute training and race car driving.
Campisano chose the name to draw attention to the high rate of veteran suicides—and because to him, the term Mohawk symbolizes people who are "not afraid to go against the grain, and who stand tall in the face of adversity." Plus, he adds, Mohawk haircuts "make you look cool."
Funded by individual and corporate donations, 22Mohawks has already garnered support from major organizations like the Boston Bruins. Last winter, the hockey team hosted Marine Corps vet Randy McCoy, who was matched with a Belgian Malinois named Kion on-ice at the TD Garden before a game. And this February, 22Mohawks will be one of just six charitable organizations featured at the Bruins 7th annual Bfit Challenge fundraiser—"a wonderful opportunity to increase the visibility of our mission," Campisano says.
No better job
In addition to Pups for Vets, 22Mohawks runs regular family events, monthly financial workshops taught by Campisano (who works as a financial advisor with Northwestern Mutual), and outdoor challenge programs like February's upcoming Operation Heart of Stone, when 20 veterans will travel to the X-35 Airborne School in Dunnellon, Florida for five days of static line parachute training. After completing training, each vet will take five solo jumps and be certified as a static-line paratrooper.
Last summer 22Mohawks hosted an event at the New Hampshire Motor Speedway for a group of 10 veterans and family members. Under the supervision of the track controller, each veteran drove a stock car eight laps around the speedway, at speeds as high as 128 mph.
These kinds of bucket-list adventures offer veterans a chance to relax and have fun, Campisano says—and to build the kind of strong bonds that promote greater emotional resilience.
More than once, he says, "veterans have looked me in the eye, shaken my hand, and said, 'You saved my life.'" That, he adds, is why he and his eight-member staff—including three other veterans and his fiancée, CEO Stacey Coyne, who lost her own father to suicide—are so committed to their work.
"There is no dollar amount," he says, "no job title or material possession that compares to when someone says that to you."
Michael McGee agrees. "What 22Mohawks has done for me has inspired me to help others," he says. Earlier this year, he organized a motorcycle ride event that drew 375 participants and raised over $30,000 for the Pups for Vets program.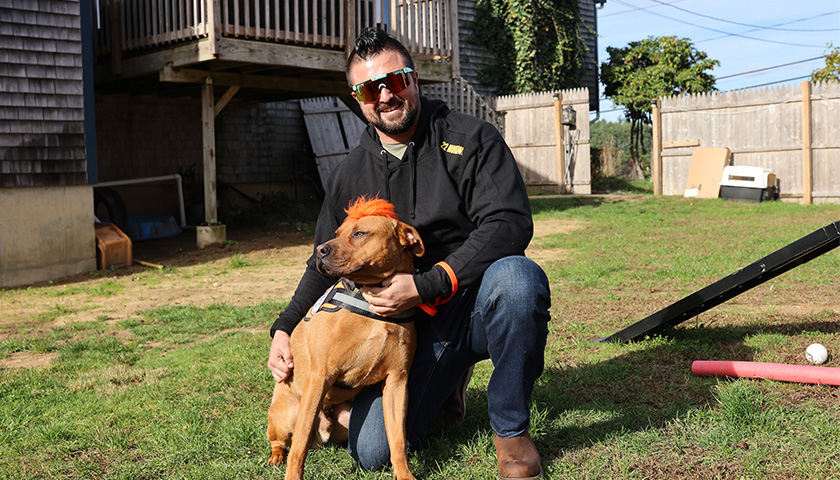 A Military Friendly School
In between 22Mohawks and his work as financial advisor, Campisano is completing his Master of Public Administration degree at the Sawyer Business School on the GI Bill.
He calls enrolling at Suffolk "the best thing I've ever done."
"Suffolk is giving me the knowledge, confidence, and ability to be president and CFO of 22Mohawks," says Campisano, who earned the Wealth Management Leadership Award as an undergrad. "As a grad student, I'm dialed into more nuanced topics in the nonprofit management world, such as how to operate in accordance with state-level laws, and learning how to communicate our mission more effectively with the public."
Suffolk has a history of welcoming returning veterans and numerous programs to support them. It's the only college or university in Massachusetts to offer Veterans Upward Bound, the federally funded precollege program that helps eligible US military vets develop the academic and personal skills necessary for success in higher education. And the University's Yellow Ribbon Program is one of the most generous of its kind among Boston-area colleges, offering up to $25,000 a year in tuition assistance.
Suffolk also offers Green Zone Training, which educates faculty and staff on the challenges student veterans face when transitioning from military service to college life. And for more than a decade, Suffolk has been named a Military Friendly School in recognition of its specialized programs for military members, as well as academic initiatives, activities, and dedicated resources.
Veterans Day speaker
On Thursday, November 10, Campisano was the keynote speaker at Suffolk's annual Veterans Day Luncheon.
"I'm extremely proud of what Dave has built and the impact 22Mohawks has made since its inception," says Alex Paterson, coordinator of Veterans Services at Suffolk. "What he and his team have done to raise suicide awareness within the veterans' community is extremely important."
Campisano's long-term goal: Make 22Mohawks a national organization, to help more veterans lead healthy, happy lives.
"While this job is very rewarding," he says, "there is so much more that needs to be done."
Watch a video of the luncheon below. For more information about Campisano's organization, visit 22Mohawks.
In honor of Veterans Day, NBCBoston broadcast a story about Campisano and 22Mohawks. Watch the story here.