Art & Design students transform an empty Downtown Crossing storefront into a public art installation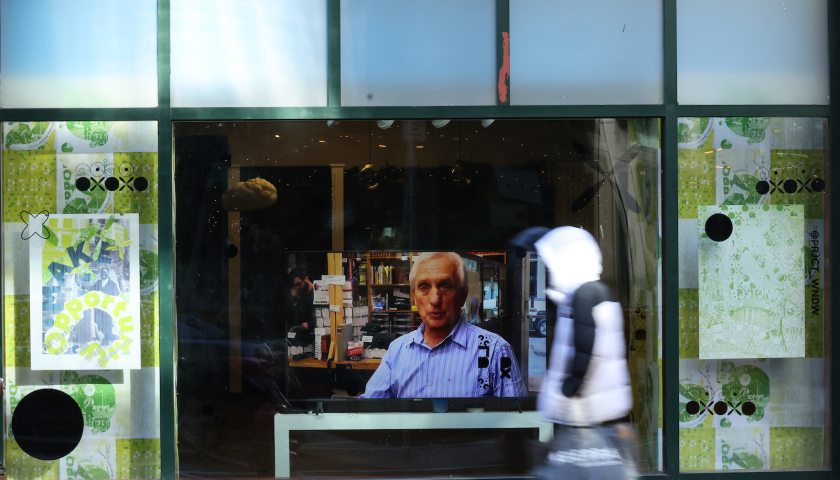 Steps from Suffolk's campus, the constant bustle of people visiting Downtown Crossing's shops, restaurants, theaters, and offices is a sign that the historic city is once again alive with activity. This winter, Art & Design students added to that vibrancy by creating a street-level exhibition called PRJCT WNDW + Living Images to showcase the diversity and resiliency of people and businesses in Boston's commercial hub.
Housed at 60 Temple Place, the public art installation combines moving images with layers of print work, including wallpaper, poster designs, original typography, and custom vinyl graphics.
Windows are framing devices that allow us to look into other worlds. They represent opportunities, providing entry points into the unknown and a glimpse into the future. To immerse in Downtown Boston's Business Improvement District is to travel through time and place, each block an intersection of diverse personalities, voices, and visual languages. The construction of this neighborhood—a convergence of old and new—becomes a portal into the rich culture of today's Boston cityscape.
—Project Description
The space is the second public art opportunity in the neighborhood that Art & Design Professors Susan Nichter and Ilona Anderson have created for their students through collaboration with the Downtown Boston Business Improvement District (BID). The pair, along with Professor Linda Brown, also worked with the BID in 2018, when students interviewed, photographed, and installed striking larger-than-life portraits of Bromfield Street small business owners at another temporarily empty space.
A multi-year, multimedia endeavor
In 2020, first-year students began to interview business owners and community members for a second storefront project before it was paused due to the pandemic. Nichter and Anderson have included some of that original work in the finished project, but the theme has been informed by the passage of time.
In total, the undergraduates created more than 350 photos and 130 video clips for the exhibit, which took the form of a four-channel video installation. Each undergraduate student's work was represented in the final project, Living Images, including three videos edited by Communication, Journalism & Media student Kely Maloney, and a fourth produced by Nichter.
"Our students went to places and parts of the city they wouldn't have, and listened to people's stories," says Nichter. "They have more empathy for what these people and small businesses have gone through, to survive and live and work in this area."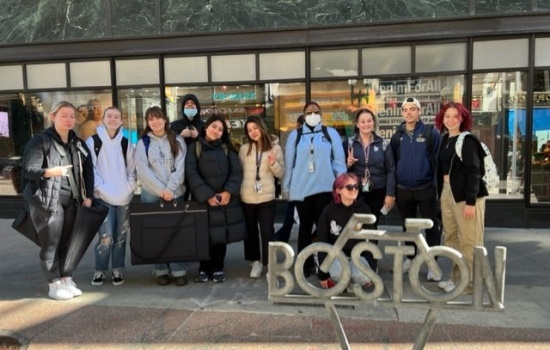 Plans for reviving this year's project came together quickly, says Nichter. When the space was chosen in August, she knew the first-year students in her and Anderson's Integrated Studio Creativity & Innovation courses would be up to the challenge of creating meaningful work—but they would need a partner to bring it all together into one cohesive space.
Graphic Design Professor Kristen Mallia sprang into action to help, amending her graduate students' course syllabus to complete the immersive semester-long project in two short months. Together, her five students developed their own interpretation of the installation site inspired by the neighborhood, approaching the project as creative directors working with a real-world client. The result is PRJCT_WNDW, a multimedia site-specific design treatment that provides the stage for the Living Images video pieces.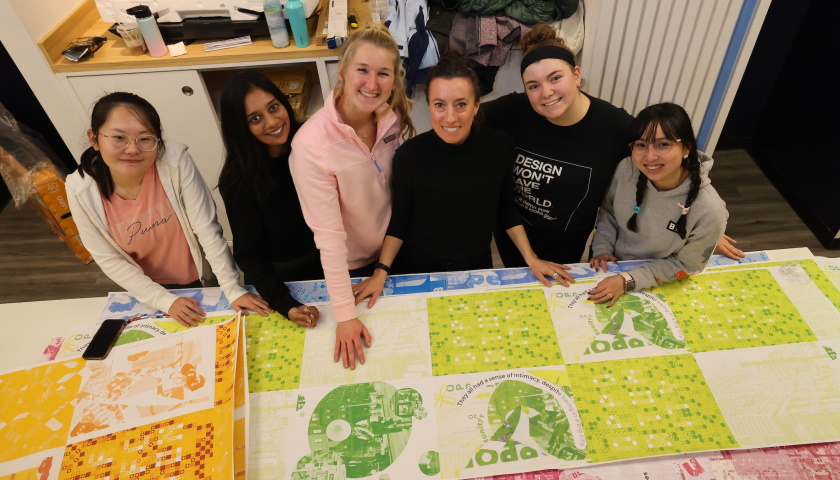 Initial funding from the BID and Art & Design Department, as well as grants from Suffolk's Experiential Learning Committee and the University Service-Learning Committee, helped Nichter, Anderson, Mallia, and their students afford the equipment and video editing services needed to complete the ambitious installation.
"The Downtown Crossing space felt like an extension of the studio," says Mallia. "We could meet in class, have a critique, print and talk about the work, and then we could just walk over to the site."
That ease helped make the long and painstaking hours needed to bring the installation together more manageable—a good thing, since the project would require patience, resiliency, and "Plans B, C, D, E, and F" at times before successful completion.
That process, it turns out, is by design.
Learning to thrive through failure
A key goal of Suffolk's Creativity & Innovation courses is to prepare students to embrace the concept of failure as part of the creative process. Too often, says Anderson, students focus on the end result, or the grade, and not on the learning or creative process. To break them out of that mode, before starting work on the window project Anderson and Nichter had their students draw with salt—a notoriously difficult-to-handle medium.
"It sort of pushes the students to get out of their comfort zone and do something that's interesting and valuable and surprises them," says Anderson. Once they've mastered that concept they can approach a larger task with more courage and willingness to try.
"A turning point in the semester for me was when students—who had been hanging back—all of a sudden were jumping forward and taking on different roles as problems needed to be solved," says Nichter. Each one pitched in, contributing everything from their digital editing skills to their construction abilities.
The graduate students needed adaptability, too.
"We would get to the space and then realize, 'Wait, how are we going to hang wallpaper? Who can reach?'," says graphic design master's student Kylie Rolston.
"We would have a set plan when we got there, but that plan could be totally out the door and we'd have to figure out a new one on the spot. Design is problem solving."
Kylie Rolston
MA in Graphic Design student
Learning to solve those problems in an academic setting has real-world value. Beyond just focusing on the "pretty stuff," the students worked with exact scale measurements and sometimes finicky and unfamiliar materials, says graphic design master's student Sherill Choong, who will graduate with her classmates this May. "If you screw up your measurements, you have to redo it. And that's something we couldn't afford in that short timeframe."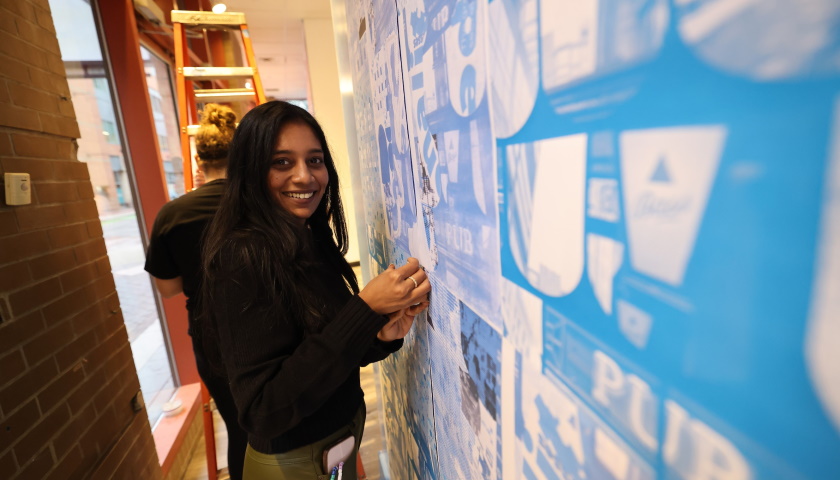 In the end, the graduate and undergraduate students worked together to create a vibrant, multidimensional display that captures the energy and diversity of the neighborhood—hard work that has paid off.
"Our students are learning to think critically and be creative at the same time," says Nichter. "We're trying to get them to take more risks, and support them in taking those risks so that they can produce things that they wouldn't predict."
View images from the installation, which is scheduled to run through the end of January 2023.