Hoop Dreams
First-year seminar course explores basketball's wide-reaching impact on American culture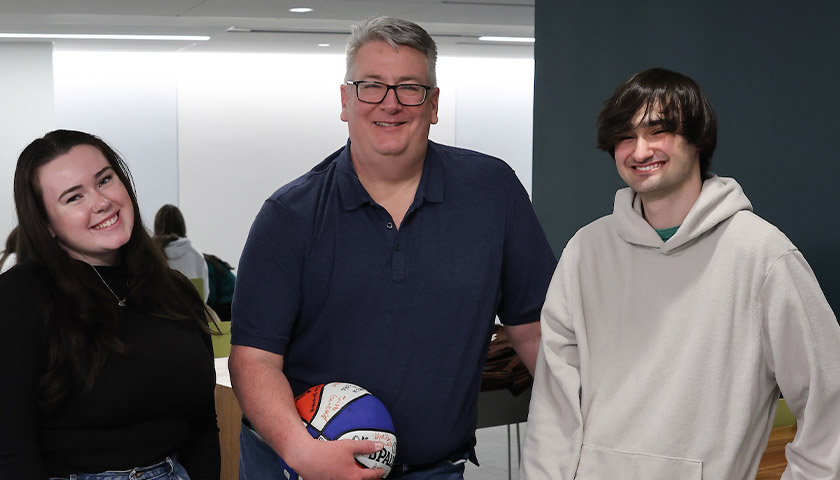 Out of the classroom, Emma Munroe, Class of 2026, loves to shoot hoops. So the chance to learn about one of her favorite sports in an academic setting sounded intriguing. Even fun.
What she learned changed her view of the game forever. In his first-year seminar course Sacred Hoops & Sneaker Pimps, Professor Richard Miller taught her there's a lot more to basketball than dribbling, passing, and shooting.
"This class was much more immersive than I expected," says Munroe, a former Falmouth High School varsity shooting guard. "Basketball means a lot to me and what I've learned has kept my passion for the game alive."
The course takes honors first-year students on a basketball journey played out at both the high school and college level—from New York City to rural Indiana and on to the Wind River Reservation in Wyoming. Miller uses the themes of race, gender, and equity to explore how the game has evolved in America over time and its impact on people of all ages and backgrounds.
"The concept of the course is based on culture, diversity, and, in some ways, American history," says
Miller
, an English professor who created the course in 2006 and has been teaching it to full classrooms ever since. "We follow how basketball has changed over the years and how it has integrated American society, with more Black and women's voices being heard. This makes both the game and society richer for everyone."
The "sneaker pimps" reference comes from the song "Politics of the Sneaker Pimps" by the rap group Public Enemy about how corporate basketball both benefits and exploits Black youth.
Examining basketball culture via books, films, TV
"It shows how far basketball culture can extend into American business, education, and even international relations," says Miller. "I love the way the game is changing throughout the United States and around the globe. It gives me new material to teach."
Miller's lesson plan covers the game from its invention in 1891 right up to the present. More than a hundred years of hoop dreams come to life via books, films, and television shows. "I try to make it entertaining so that students are learning by having fun and working together," he says.
"I try and make the class entertaining so that students are learning by having fun and working together."
Richard Miller
Professor of English
Munroe, a political science major, connected with the collaborative aspect of the course. "In basketball, everyone has to work together for a common goal," she says. "It's the same thing in the classroom when you're working in groups. I felt this course has taught me to become a better team member."
Miles Mazzotta, Class of 2026, enjoyed learning about what makes basketball players tick, and the significant role the game plays in the lives of others.
"I was inspired that basketball is the only outlet that people have in some remote locations around the country," he says. "It showed me how the game can help kids growing up in a harsh environment by playing a sport they really enjoy."
A broadcast journalism major, Mazzotta believes the course improved his research, time management, and interactive skills. He also praised Miller for his dynamic lecture style: "The way he interacts with students is electric."
"I try and bring students' interest to life with my enthusiasm and by having them share their own stories about the game," says Miller.
When asked if he was inspired to create the course because of his own youthful hoop dreams, Miller laughs out loud.
"I grew up in Minnesota," he says. "I played hockey."