'Go out and build communities. Set your sights on huge challenges.'
Abraham Ceesay, CEO of Rapport Therapeutics, urges Sawyer Business School graduates to take their business skills and do meaningful work in the world
Rapport Therapeutics CEO Abraham (Abe) Ceesay, MBA '05, urged the Class of 2023 to take the success they find in business and use their skills to elevate the greater good.
"Many of you have come here in search of a career—to gain skills that you can apply to a job, hopefully a good one. What I hope you've come away with is a sense of purpose."
Ceesay pointed out that "one of the conversations we are currently having in the business community is about the perceived conflict between doing well—as illustrated by the balance sheet—and doing good." His verdict? "I'm here to tell you that these are not conflicting ideas," said Ceesay, who in addition to serving as CEO of Rapport Therapeutics, also chairs Life Science Cares, which works to alleviate the impacts of poverty.
Ceesay received an honorary Doctorate of Commercial Science at the Sawyer Business School ceremony, one of three Suffolk commencements held at Boston's Leader Bank Pavilion on Sunday, May 21.
'Belonging is not a fact—it's a feeling'
Recalling his own arrival in Boston and at Suffolk University for the first time, Ceesay said, "The buzz of Beacon Hill and the energy of early morning downtown had great resonance for me. But to be completely honest, it also intimidated me."
He talked about his background as the son of an African father from the Gambia and a white mother who grew up on a rural New York dairy farm. "I didn't figure on meeting many people who would qualify as a close peer of mine."
And yet, like the graduates of the Class of 2023, he made his way. "I became a part of Boston and the surrounding community just as it has become a part of me. The same goes for Suffolk. I was outside, but like so many of you I did the work to get inside."
'Use your power to affect how people think, learn, change, and go forward'
The benefit of a Sawyer Business School education, Ceesay said, is that it provides the practical knowledge and necessities to succeed—not just in business but in society. "You've been exposed, as I was, to disruptive thinkers whose teaching about business's inner machinery will be relevant to the present world you are graduating into." He encouraged students to realize that their business education can be used to help others.
"Where a network is required to drive action, but none exists, be the start of one. Where there is an issue to which little attention paid, shine a light. Identify outsiders and transform them into insiders."
Ceesay's final advice to the Class of 2023: "Do work that excites you and inspires you, while also thinking beyond the board room and the budget sheet . . . to provide opportunities where there are few, instill hope where there is none, and spend your days giving meaning to your life, and the lives of others."
Download video transcript [PDF]
'You taught us a great deal along the way'
Suffolk University President Marisa J. Kelly lauded graduates for their adaptability during and after the pandemic, dealing with remote classwork, testing, social distancing, boosters, and more. "In your time here, you have experienced it all and shown extraordinary resilience."
She also complimented the graduates for being a driving force in tackling intractable problems. "In your time at Suffolk, you have pursued business with purpose. You have sought to understand not just how businesses make profits, but also how they can create positive change," she said. "You are trained to create positive impact in your communities and in the world. And you have already done that in your time here." She cited numerous examples of how members of the Class of 2023 have worked on projects involving issues like climate change, environmental sustainability, disability advocacy, and many others.
"You are ready," she concluded. "In fact, you are more than ready. You are Suffolk ready, and you a powerful force for good."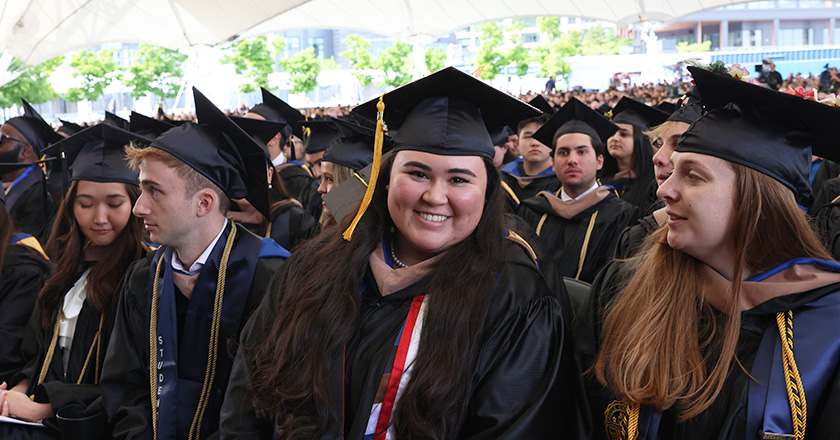 A special surprise
The undergraduate class greeting was delivered by Amanda Echevarria—much to the surprise and delight of her parents, who traveled from Florida to attend the ceremony not knowing their daughter was a commencement speaker.
In her remarks, Echevarria quoted a favorite piece of family wisdom: "'Dime con quien tu andas y te digo quien tu eres.' In English that translates to 'Tell me who you surround yourself with and I will tell you who you are,'" said Echevarria, who received her Bachelor of Science in Business Administration. "For the past four years, I have been surrounded by some of the most brilliant minds, the kindest hearts, the most embracing community, and most certainly the most resilient cohort of individuals who I firmly believe are going to bring about immense change to this world."
Graduate student Commencement speaker Dr. Fatima Watt, the CEO of Pappas Rehabilitation Hospital for Children who received her Master of Public Administration, encouraged her fellow graduates to pursue their dreams and accomplish their goals no matter what obstacles might be in the way. "Let your fire burn bright no matter who tries to extinguish it," she said. "Lead with love, be compassionate and kind. Because kindness matters, y'all! It really does. And go out and change the world. One meaningful action at a time."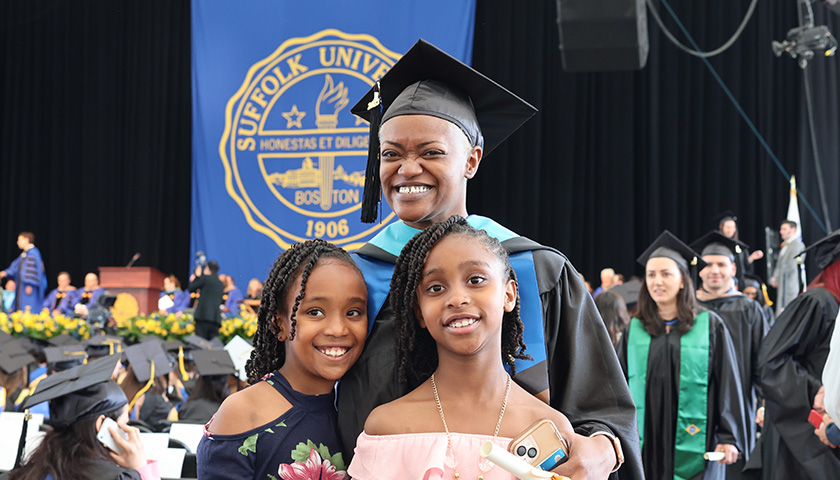 Watch Amanda Echevarria's Speech
Watch Dr. Fatima Watt's Speech
About Abraham Ceesay
Abraham (Abe) Ceesay is the chief executive officer of Rapport Therapeutics, a biopharmaceutical company whose mission is to transform the treatment of neurological disorders through the discovery and development of precision therapies.
Ceesay is a recognized leader in the biotechnology industry and has devoted his career to the pursuit of therapies to improve the lives of patients living with serious diseases. Throughout his career he has had the opportunity to build and lead several innovative biotechnology companies that have developed transformational therapies for some of the most burdensome diseases afflicting our society. Prior to joining Rapport Therapeutics, Ceesay served as the president of Cerevel Therapeutic, the CEO of Tiburio Therapeutics, and the COO of scPharmaceuticals.
In addition to his commitment to biotechnology industry, Ceesay has dedicated himself to improving the lives of Boston's under-represented and minority communities. He serves as chairperson of Life Science Cares in Boston, a collective effort by the Boston life sciences industry to help eradicate poverty, homelessness, and economic disparity in Boston. He also serves on the board of trustees for the Museum of Science Boston, where he is focused on making the power of science and technology accessible for all in the greater Boston community.
Ceesay received his BA from Ithaca College and his MBA from Suffolk University's Sawyer Business School in 2005.
Commencement 2023
The Sawyer Business School Class of 2023 comprises 803 new alumni, with 370 undergraduate and 433 graduate degrees awarded.
The ceremony was one of three Suffolk Commencements held on Sunday, May 21, at Boston's Leader Bank Pavilion. The University conferred a total of 1,969 undergraduate and advanced degrees to graduates from 37 states and the US Virgin Islands, and from 74 different countries. Twenty-nine percent of Suffolk's 944 undergraduate degree recipients are first-generation college students.
Contact
Greg Gatlin
Office of Public Affairs
617-573-8428
Ben Hall
Office of Public Affairs
617-573-8092