'Impact Begets Impact'
In their careers and their communities, Suffolk's 10 Under 10 alumni/ae honorees are making their mark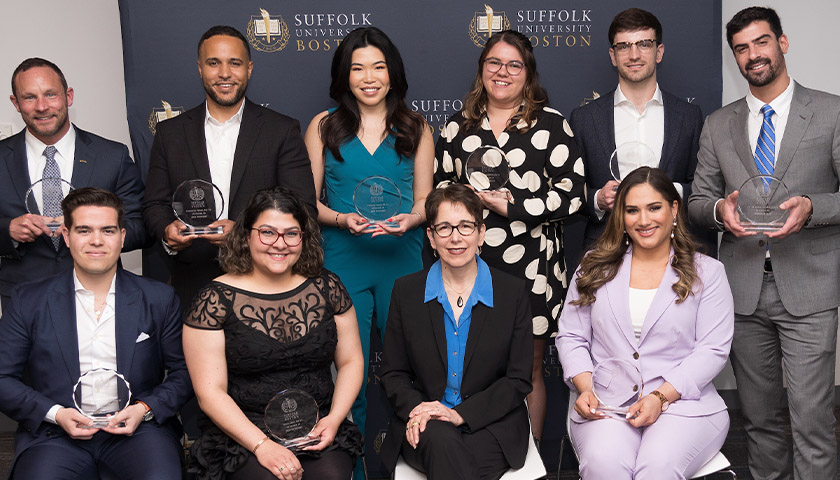 The first Chinese American woman to earn an anchor seat at WBZ CBS Boston was among the Suffolk graduates honored at the University's tenth 10 Under 10 awards ceremony this spring.
"When you're a student here, it's so hard to picture what type of impact you're going to make in the community," general assignment reporter and guest news anchor Tiffany Chan, BSJ '13, told the audience gathered in Sargent Hall's Blue Sky Lounge for the ceremony. "So being in this room receiving this award—looking out at the [State House's] golden dome and realizing that now I'm an anchor in Boston—I know that I couldn't have done it without being here."
Hosted by the Graduates of the Last Decade (GOLD) Council and the Office of University Advancement, the annual 10 Under 10 event celebrates ten Suffolk alumni who have graduated in the last decade and who are already making their mark in their careers and communities, while also continuing to give back to Suffolk.
President Marisa Kelly drew a line between the impact that Suffolk strives to have on its students and the impact graduates go on to have in their professions and communities. "You illustrate beautifully that impact begets impact," she told the honorees, praising their collective influence and the power of their example.
'When you surround yourself with good people, change can happen'
First among the honorees was Staff Sargeant David Campisano, BSBA '19, a veteran who attended Suffolk for his undergraduate studies after serving 16 years in the United States Army, including active duty in Iraq. Now a financial advisor for Ivy Capital and Northwestern Mutual as well as an MBA candidate, Campisano is also the founder and president of 22Mohawks, a nonprofit organization that provides supports services—including trained therapy dogs—to veterans suffering from post-traumatic stress disorder.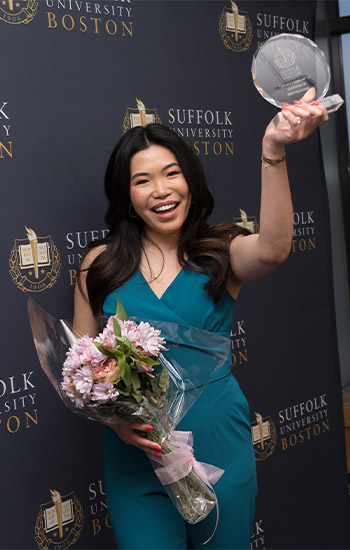 In his acceptance speech, he recalled those who had "survived many years of military service in combat overseas but lost the war in the internal struggle here at home." Setting the tone for the evening, Campisano said he had learned from his fellow veterans that helping others is the best way to lift oneself up.
While still a student, honoree Noah Trofimow, BSBA '22, drew on his experiences with depression to establish the Paper Bag Mask Foundation, a nonprofit that offers resources for young people struggling with mental health issues. "I want to say that receiving this award is not just a personal accomplishment, but also a testament to the support and encouragement of the Suffolk community," Trofimow said, citing faculty members like Sonia Alleyne, Kim Ring, and Chaim Letwin. "When you surround yourself with good people, change can happen."
Because she was attending parachute rigger school in Fort Lee, Virginia, Brooke VanRosendael, BSBA '17, MSA '20, delivered her acceptance speech by video. As well as being a full-time senior management consultant for PwC, VanRosendael is a captain in the United States Army Reserves—simultaneous accomplishments to which, VanRosendael said, "Suffolk opened the door, [giving] the little girl from a small town in Maine, who always dreamed of being everything she could be, a chance." In particular, she thanked her mentor, Professor Anne Schnader, who worked with her to complete her graduate degree while deployed: "Her dedication and selflessness to her Suffolk students is unmatched."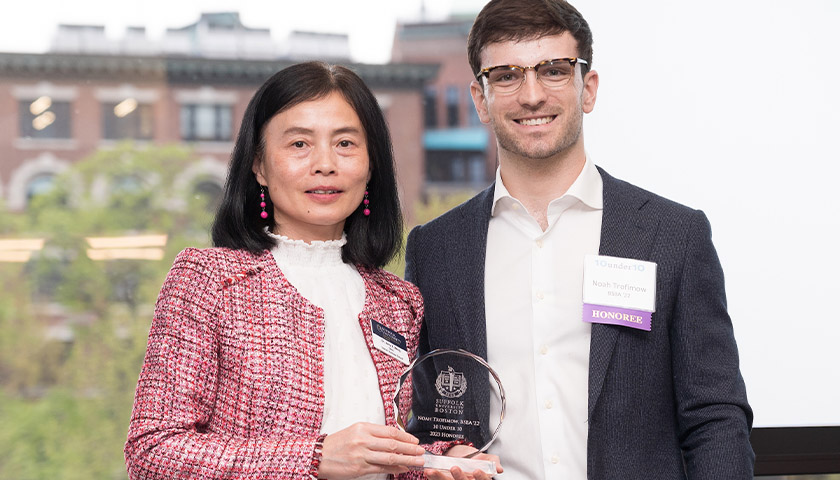 Also among the honorees were Dina Akel, BS '13, and Ajia Zimmerman, BS '16—both biology majors who took very different paths. Akel has launched Vieira Luxe—a successful Nashua, New Hampshire bridal store that specializes in affordable wedding dresses—with the goal of putting luxury fashion within reach of regular consumers. "Suffice to say I'm ecstatic about where I am today," said Akel, "and it is vastly due to my education here at Suffolk and the people I met here"—including her husband, Jonathan Huang, BSBA '14.
Zimmerman—who also met her future husband, Ben Linares, BS '16, at Suffolk—is now a physician's assistant at Tufts Medical Center, where she diagnoses and treats children with developmental and behavioral disabilities, working closely with them and their families. "Like many of us, I keep my head down and just kind of grind day by day," said Zimmerman, who added she initially overlooked the email notifying her that she'd been selected as a 10 Under 10 honoree. "This is a really gracious reminder that all the hard work has made a difference!"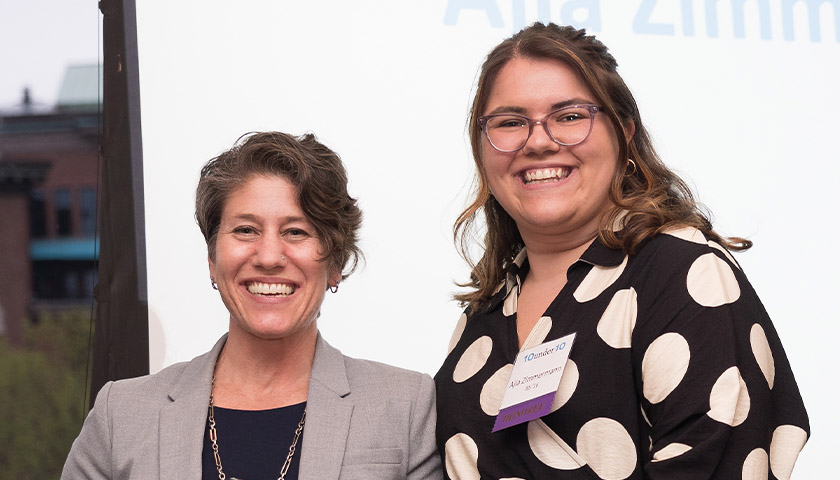 'A dreamer who fully commits to every dream I have'
Gratitude to family was a consistent theme throughout the evening, including for Karim Rifai Burneo, BA '15, who traveled with family from Lima, Peru, to attend the ceremony. The nonprofit organization he founded there, Uayki, today provides low cost, high-speed network access to under-resourced communities in Peru and Guatemala—a dream, he said, that first began during his years at Suffolk. Uayki has collaborated with organizations such as the Open Learning Exchange, the United Nations, and USAID, he said, "connecting tens of thousands of users to the best of the digital age. These are opportunities that we have had since we were young—and that's not the reality for more than 50% of the world's population."
Likewise, the parents of Alfredo Serrano Figueroa, BSBA '22, flew in from Spain for the ceremony, and he proudly thanked them for their support. A data sciences consultant at Management Solutions, an international business consulting firm, he also produces a bilingual podcast called "The Analytics Experience," whose goal is to enable "both English and Spanish speakers [to learn] about technology, data science, and data analytics," he said, and to "offer opportunities for students who might otherwise lack the resources to explore these subjects."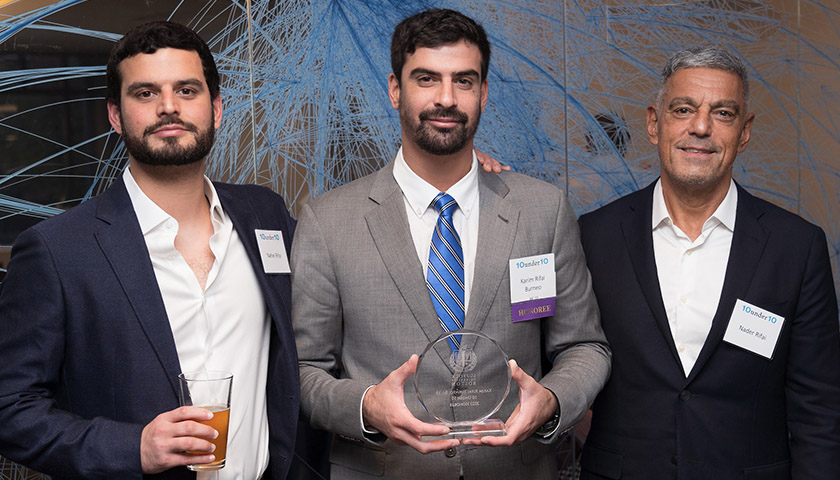 A first-generation Colombian-American, honoree Carla Rojo, BA '14, said she deliberately set out to become a bilingual reporter because she wanted to "give a platform to my Latino community." In pursuit of that goal, she commuted daily to her Suffolk classes from her home in Lowell, Massachusetts, while also working full time. Today she's an Emmy Award–winning bilingual reporter for NBC Boston/Telemundo, covering everything from breaking news to education, immigration, and sports. Delivering her remarks in both English and Spanish, she thanked her mother, brother, and late father, as well as her Suffolk journalism professors Dana Rosengard, Jerry Glendye, and Keith Erickson. "They taught me so much and I still take that with me in my work today," she said.
Like Rojo, Daveson Pérez, BSJ '15, majored in communications and journalism, and today he is manager of baseball communications and media relations for the Boston Red Sox. He called his award a "manifestation" of the hard work and sacrifices made by his parents, "two Dominican immigrants who came to this country wanting a better life for us." He said that despite that evening's recognition, he doesn't consider himself special: "I'm just a dreamer who fully commits to every dream I have. I just strive to be someone who's consistently putting in hard work every day and treating everybody that I meet with kindness and respect," he said. Do that, he added, and dreams have a way of coming true.
Watch the full ceremony below.